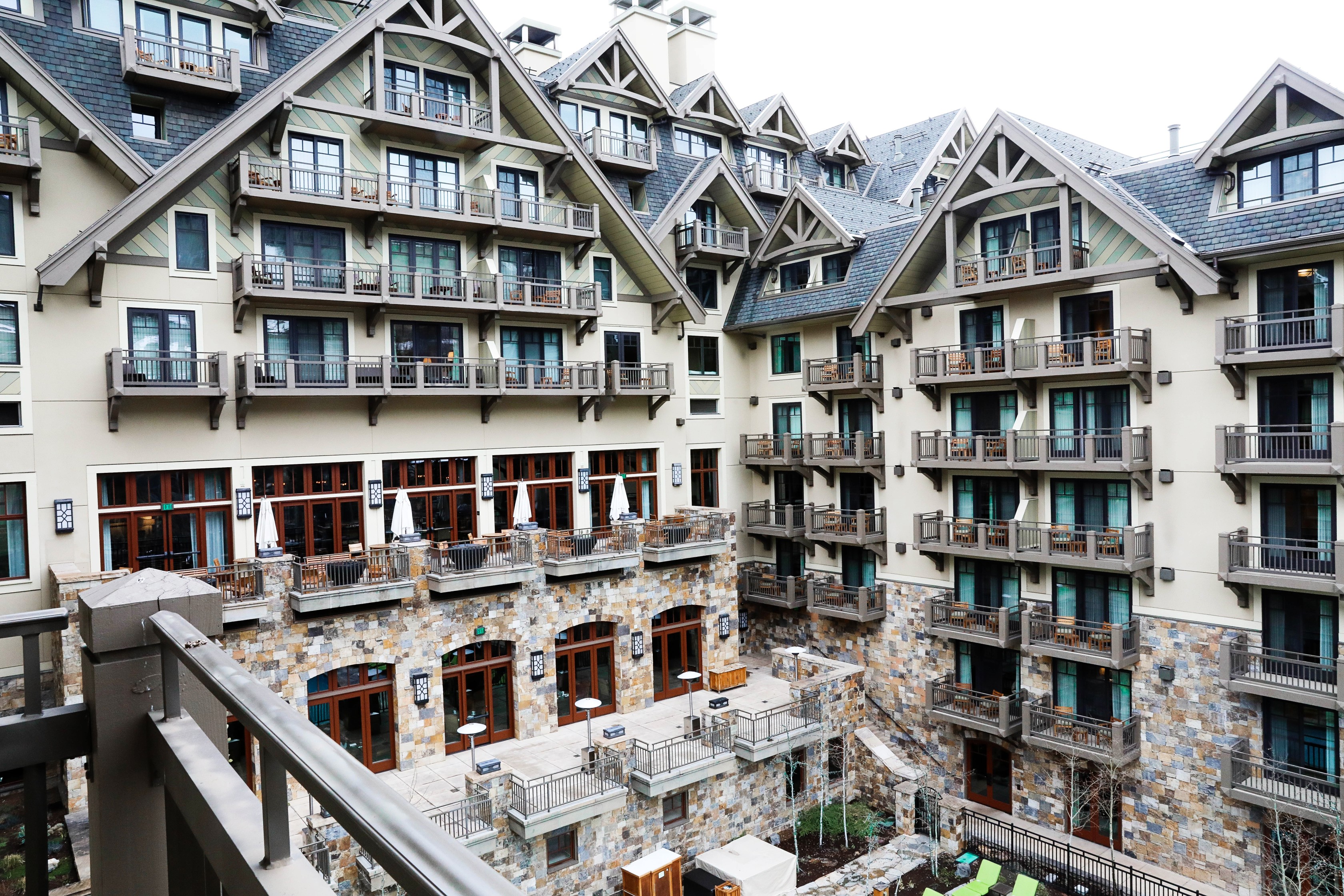 What I Wore in Vail | OOTD + Vail Recap
Happy Monday loves! If you follow me on Instagram you would know I was in Vail all weekend! It was the best weekend EVER! I am so thankful for my boyfriend and his family for inviting me along. We went for Cam's uncle's wedding! It was beautiful and such a fun time! It snowed the second day we were there and continued to snow all weekend. It was magical!
Thursday Morning – Traveling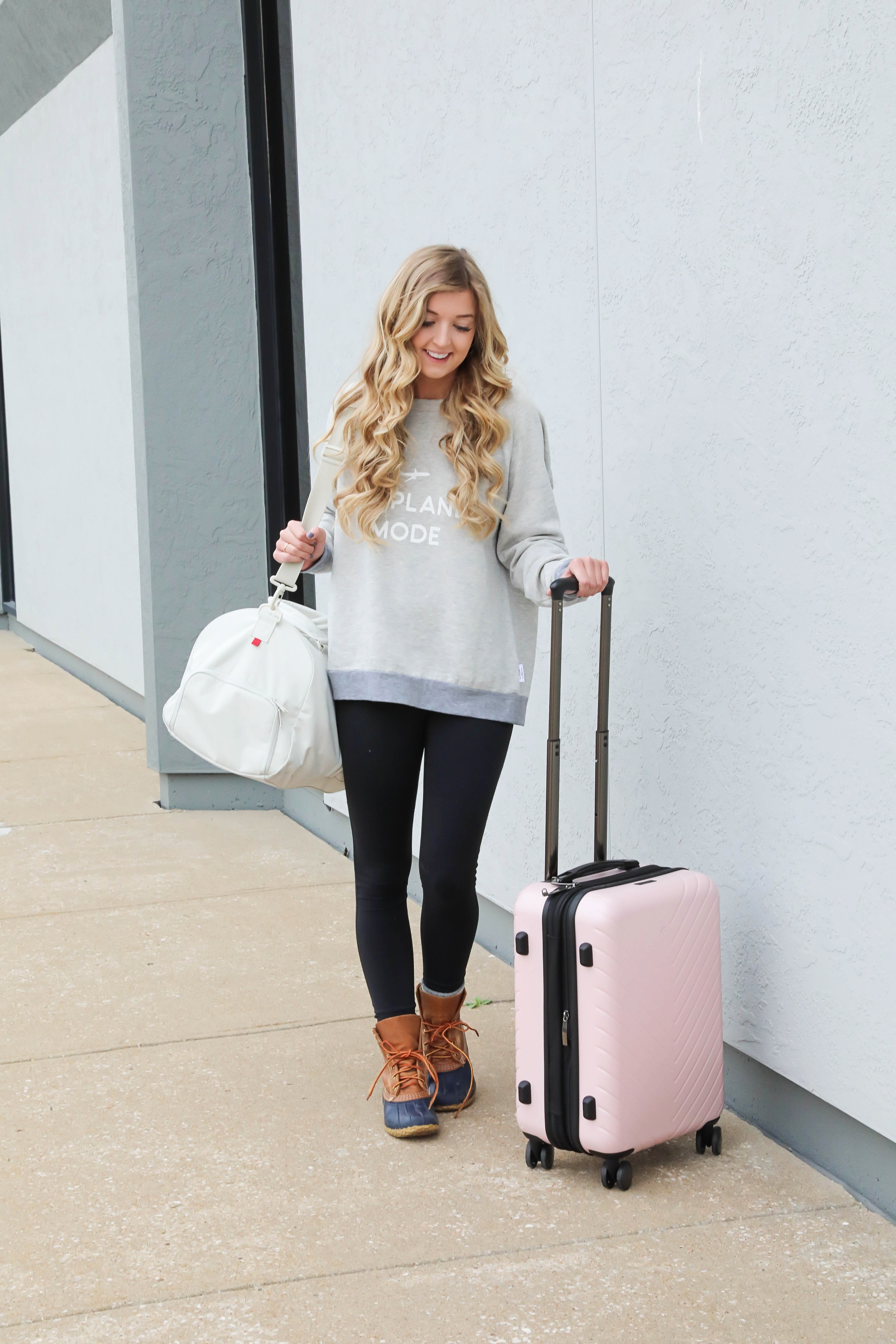 | Airplane Mode Sweatshirt (I am wearing a medium – SO SOFT) | Leggings (I am wearing a size small, these are my favorite brand) | Duck Boots (so perfect for the snow, size up) | Duffle Bag (only available in grey now) | Pink Luggage (also comes in a set) |
We left Kansas City in the morning and arrived in Vail that afternoon. I wore this super comfy "Airplane Mode" sweatshirt, leggings, and my duck boots (since they were my biggest shoes). Travel tip: always wear your bulkiest items on the plane! I also wore one of my heavier scarves, but didn't want it in the photo because it covered up the sweatshirt.
Once we got to Vail we checked into the Four Seasons. The hotel was so dreamy! There was a beautiful view of the mountains, lots of fire pits, a gorgeous pool, some yummy restaurants – and just an overall cozy atmosphere! We roomed with Cam's amazing grandparents and adorable cousins. His family is the best! After resting in the room awhile we went down to the bar for drinks and appetizers!
Thursday Evening – Rehearsal Dinner
That evening we went to a cute little restaurant in Vail for Cam's uncle's rehearsal dinner. The restaurant was western style and I wore the cutest outfit! I didn't get a pic that night, however, I shot some photos of it before I left that I want to post tomorrow in it's own post so you will have to wait to see! We had some yummy dinner, listened to speeches (one of my favorite parts of weddings), then ended the night at the hotel bar with Cam's family!
Friday – Breakfast and Shopping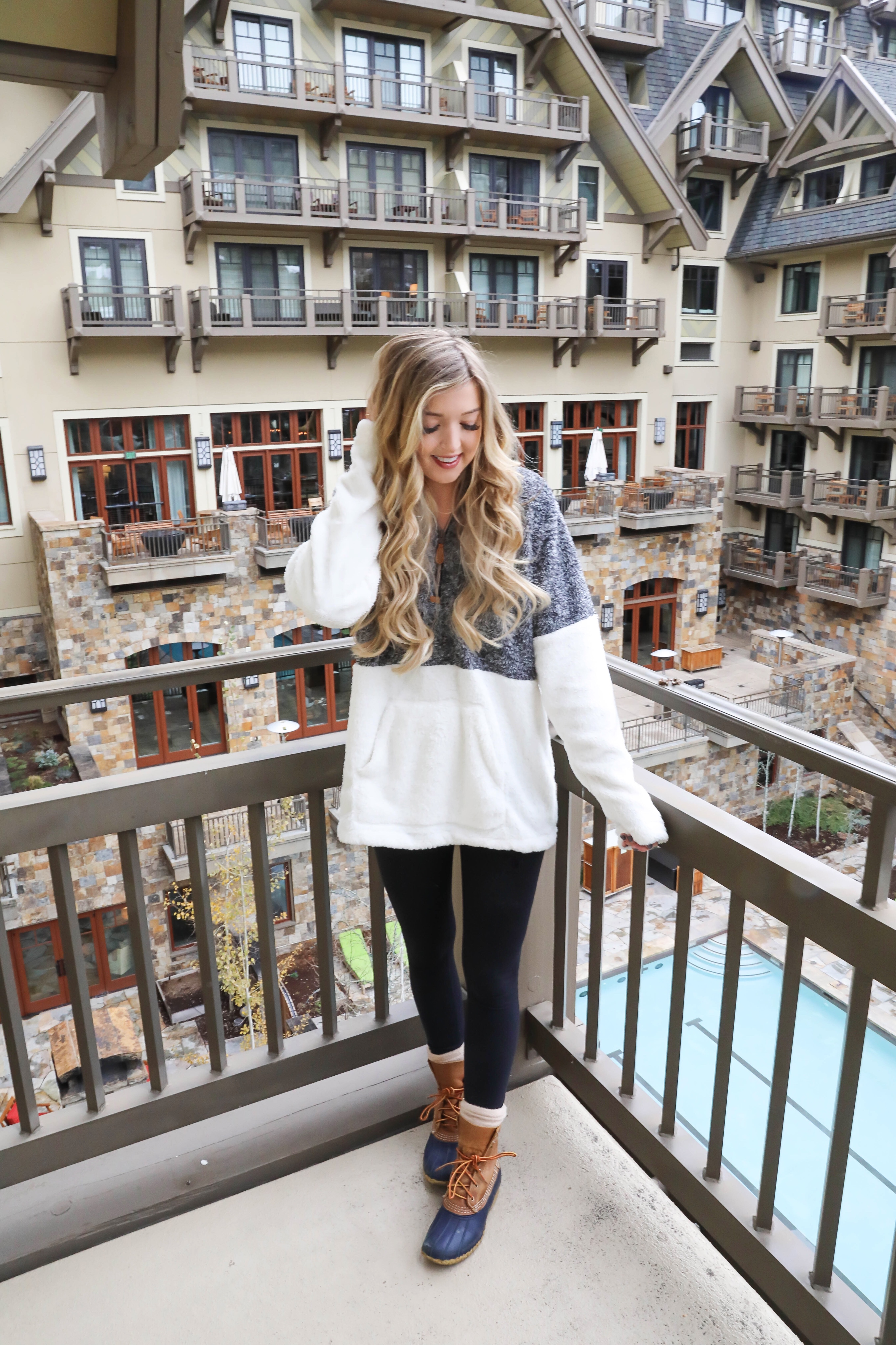 | Softest Pullover (I am wearing a medium) | Leggings
(I am wearing a size small, these are my favorite brand) |
Duck Boots
(so perfect for the snow, size up) |
We took this photo off the balcony in our room (same with the cover photo)! The view was just breathtaking! I am obsessed with this pullover, definitely the SOFTEST thing I own! I wore this to breakfast at my favorite restaurant in Vail, Vintage. My boyfriend and I went with some other couples and it was so fun! Then we all went shopping, such a great way to start the trip!
Friday Evening – Dinner
That evening we went to the hot tub with Cam's little cousins then we met up with some of the couples again and went to a really yummy sushi restaurant! I met some amazing people this weekend and I am really thankful that they all took me under their wing and welcomed me with open arms! I didn't get a photo of my dress that night, but it was this one in the color 'plum.' I wore a size small with these over the knee boots and it worked as a dress! I will shoot the outfit soon so you guys can see! Cam and I were going to meet some people at the bar that night after dinner, but got caught up playing ping pong and pool while drinking some wine – it was so fun haha!
Saturday Morning – Breakfast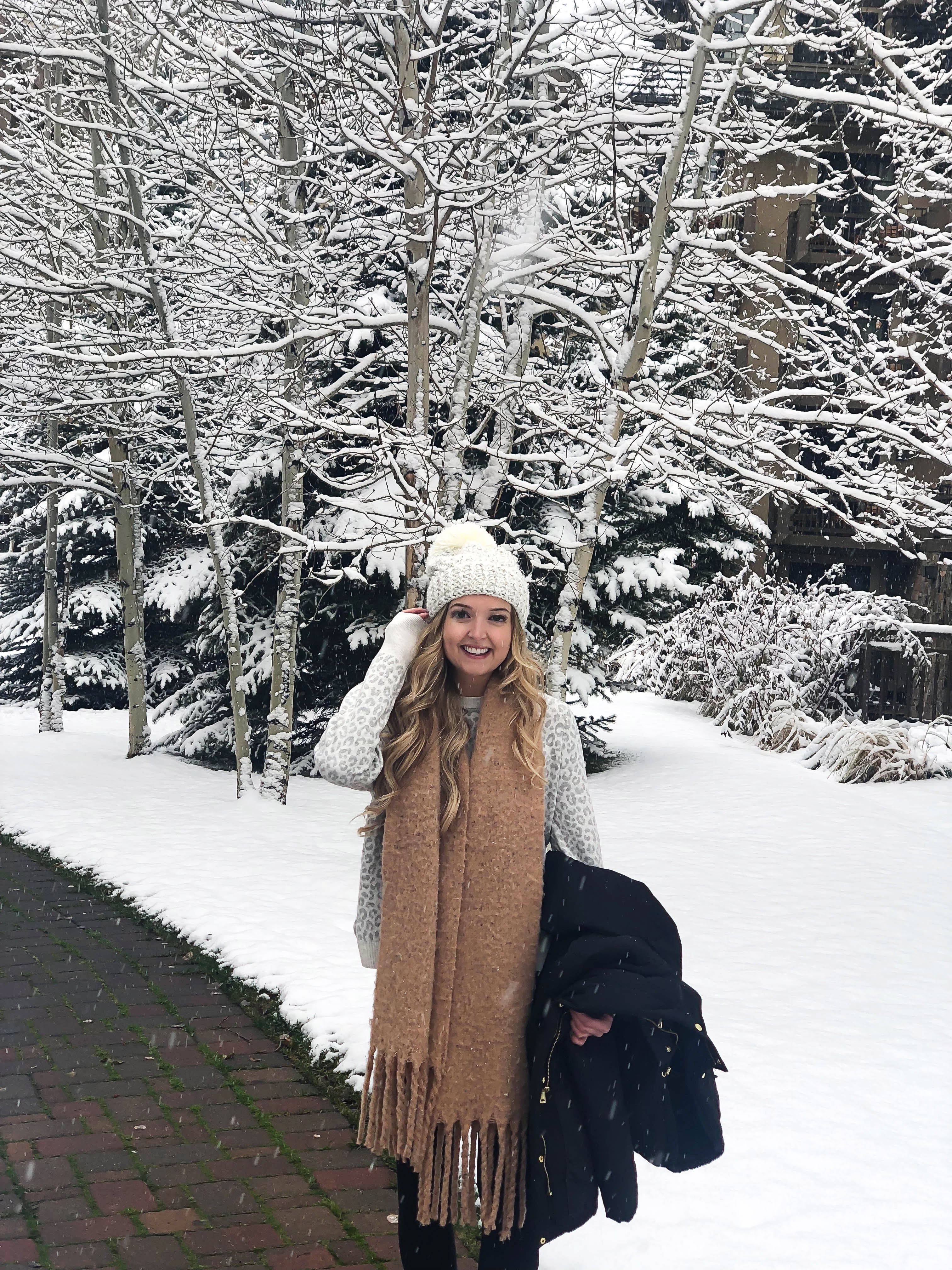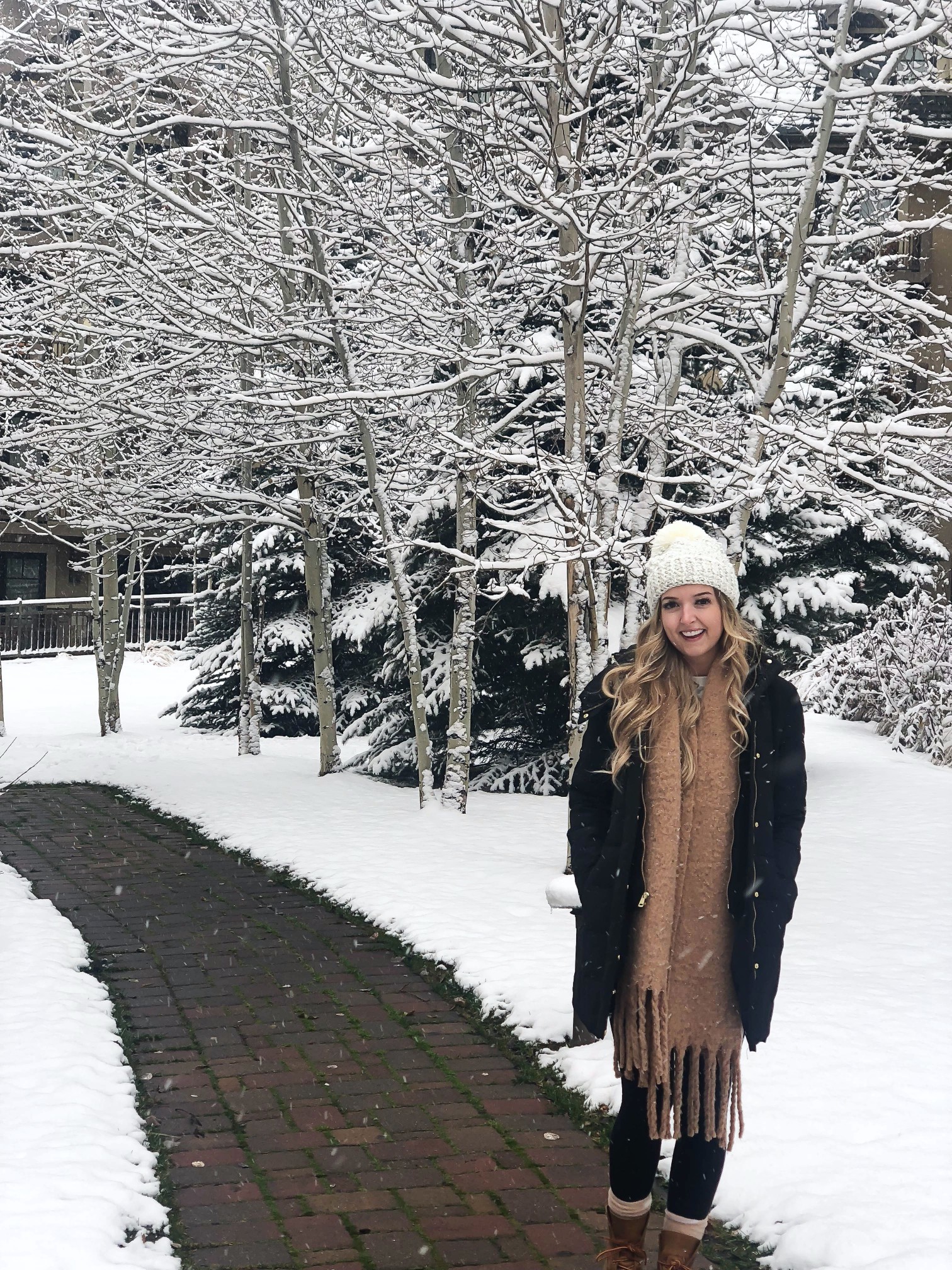 | Grey Leopard Sweater ($20 and BACK IN STOCK – I am wearing a size large) | White Beanie ($17 also comes in black) | Tan Scarf (similar) | Cole Han Coat (ON SALE so flattering on)| Leggings
(I am wearing a size small, these are my favorite brand) |
Duck Boots
(so perfect for the snow, size up) |
We woke up to the most gorgeous snow fall this day! Cam and I went on a date to the same restaurant again for breakfast because it was that good. They had the yummiest brioche bread that was so light and fluffy! I got it with the eggs benedict and he got it made with French toast. It was as heavenly as the views in Vail! 
On the way back Cam saw a pretty spot and asked if I wanted photos. I thought it was so sweet! He's such a supportive boyfriend and took all my photos this weekend (and did a great job)! I am so lucky! We spent the rest of the morning getting ready, then it was wedding time!
Saturday Night – Wedding!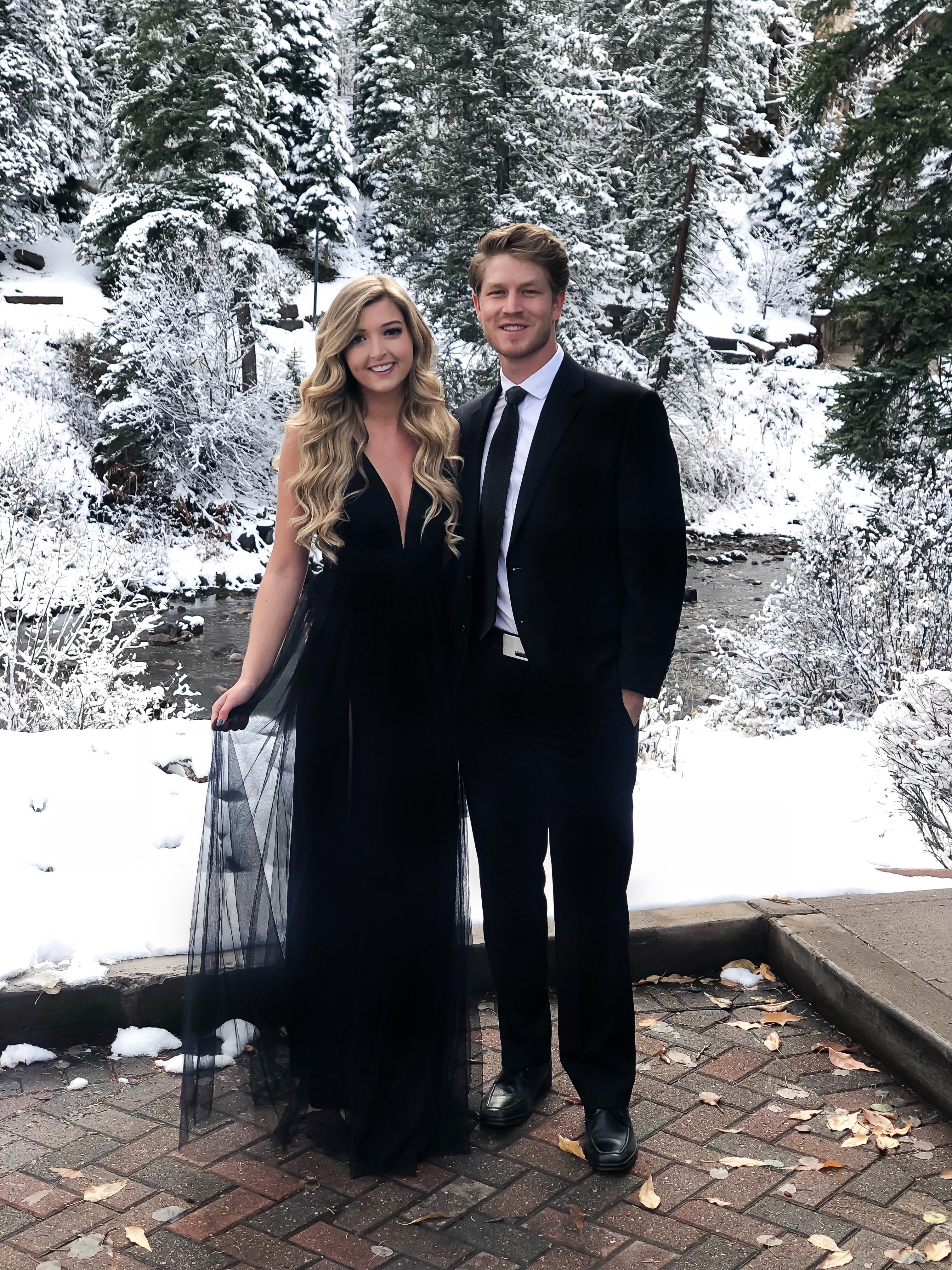 | Black Dress ($66 I am wearing a size small – c/o Red Dress Boutique) |
The wedding was in the afternoon at the cutest little chapel in Vail. The ceremony was BEAUTIFUL! After it ended we all took some photos and got on a party bus that took us around Vail! It had a bar, music, and some food – it was so fun! That night the reception was at the one of the Four Season's restaurants. The venue was beautiful, the food was delicious, and the whole night was a blast! It couldn't have been more perfect! Congrats to the Bride and Groom, Brooke and Tray!
I wore this dress that was generously sent to me by the Red Dress Boutique! I got SO many compliments. To be honest, it was a bit out of my comfort zone because it was a bit revealing. But I am so glad I wore it because everyone loved it!
Sunday Morning – Breakfast & Leaving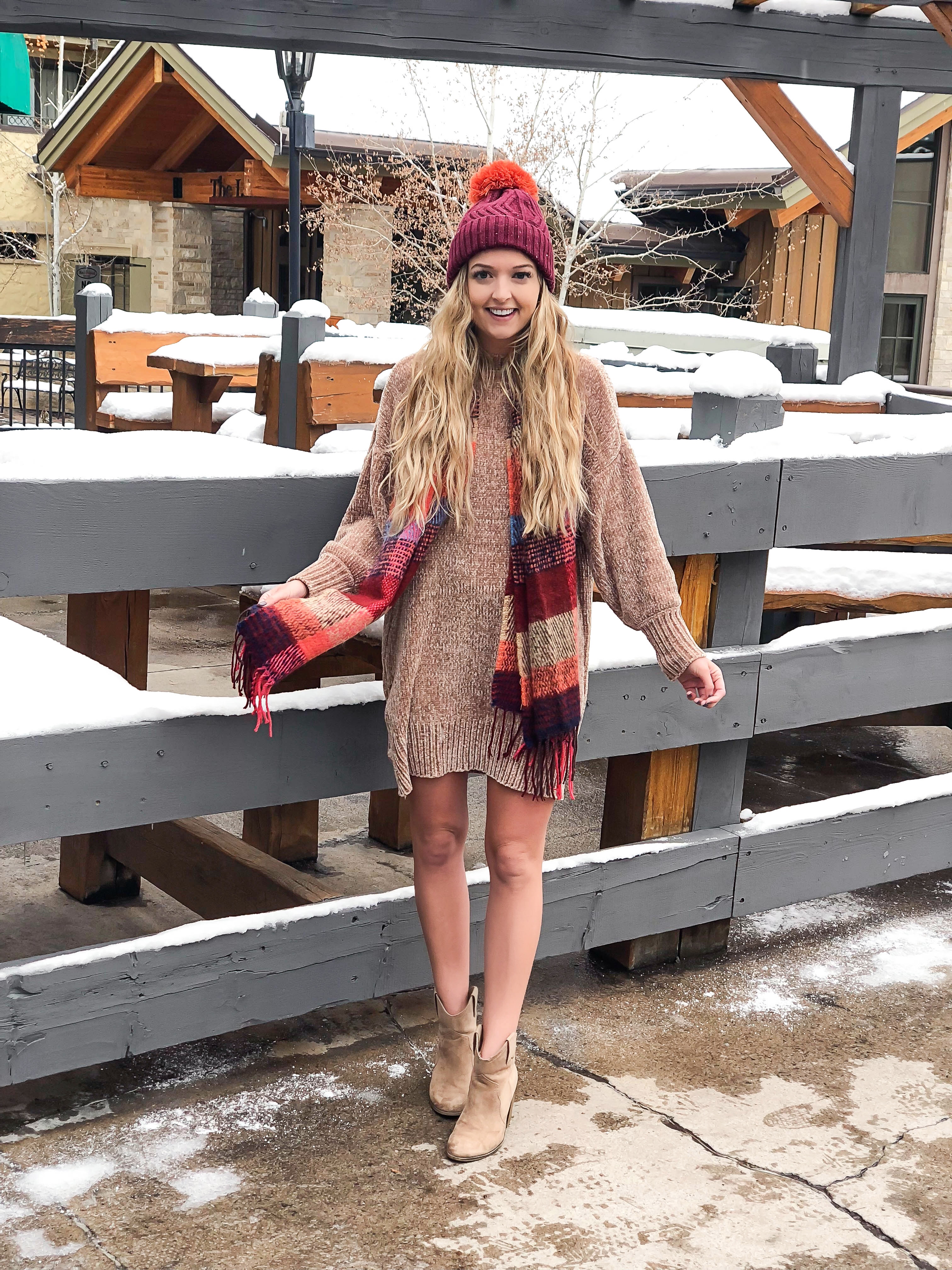 After a long fun weekend, I surprisingly woke up early and got to see the sunrise. Cameron ALWAYS wakes up before me and for once I was up before him haha! It was probably because of daylights savings. We laid in bed for awhile then got ready for breakfast. Cam found the cutest little dinner with DELICIOUS food! It was quite a walk, but a pretty one! 
I wore this cute chenille dress that was also sent to me by Red Dress Boutique! They are one of my favorite boutiques and all of their clothing is adorable! I am so lucky to be able to work with a company I have loved for so long! I paired it with a cozy scarf and boots because it was freezing.
After breakfast we met the bride, groom, and other family at a restaurant and had some coffee and water while they ate. We said our sad goodbyes (I did not want to leave!) then headed back to the hotel to quickly pack and fly home.
Big thank you to the Wiltse and Budke family for welcoming me into their family this weekend and being so amazing! I especially want to thank Cam's grandparents for everything they do for us. And of course, a huge thank you to my amazing boyfriend! I don't know what I did to deserve all of them!
xoxo,
Lauren Emily Lindmark
*c/o stands for "courtesy of." Red Dress Boutique generously sent me a few items for my trip, however, all opinions are always my own.
Copyright © 2018 dailydoseofcharm.com