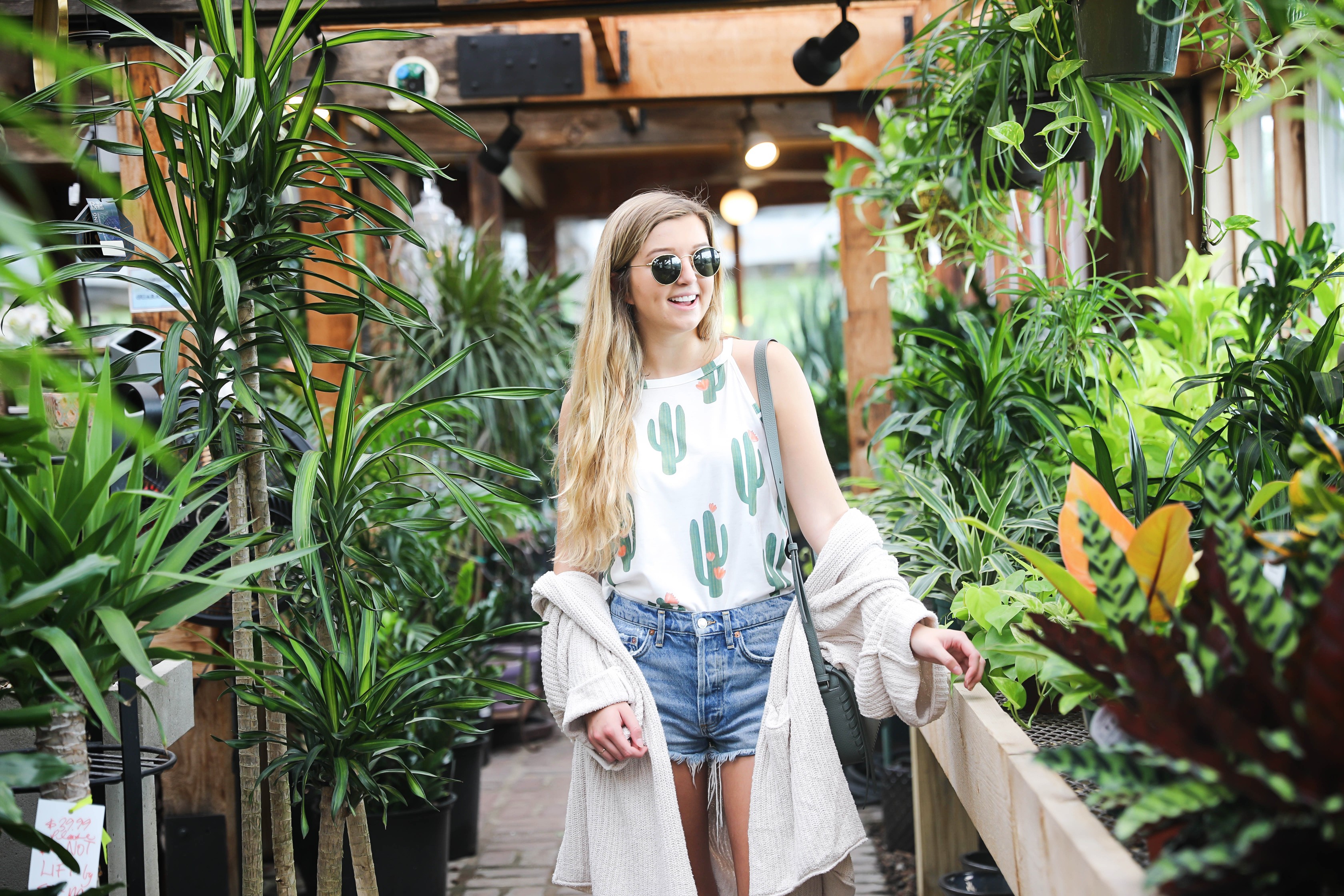 What My Natural Hair Looks Like + I Need Hair Advice! | + Cactus OOTD
I am going to be honest, I really don't care much about how my hair looks unless I am shooting photos. If I am just hanging out with friends, running errands, or working, I usually just wear it natural – which is how I wore it in these photos! I am lucky because my extensions match my natural curl and texture perfectly and the length makes it really cute! In these photos it is a little more straight because this is second day hair and I brushed it. However, usually in the morning I will just get the ends wet and straighten a piece or two by my face so it falls better. I actually like how my natural hair looks! I feel like a lot of girls with curly hair hate it, but I always wanted it growing up after seeing Taylor Swift's hair! My prayers were answered around the middle of high school because that is when my curly hair gene hit! Both of my sisters's hair are also curly (my little sister is just starting to get her curls), I think we get it from my dad!
Side note, I actually got a perm in second grade… maybe I will post a photo on my Instagram Story haha! It did not look very good, but like I said, I loved T-Swift's curly hair and wanted mine to be too!
So anyways, I love my hair like this, but the one problem is the frizz. Even when my hair is done I feel like my natural curls leave it a little frizzy. These photos were taken in a humid nursery so the frizz is a bit more dramatic, but I wanted to talk about it in this post because you can see it. So this is where you guys come in, I need your help! Send me all your frizz recommendations (products, etc.) and I am going to try and review them all! Comment below or message me on Instagram!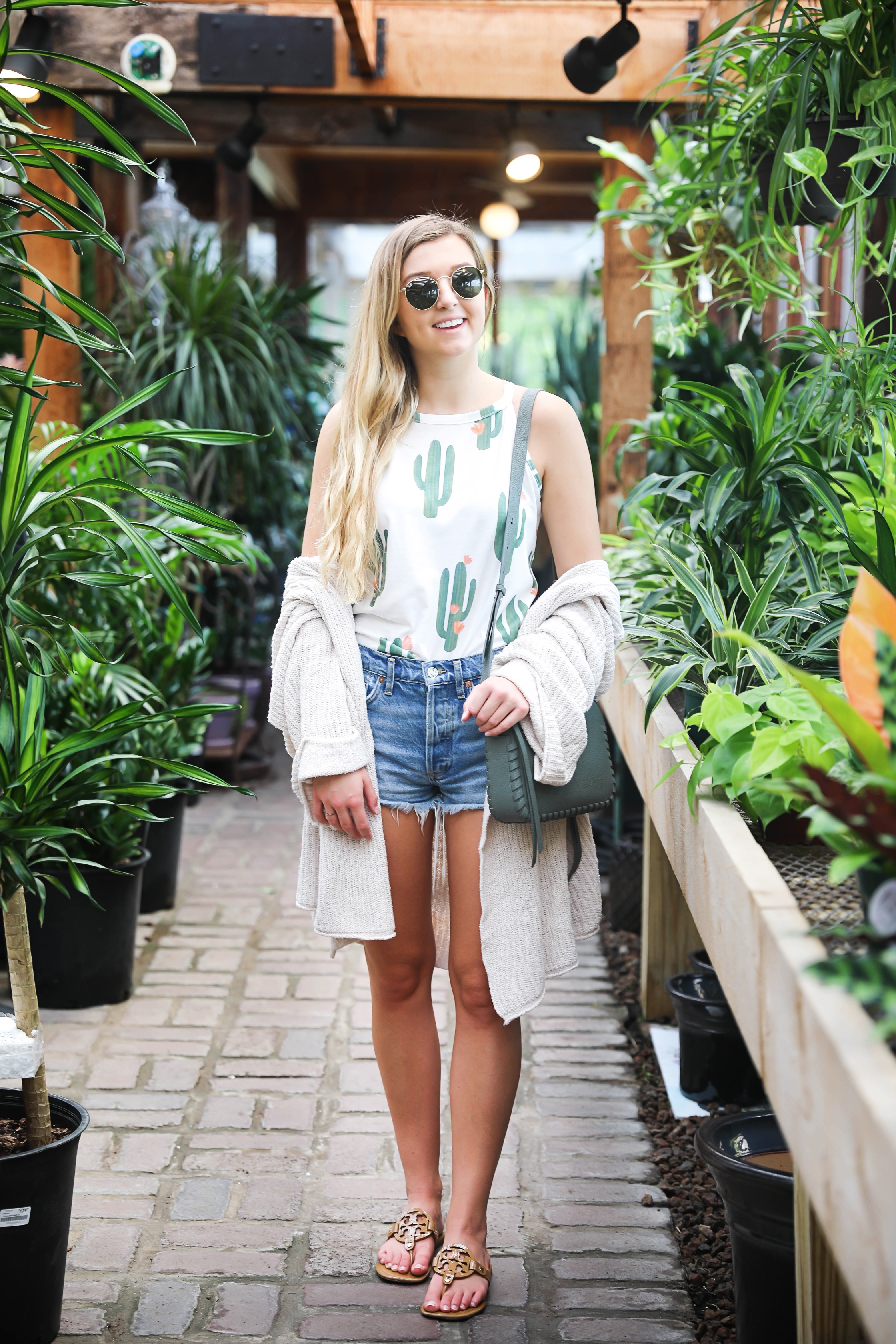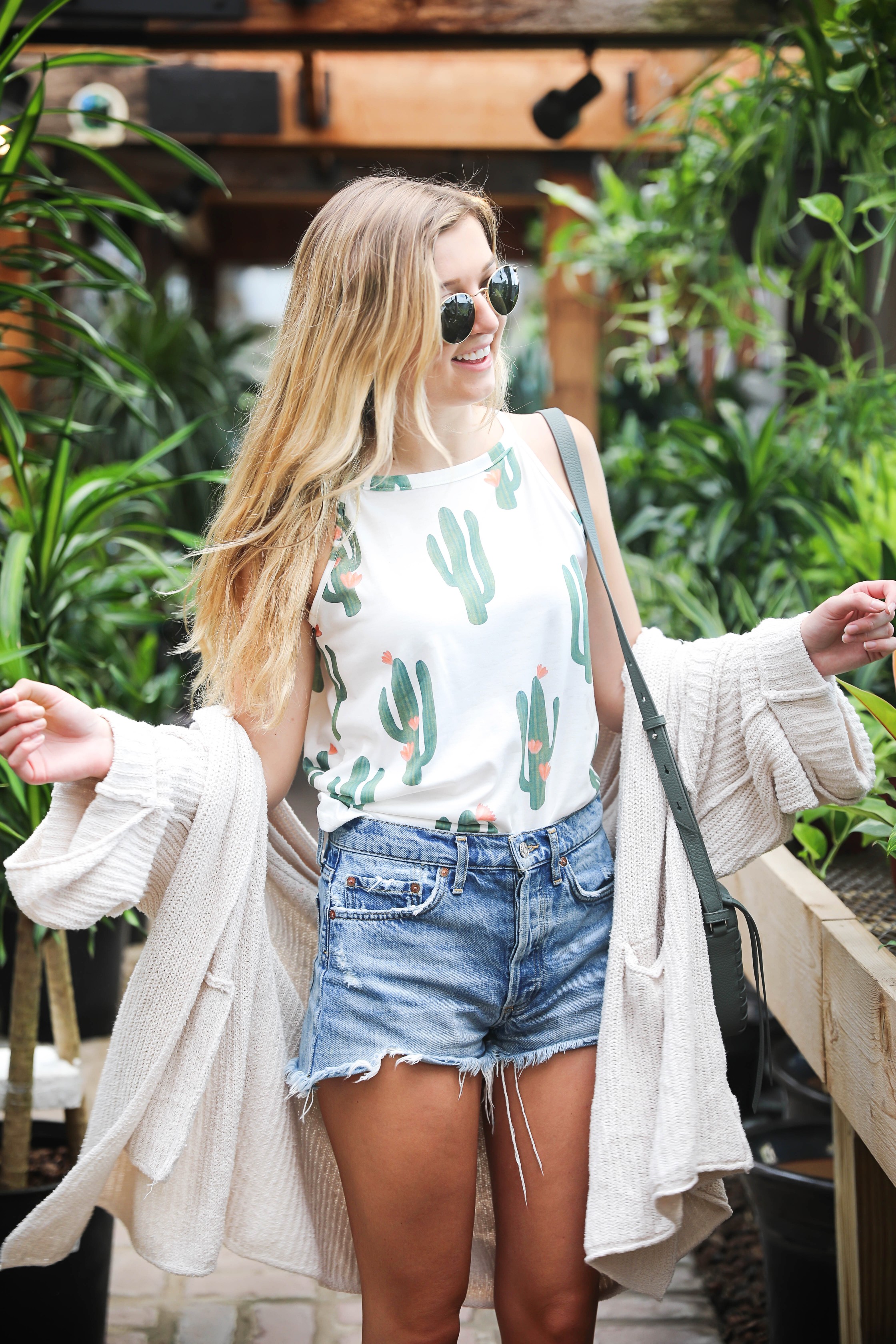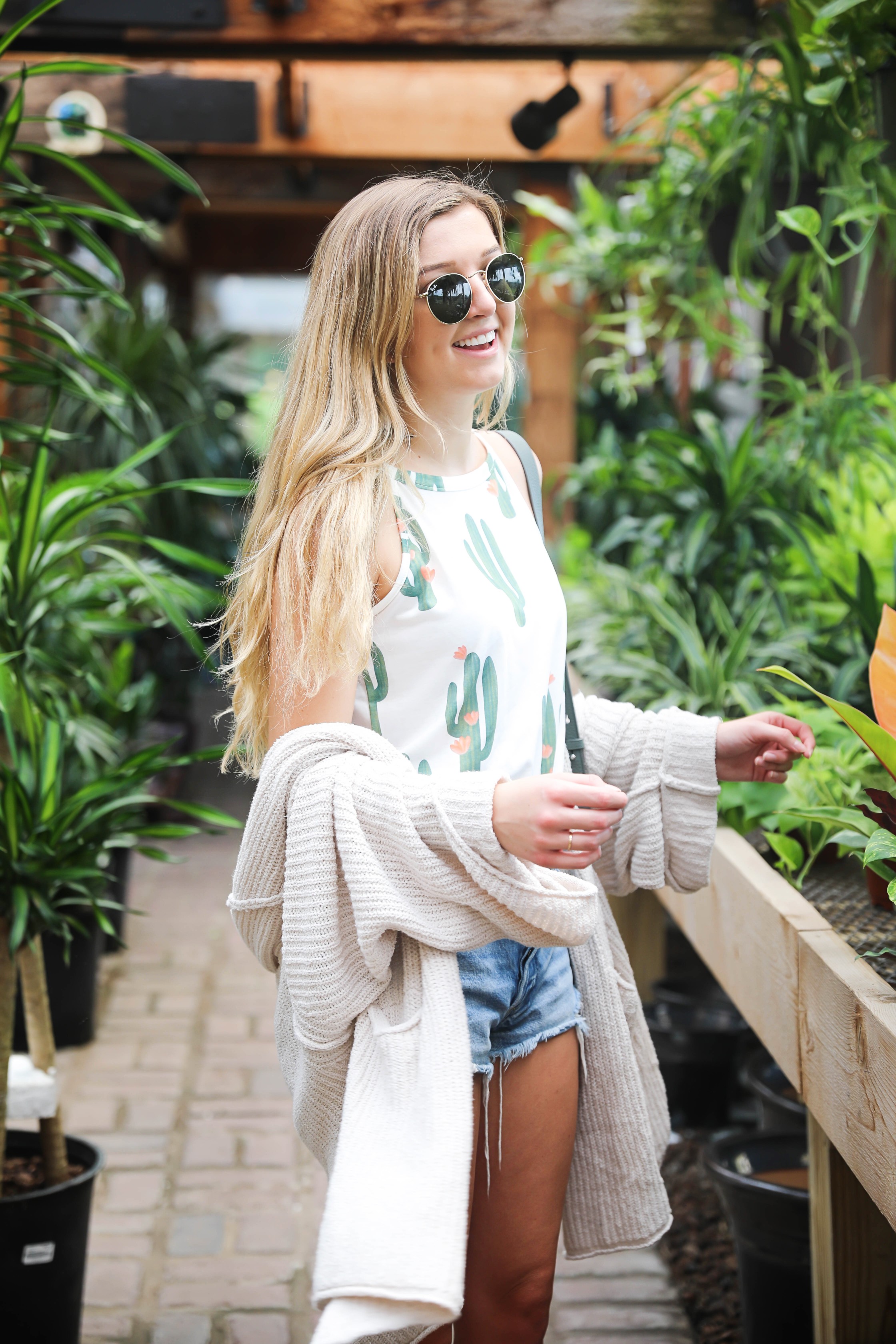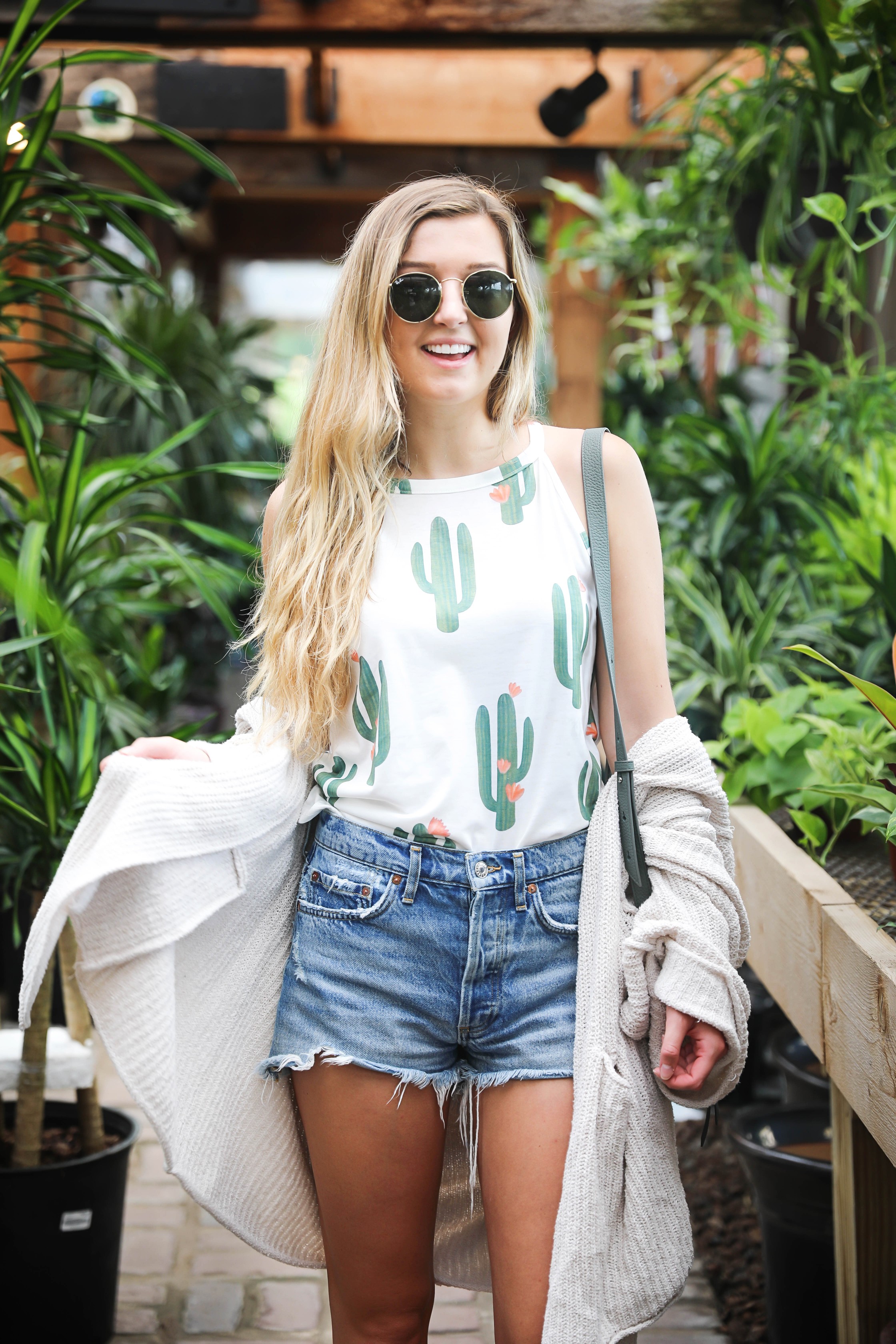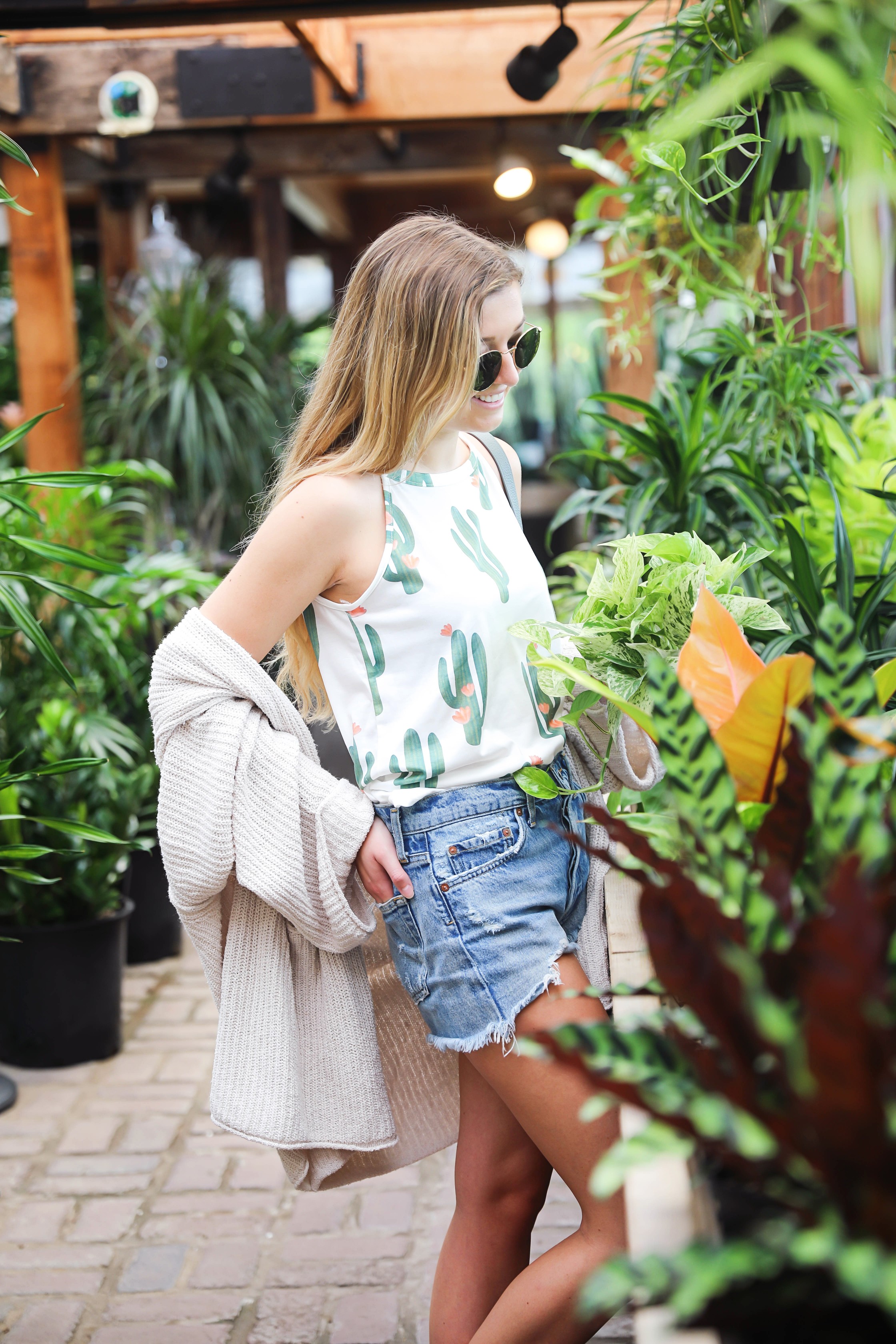 | Cactus Tank ($17  I am wearing a size US 4 also comes in peach and black) | Denim Shorts (size down) | Free People Cardigan (original is sold out so I linked a similar, however, I found two exact ones on Ebay here and here) | Tory Burch Miller Sandals (comes in 16 colors) | ALLSAINTS Bag (finally back in stock and comes in two colors) | Circle Ray Ban Sunglasses |
I love cacti! This cute little cactus tank is so cute thrown on under a cardigan – plus you can't beat the price! I got it on Amazon so it also has Prime shipping! Does it get any better? My mom and I shot these at a local nursery in Leawood and I was sweating my butt of haha! Seriously, sweat was dripping down my back… kind of gross. They keep those places so humid!
I paired this look with my trust denim shorts that I have been wearing non-stop and my favorite cardigan (that is sadly sold out, but I liked a similar one and two originals that I sound on Ebay)! I am also sporting one of my favorite purchases from the NSALE which is this ALLSAINTS bag that they just restocked!
I really want to adopt a big floor plant for my next apartment! Let me know what kinds are easy to take care of!
xoxo,
Lauren Emily Lindmark
Copyright © 2018 dailydoseofcharm.com