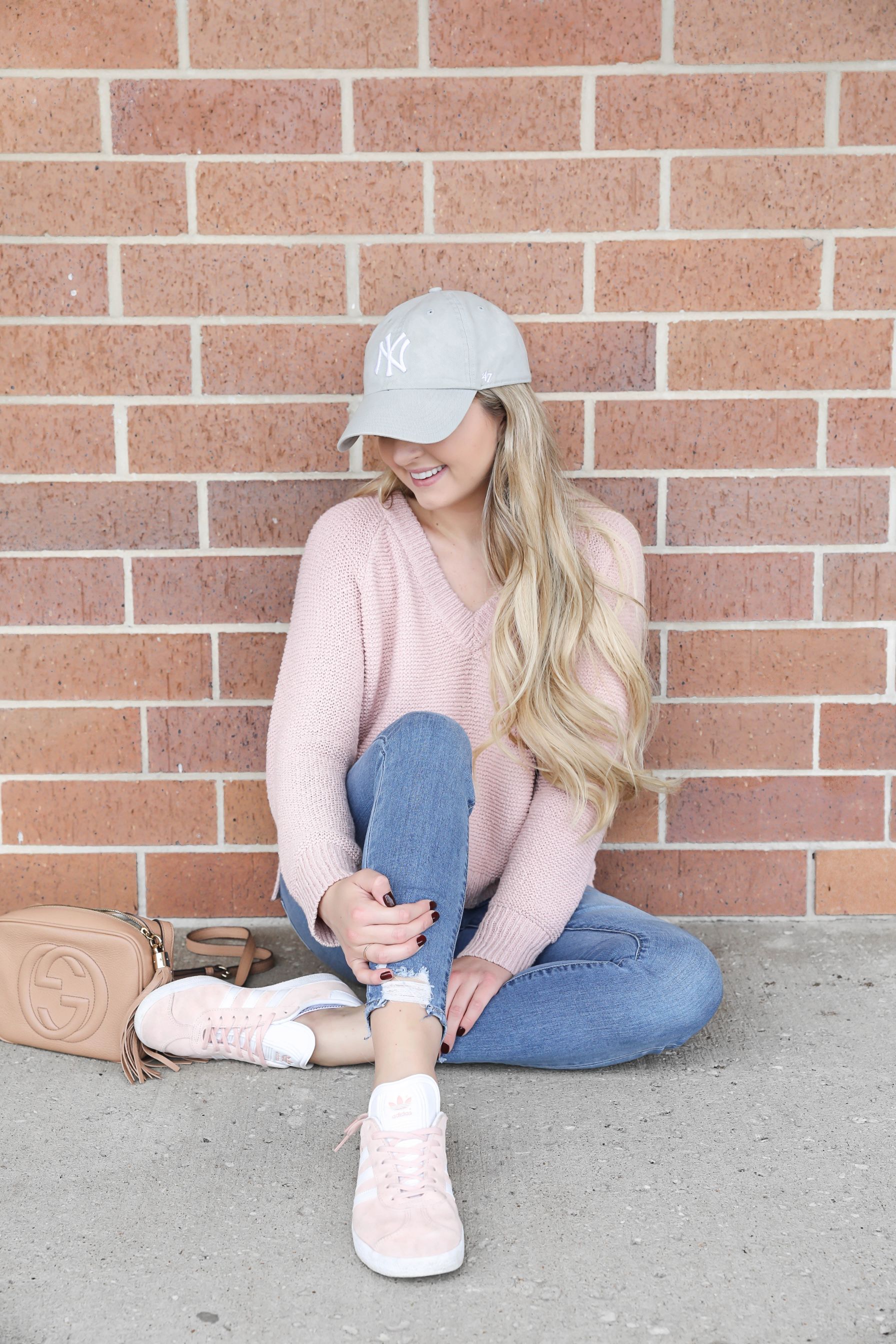 Where I Have (Really) Been Lately…
Hey… I am back 🙂
I wanted to sit down and get real with you guys about where I have been – if you follow me on Instagram you are probably thinking "Lauren, we see your Insta stories, we know where you have been. You've been working on your boutique." That is true, I have been working long days and I still have so much to do! I am so excited though! However, that isn't necessarily my excuse for being absent. So I wanted to explain not only where I have physically been, but also where I have been mentally.
I have talked about anxiety before online and told you guys how I hate talking about it because it has become so "mainstream" and "trendy" to have any mental illness, so I don't like adding to the narrative. However, the fact is I have had anxiety since I was in middle school, and it is a real part of my life. For the most part in the last few years I have learned to deal with it really well, I don't struggle day to day and really only notice it when I am put in social situations where I don't know many people. However, recently I have been dealing with the daily anxiety again. And it sucks.
It started back in August, I usually get a tiny bit anxious every year around this time because my internal clock knows it's "back to school time" which was always the WORST time of year growing up. I started waking up with that "I have to go to school" feeling and I kept thinking it was so strange that I felt that way because I am no longer in school… Luckily that stopped after a few weeks. However, the little daily pings of anxiety didn't stop.
The last few months I feel like I have lived in a constant state of anxiety and "what is next?" I feel really lucky that I have learned to deal with it better now that I am older, but it still is never fun to go through. It's definitely a lonely feeling. A lot of times it's me getting internally worked up and anxious about the smallest thing, like a short phone call. Other days I can feel my heart pounding so hard I feel like I can't breathe…
Overall, I think a lot of my anxiety stems from being outside of my comfort zone sooo much lately. When I first dreamed up opening this boutique I thought I would be selling some clothing out my room and just go from there. However, it has slowly turned into a huge life change. This weekend I hired my first employee (which I am super excited about), I am working outside of my house for the first time in my life, I am jugging all the tasks that come with a new business, I am having meetings with so many (amazing) mentors who are helping me along the way, and overall I am working towards a dream I have poured my heart and soul into (not to mention a lot of $ in loans).
So on top all these huge changes and getting out of my comfort zone every day, I also can't stop thinking about the unknown and what ifs. It's all very overwhelming. I've had these "no turning back" moments a lot the last few months. I have always been different when it comes to my life path, but I was never truly out of my comfort zone. It's scary living every day and pouring my heart and soul into something that I don't even know will be successful.
Overall, the anxiety is manageable and a part of life. It just means I am pushing myself and growing! However, the sucky thing about it is anxiety is exhausting. Being anxious, on top of working long days, 6-7 days of the week, and trying to make your dream work… doesn't leave a lot of time for other things in your life. So when it comes to blogging, seeing my friends, and even just taking care of myself – I feel too physically and mentally exhausted to do any of it. Which leads me to just feel like a bad friend, sister, daughter, blogger (and dog mom).
Because of all of this, I feel extra really lucky for the people in my life right now. My boyfriend is amazing and every time I am with him I feel like a weight is lifted off my shoulders, I am not worried and I get to just be in the moment and have fun for awhile. Him and my family have been a constant source of support, especially when it comes to pep talks and helping me with my actual business. I am especially thankful for my cousin, Theresa, who has been my right hand (wo)man the last few months (I would say she has been a good "test employee," but she is more of a boss haha – I don't know what I would do without her)! On top of that, my friends have put up with my absence and been so amazing showing me their support when I feel like I don't deserve it. And lastly…you guys have been what keeps me going every day. Thank you for putting up with my lack of posting, thank you for the DMs telling me how excited you are, and thank you for just supporting me.
Life has been crazy, but overall it's made me much more appreciative for what I have and the people who surround me. I promise I am going to try my best to get back on my schedule, I have some exciting posts including an Amazon Try On Haul coming up! For now, I am taking life one day at a time! Love you guys endlessly!
outfit details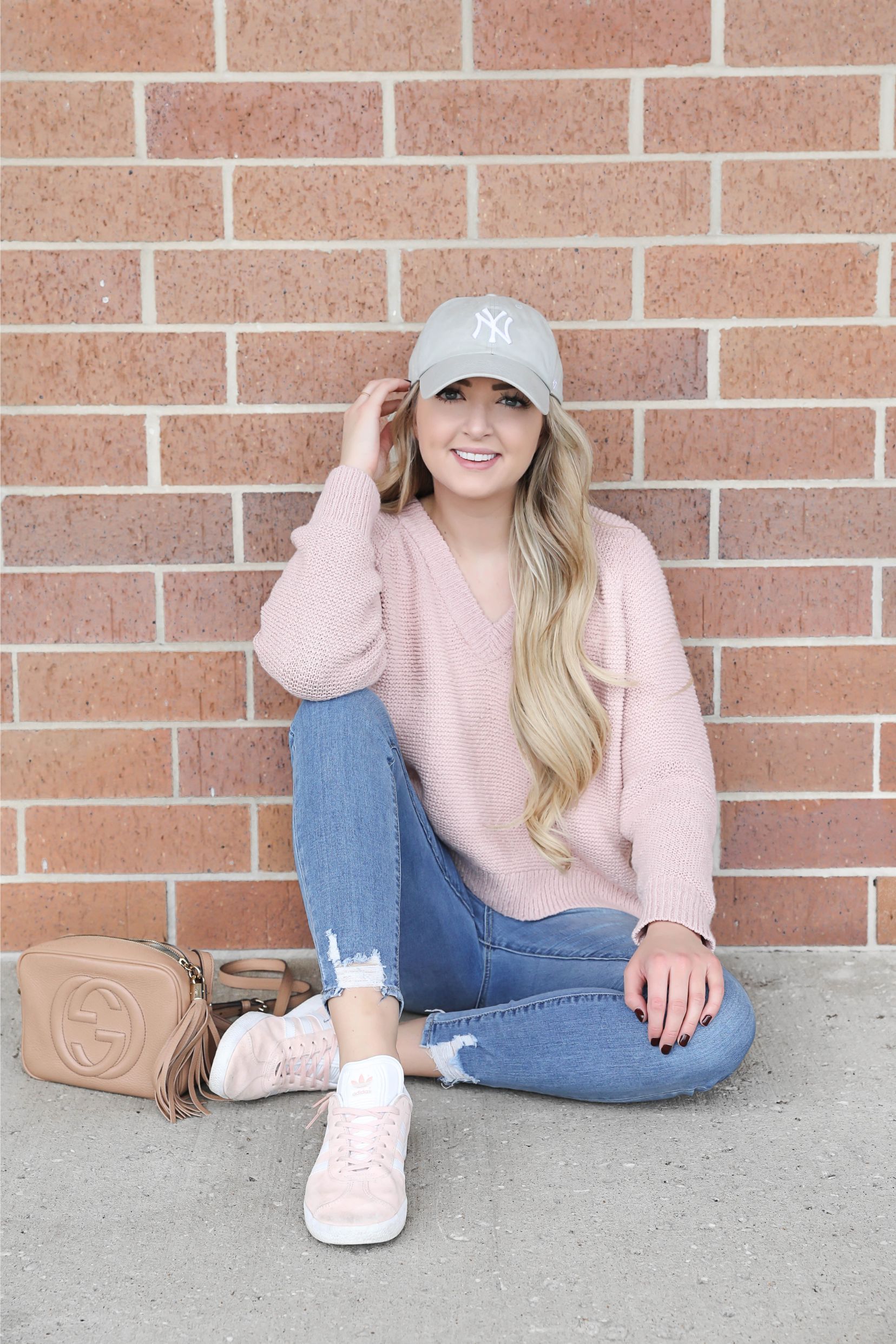 | Sweater (I am wearing a small – comes in more colors)  | NYC Hat ($25) | Adidas Pink Sneakers (mine are sold out in pink so here are some similar pink sneakers) | Distressed Hem Jeans (similar) | Gucci Bag |
xoxo,
Lauren Emily Lindmark
Copyright © 2019 dailydoseofcharm.com