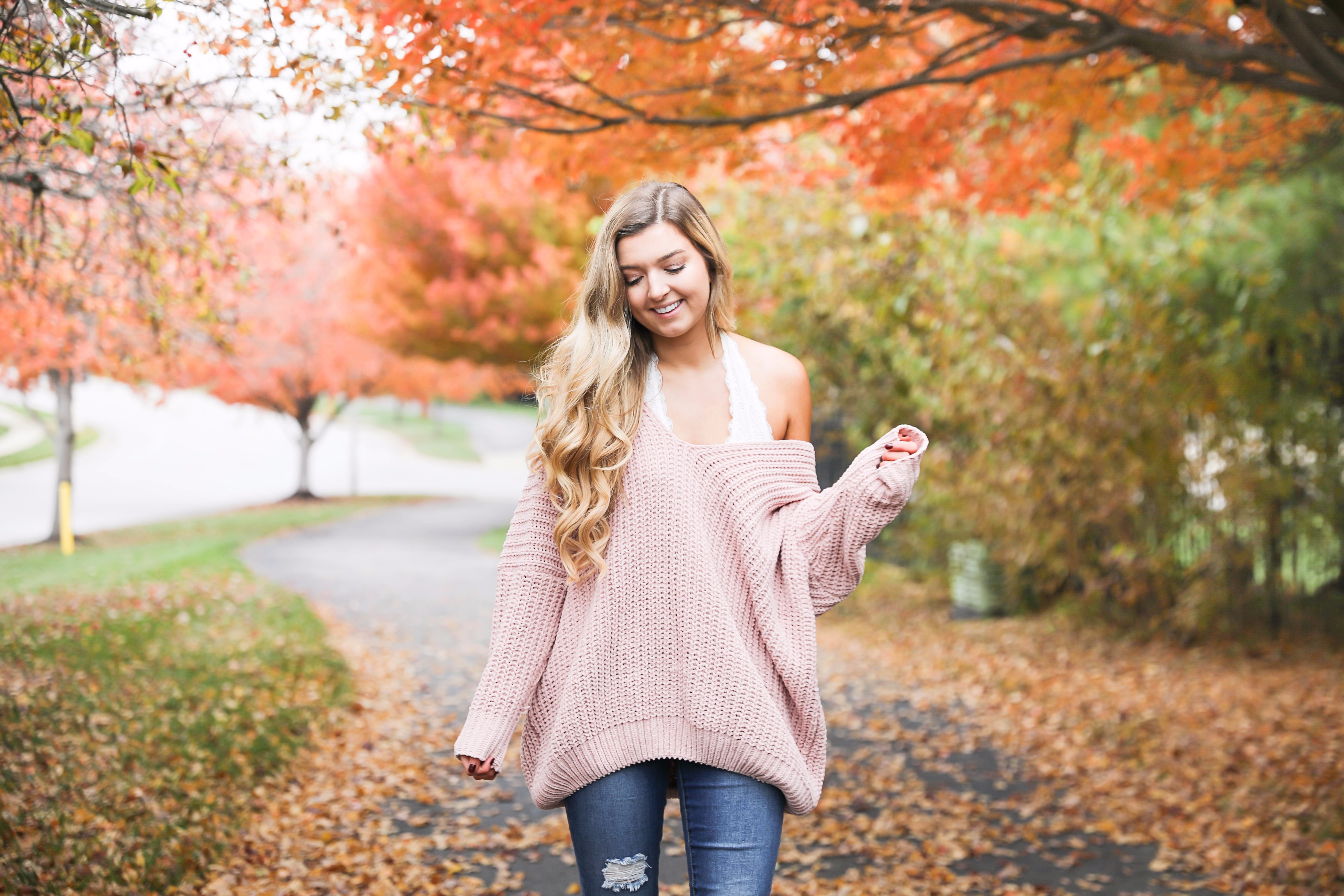 The Perfect Playing in the Leaves Sweater | OOTD
In a blogpost the other day I was talking about how I want to find my spark again for blogging – well, I think I found it! I was spending the last few months taking photos at the same walls in my hometown, and although I enjoyed it – I was caring too much about things looking similar instead of actually being creative and creating content like I once was. I used to have so much fun scouting out locations and putting together the perfect looks for each one. However, the past few months I have spent a lot of time going through the motions of content creating. Now, I feel like I have looked at the world differently ever since I decided to find that spark again! It all started the other day when I shot this post in front of some trees, now my mind is buzzing with creativity again! I spent two hours yesterday planning out a content calendar for the next 2 months. I couldn't be more excited on what is to come and I hope you guys are too!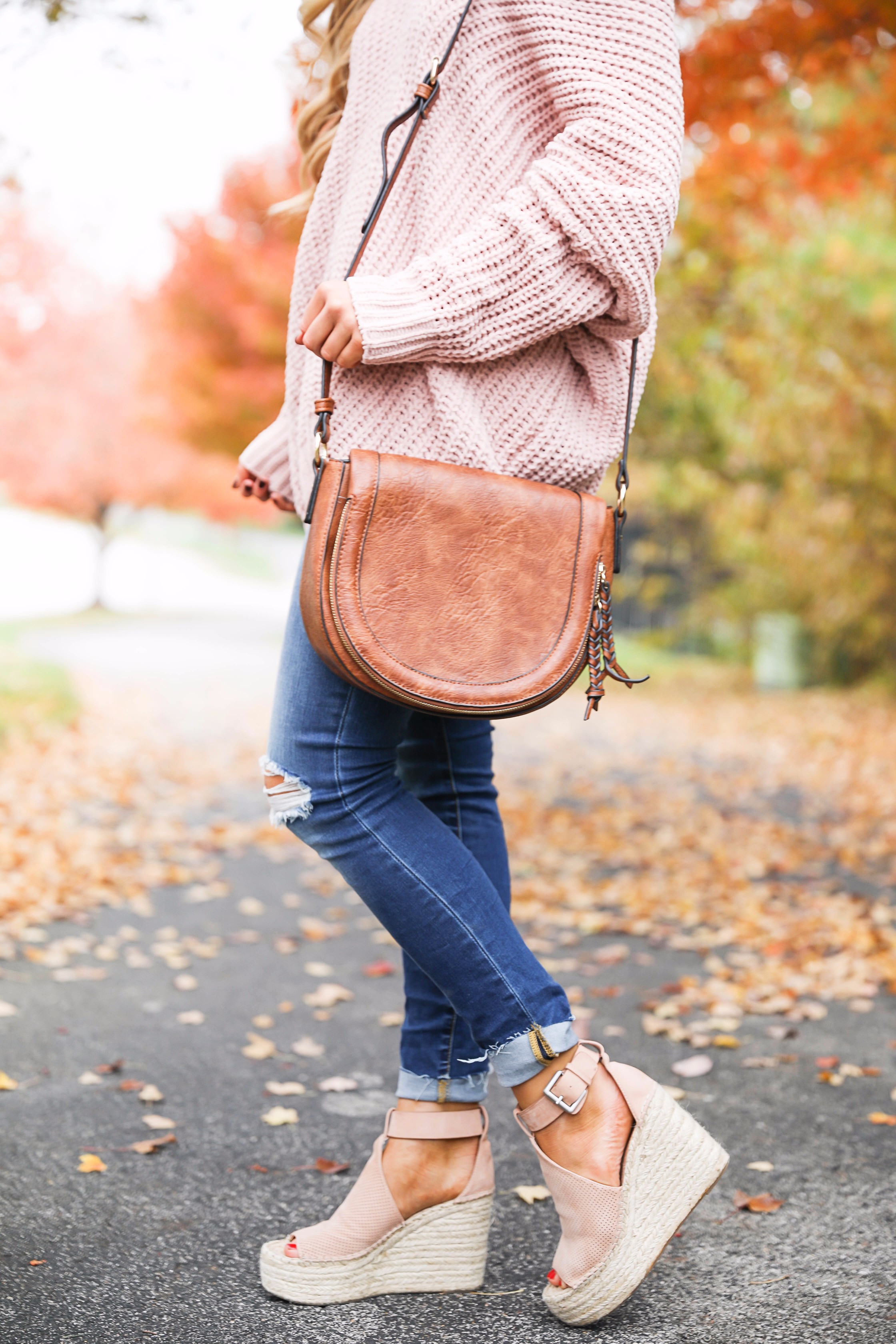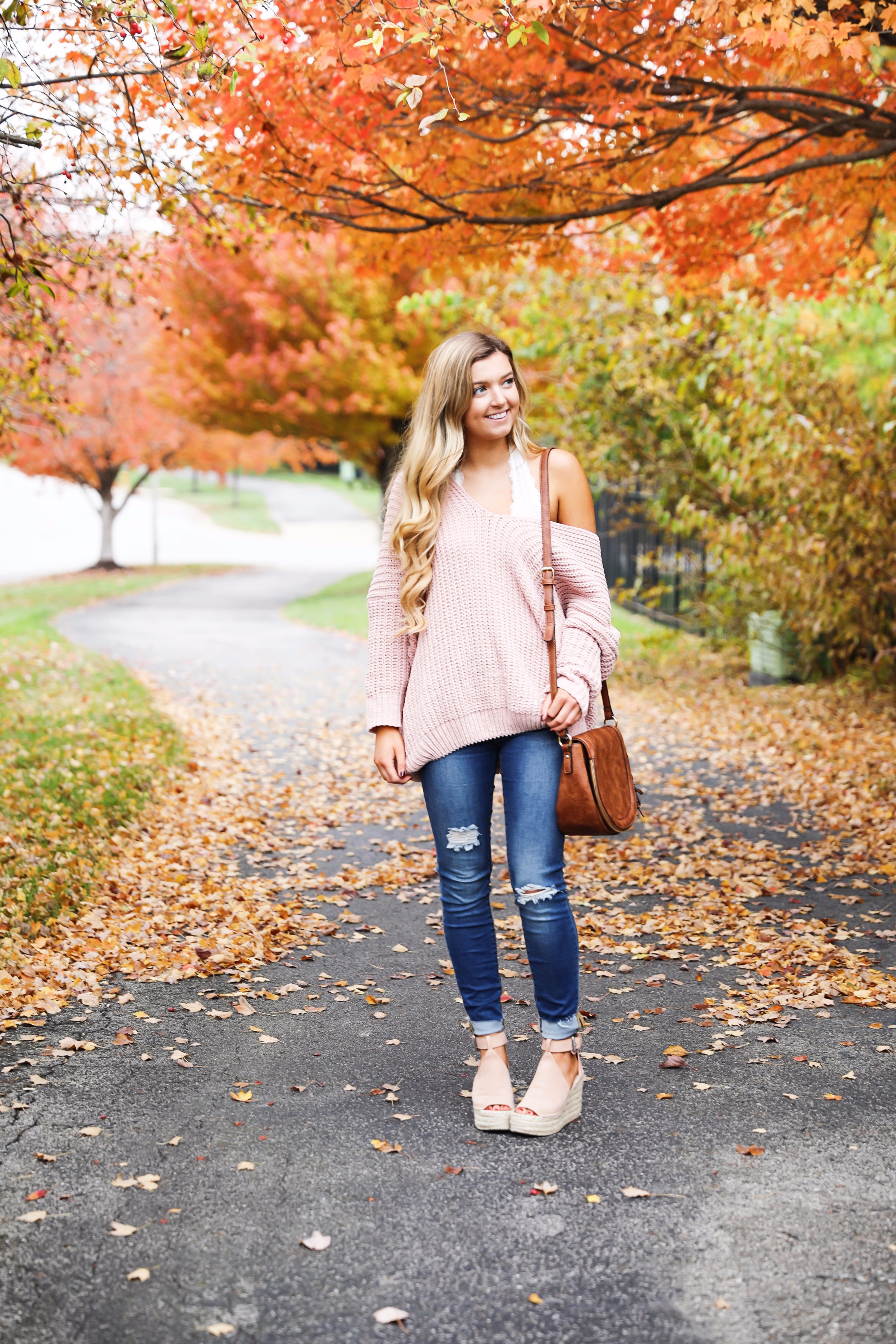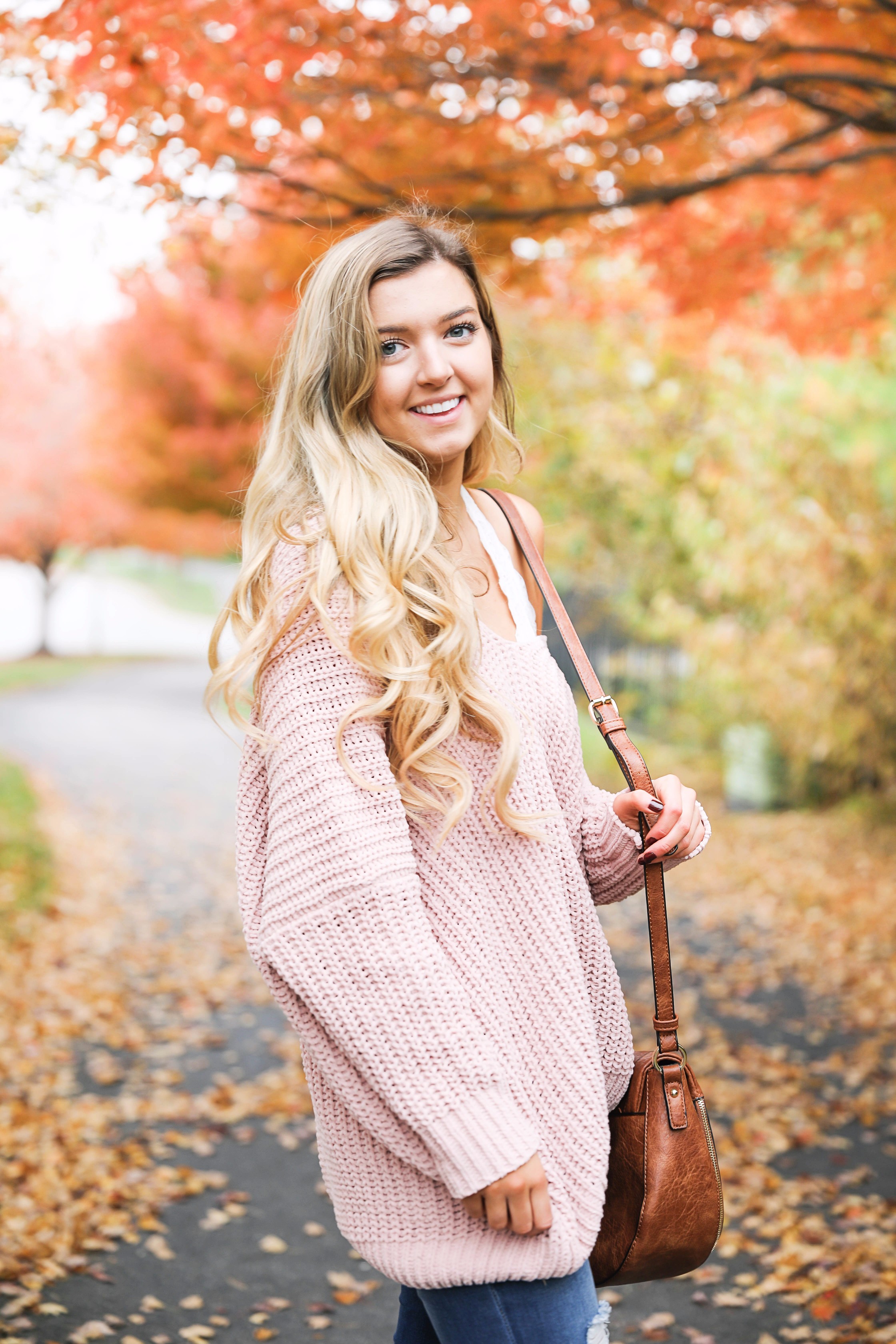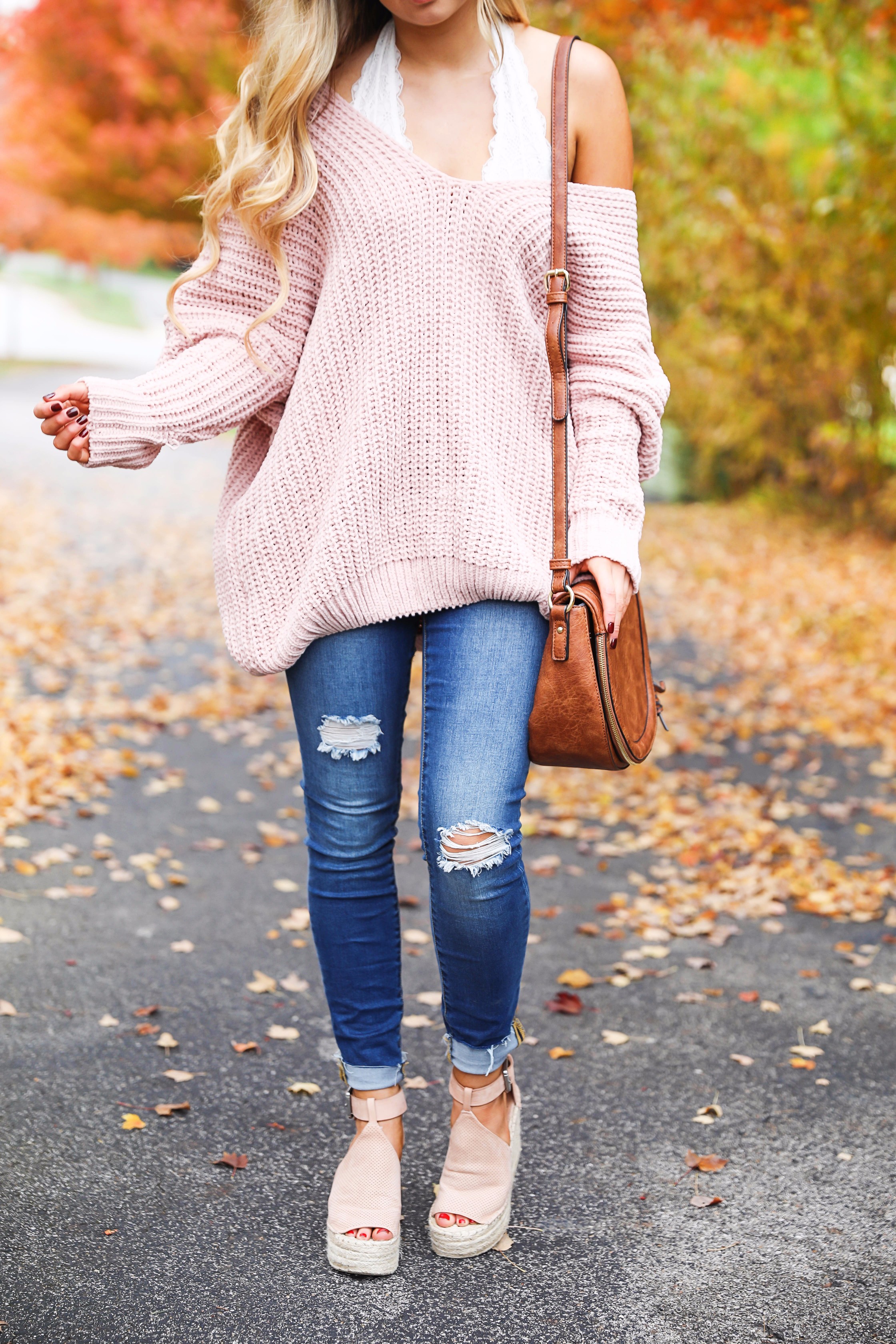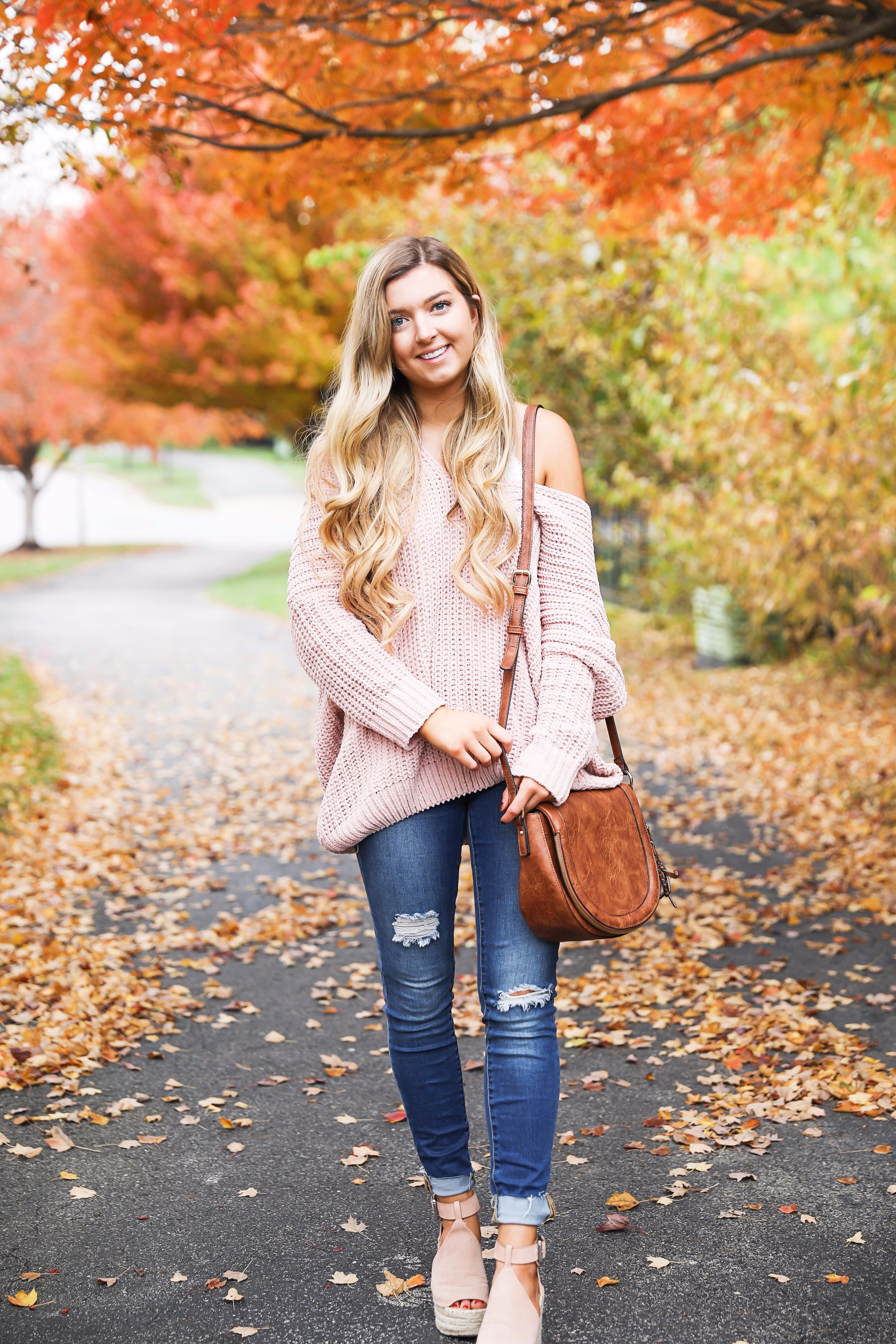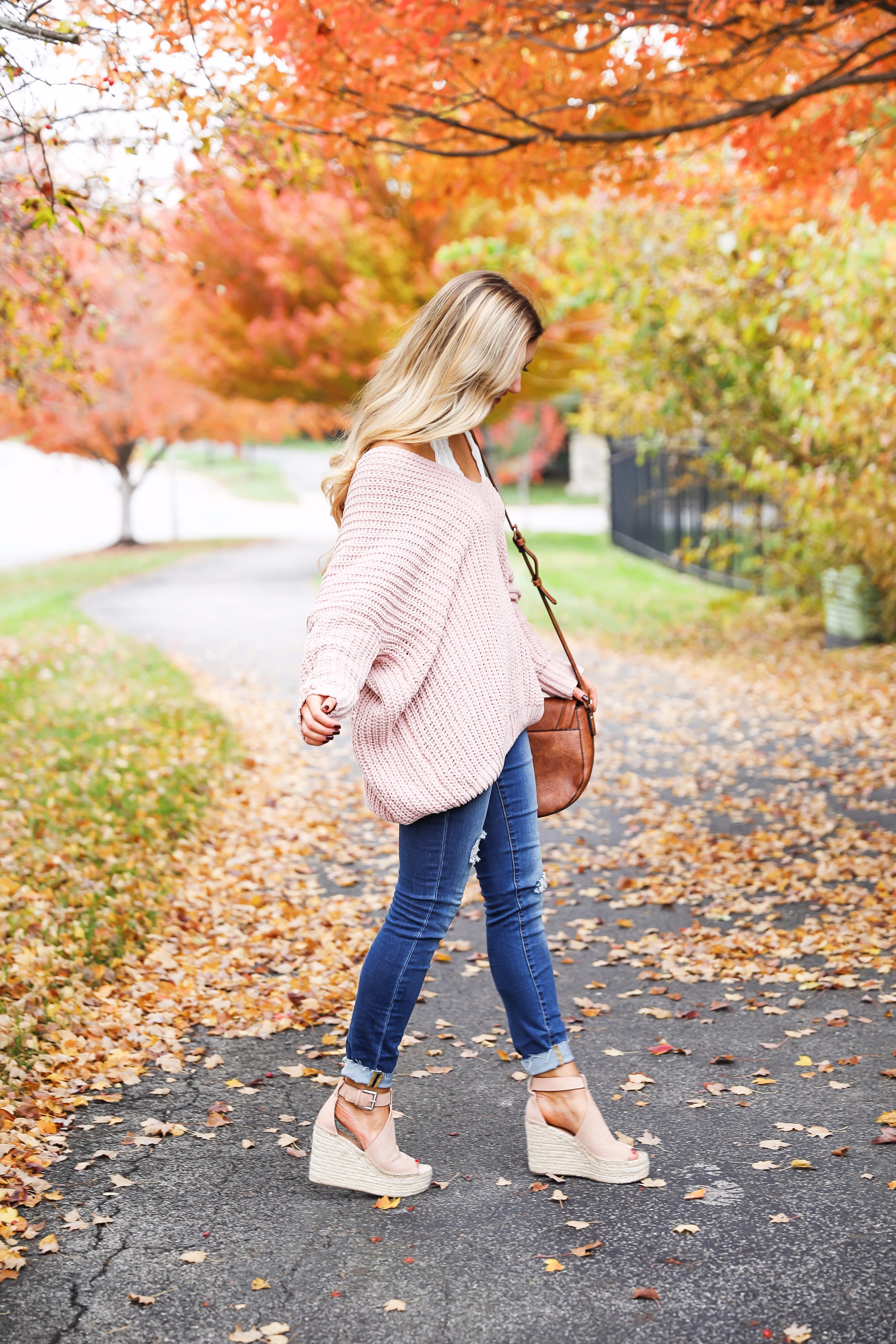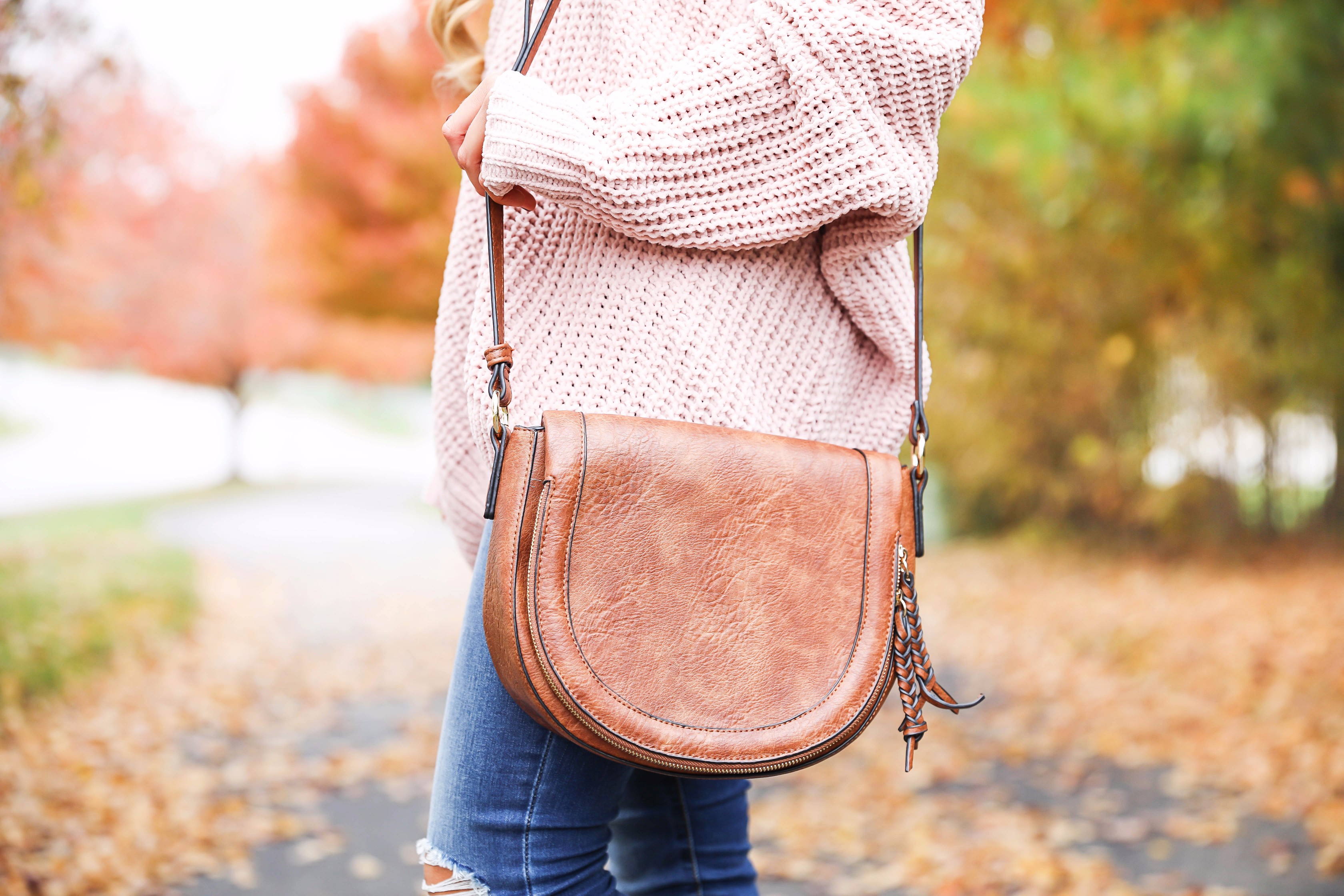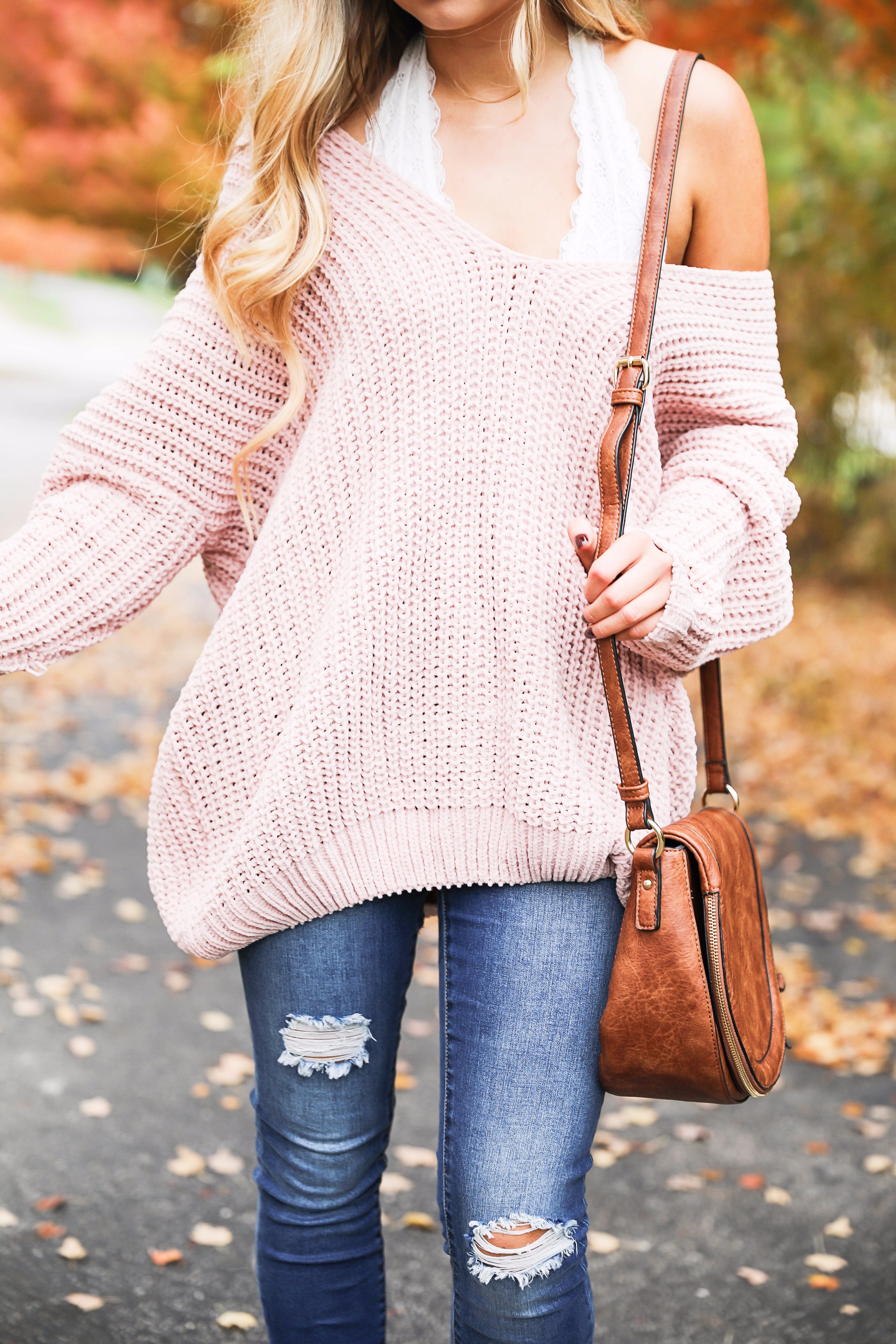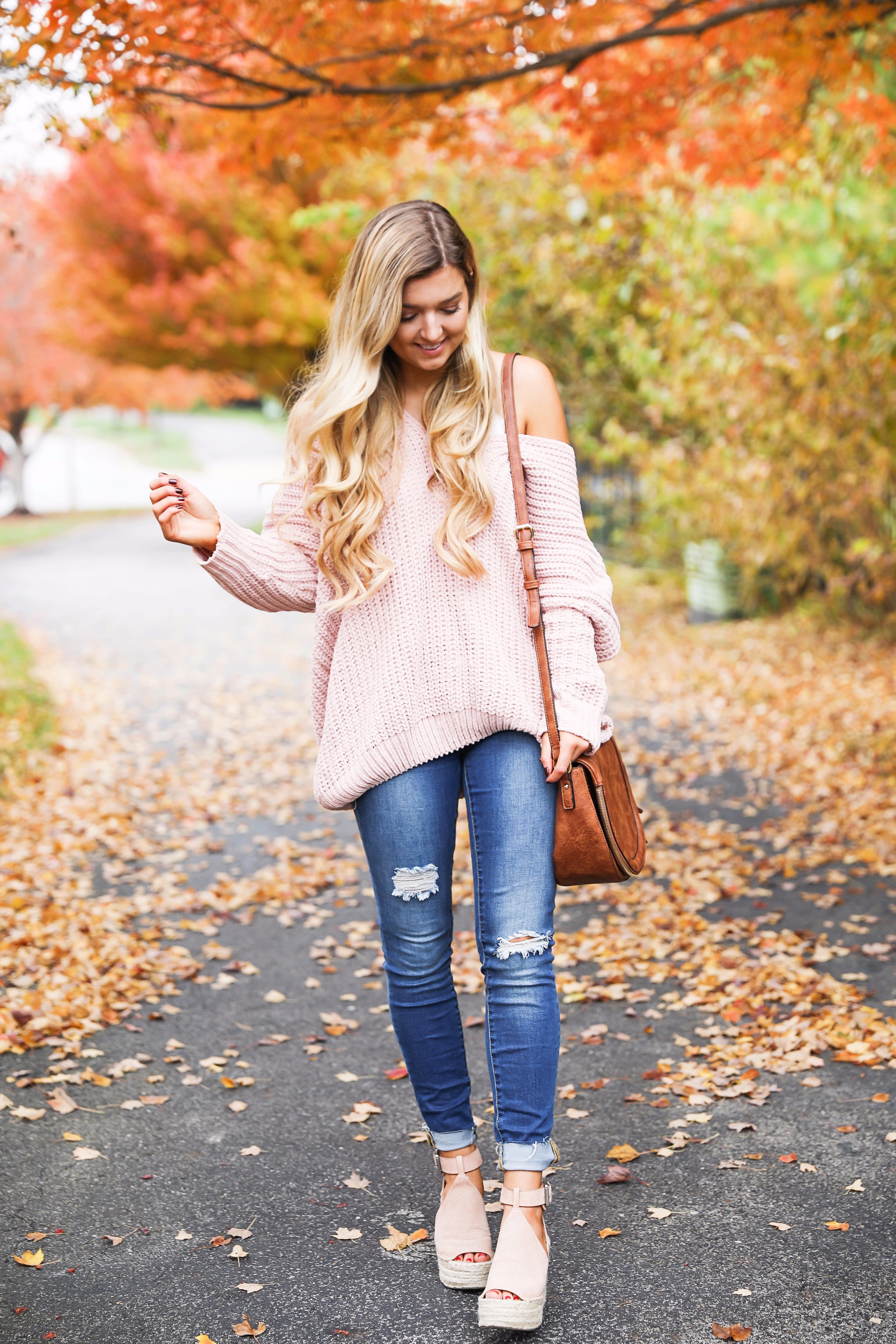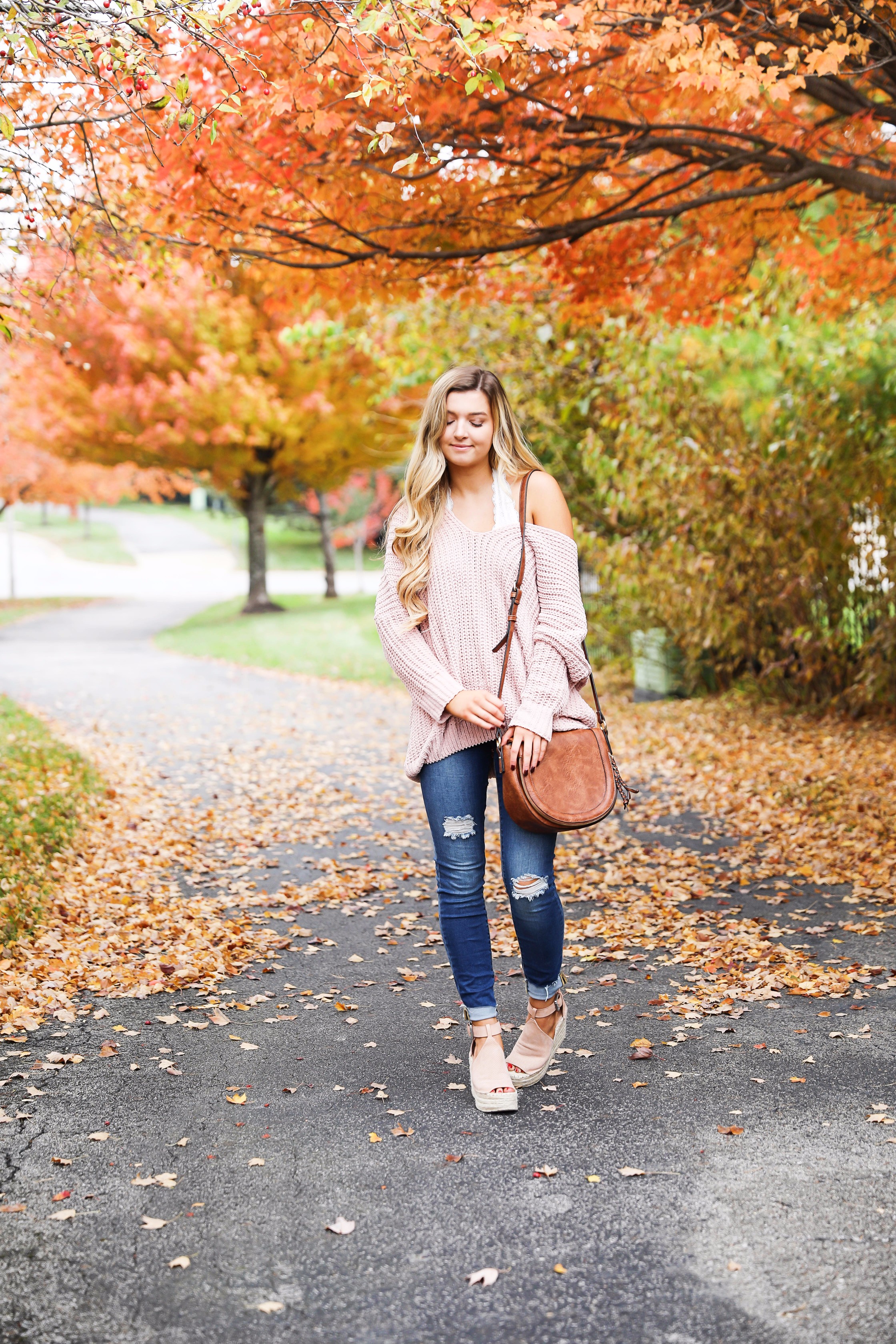 |

Slouchy Sweater

(ONLY $48 I am wearing a medium in the color "peach," my photos show a better depiction of what the color looks like) |

Bralette Halter

(ONLY $20 and comes in 17 colors, similar for only $12.90

here

and

here

) |

Ripped Jeans

|

Blush Wedges

|

Saddle Bag

 (brown is sold out so

here

are more similar ones

) |
Forever 21 has seriously upped their game when it comes to quality! This sweater is one of THE SOFTEST I own, and funny enough my other softest sweater (link to that here) is also from Forever 21! I have been super impressed! However, I was not impressed with how wrong the color looks on their site. My photos are a way more accurate depiction of what the color looks like, I am wearing it in "peach" which looks much more tan on their online store. I'm glad the pink color is still cute though, just hate when that happens… I am still definitely going to order another one because the fit and the cut are just too perfect! I have the hardest time finding sweaters that look good with bralettes because a lot of them cover the bralette or look weird. This one is just too perfect! Side note on this bralette, it's a halter bralette and it's the best! Since it's a halter it peaks out of sweaters more than just the regular bralettes that lay on your shoulders – it comes in so many colors too!
My mom and I found this location on a walk with our dogs yesterday morning. We walk by it a few times a week, but yesterday the leaves had just fallen so perfectly and the colors were so vibrant I turned to my mom and said, "we HAVE to shoot here today!" We came back later in the afternoon hoping the weather would be a bit warmer, but we were FREEZING by the end of this shoot haha! Worth it to capture these gorgeous trees if you ask me!
This may be the perfect playing in the leaves sweater, but these are not the perfect playing in the leaves shoes… I just missed wearing these wedges so much, they were a staple in the summer! I had to bring them back out for a fall post and I thought they looked cute with the pink sweater!
I really wanted to post a photo of me throwing leaves, but I couldn't stop scrolling through them super fast while editing! It looked so much cooler that way! I decided to make a gif out of them instead. It took me awhile because I tried a few different sites, but I finally found a perfect website called gifmaker.me that allowed me to make high quality gifs for free and it also let me save them as a video which will be perfect for Instagram! I was nerding out creating it haha!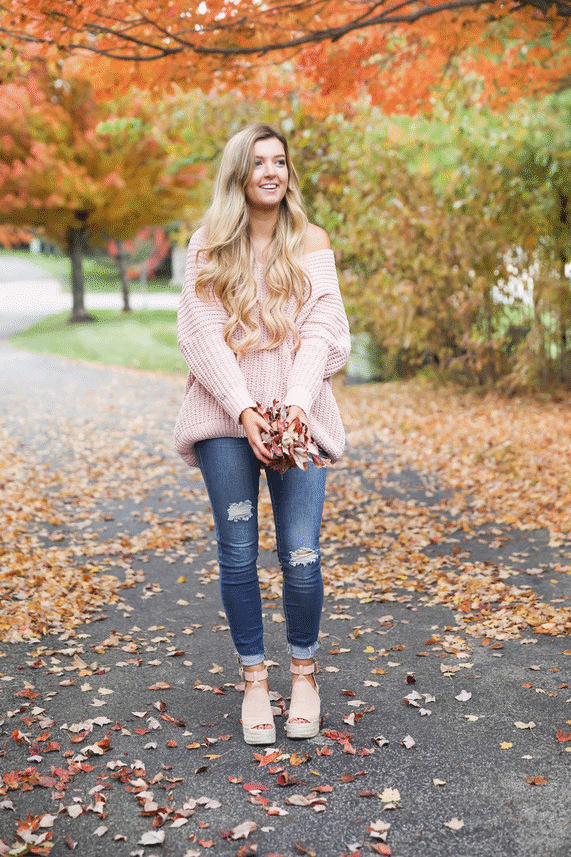 xoxo,
Lauren Emily Lindmark
Copyright © 2017 dailydoseofcharm.com