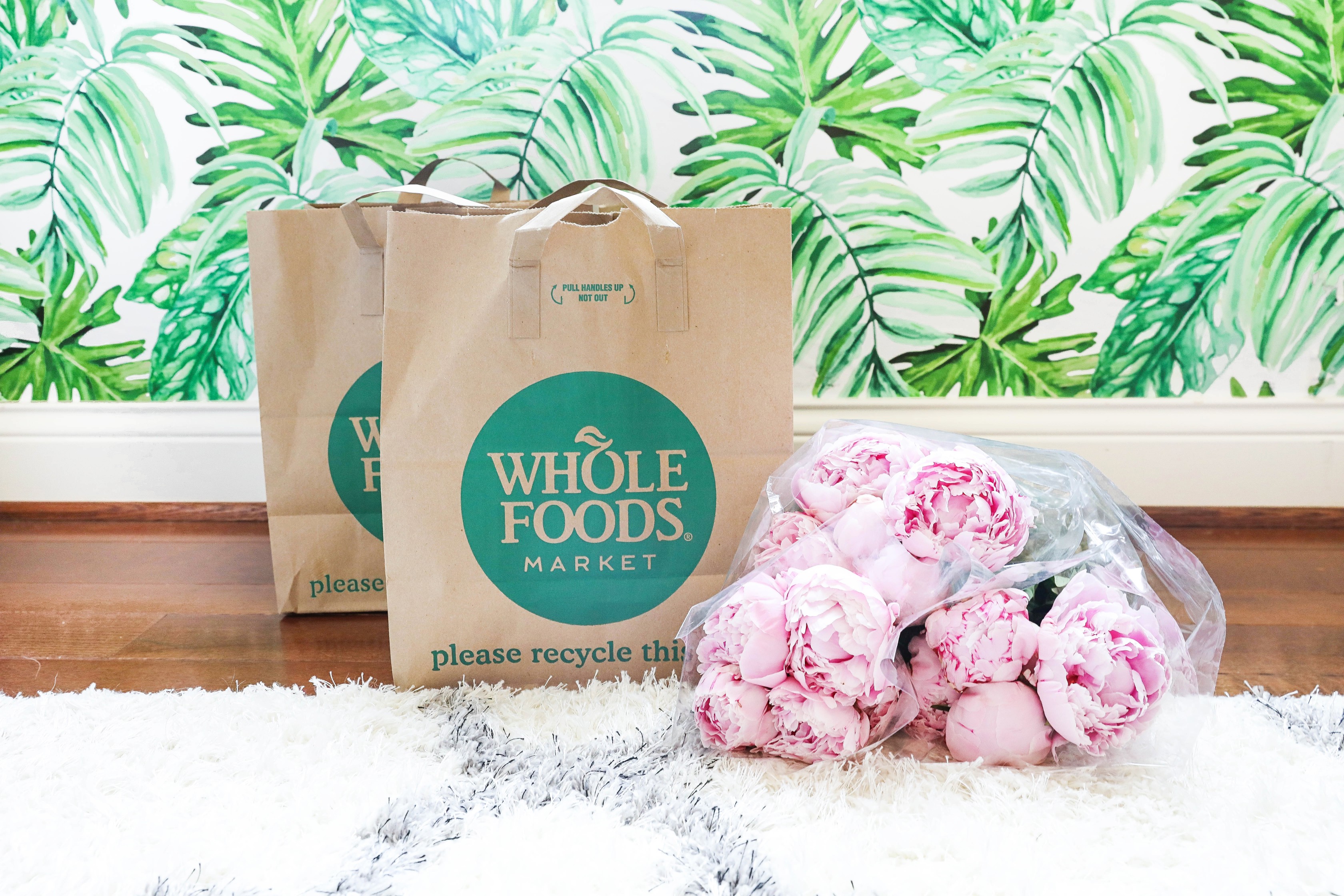 What I Eat in a Day | Low Calorie + Dairy Free
Hey you guys! Coming at you today with an evening post because today's blogpost is all about what I eat in a day! I love food and I want to share more posts like this with you so let me know if you want to see them! I try to eat low calorie meals everyday, I am a religious user of My Fitness Pal (today I am at day 380 of my streak of logging everyday) so I will put the calories to everything below!
Morning: Smoothie Bowl
255 Calories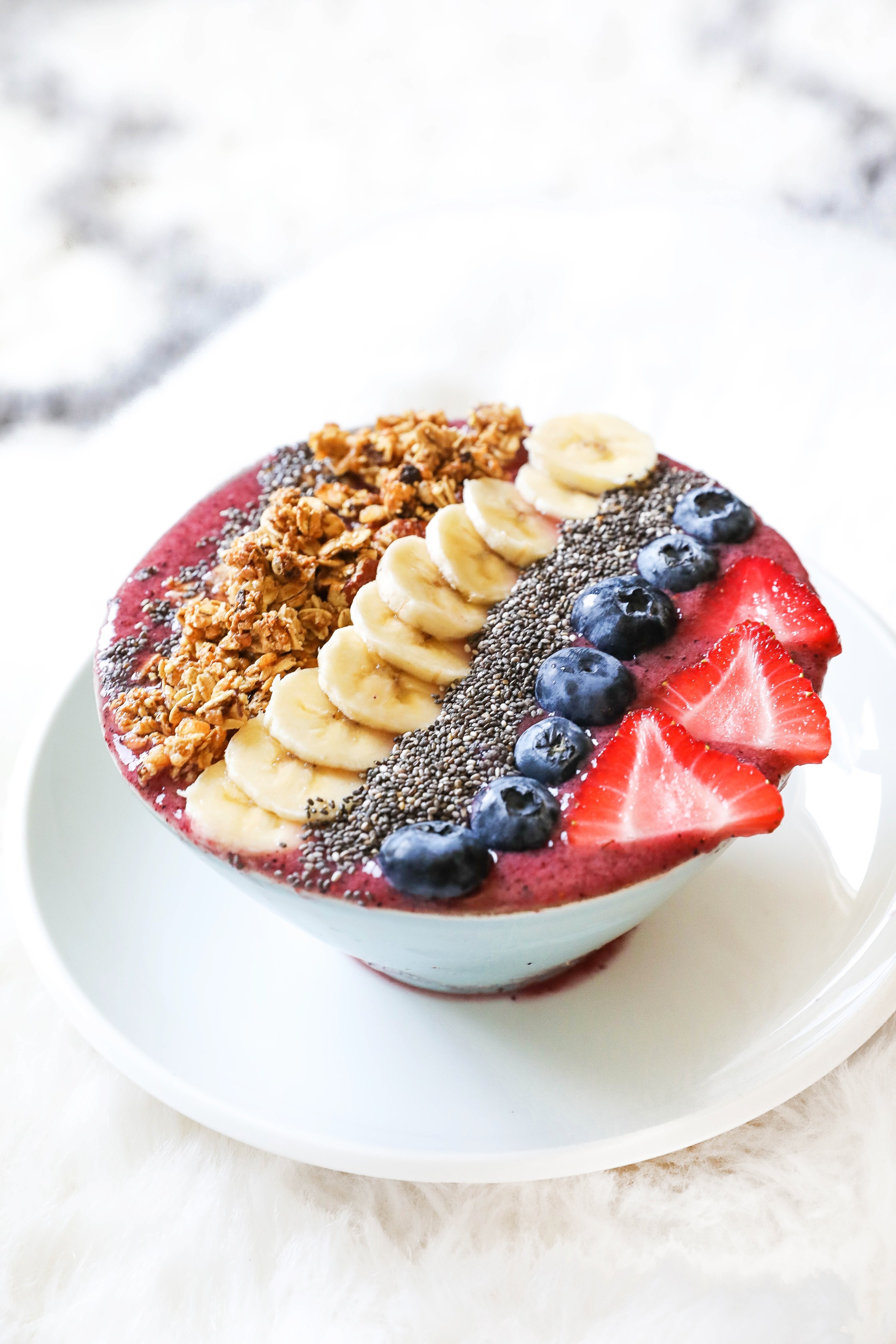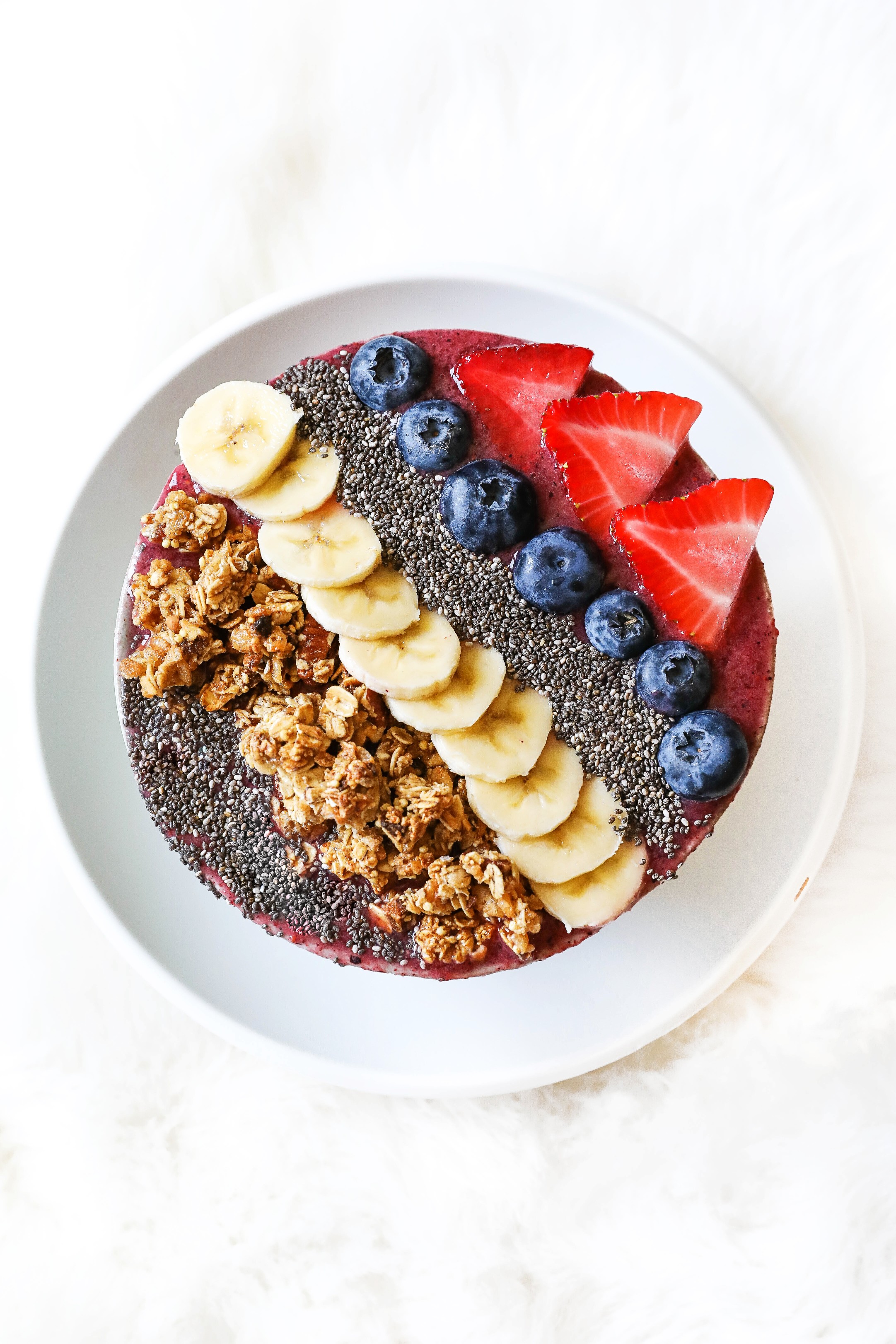 I have found the trick to keeping these smoothie bowls low in calories is keeping them simple. I used to use açaí in the bowls, but the packets were 100 calories so I don't use them as much anymore! I also don't top them with this much fruit, because that also adds to the calories. I eat these for either breakfast or lunch, they're my favorite! Plus there are so many ways to make them. To see my original açaí bowl recipe you can go here!
Smoothie Bowl Recipe
---
(5 minutes | single serving)
Ingredients:
1 Banana
4 Strawberries
1/4 cup of blueberries
1/4 cup of Liquid of Choice (I use water to keep mine low calorie, but you can do juice or coconut water)
Ice
1/3 cup granola for topping
Any fruit or chia seeds you want to top with (not included in calorie count)
Directions:
1. Combine all ingredients in blender.
2. Top with granola, chia seeds, or fruit!
---
Lunch: Avocado Toast with Eggs and Fruit
380 Calories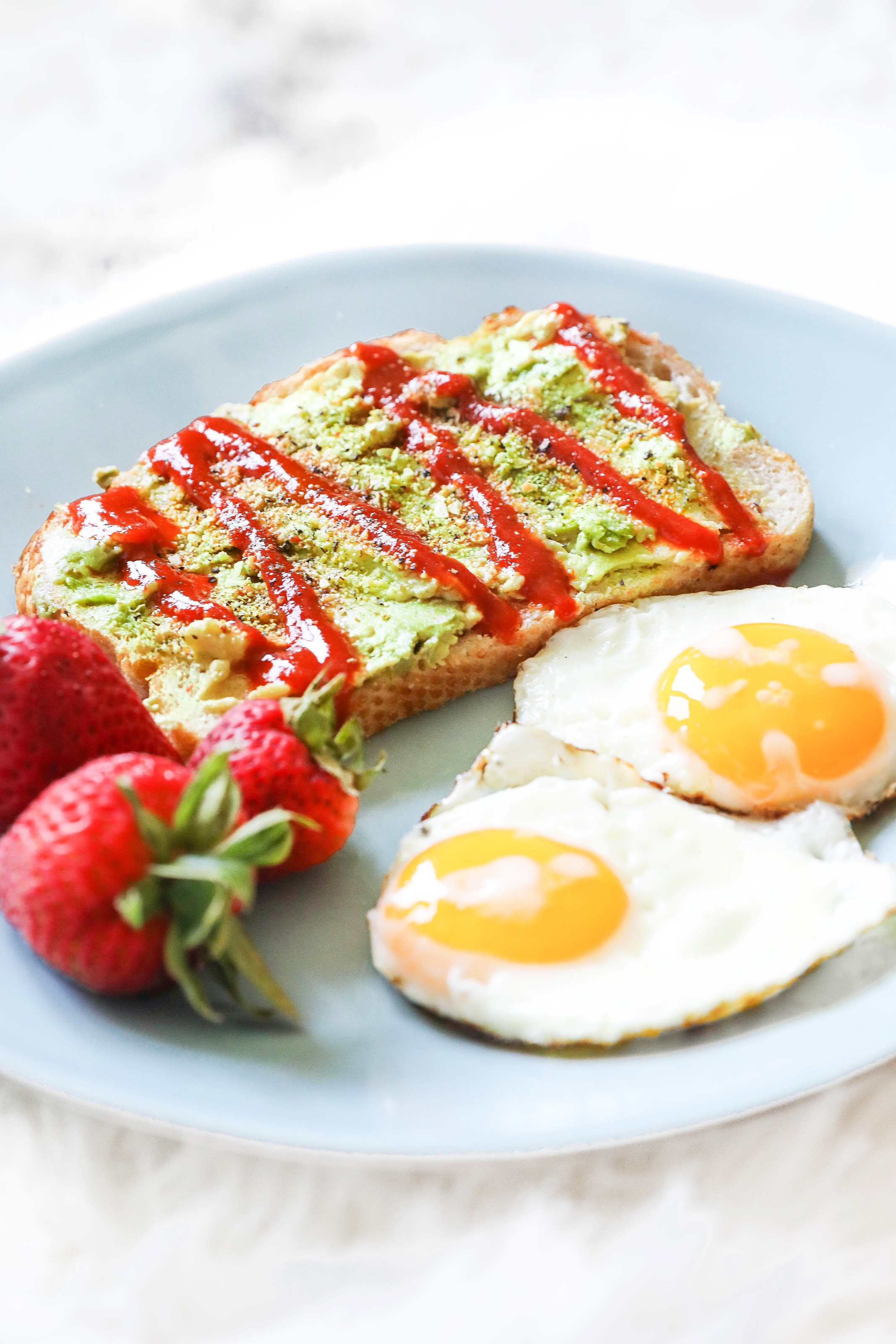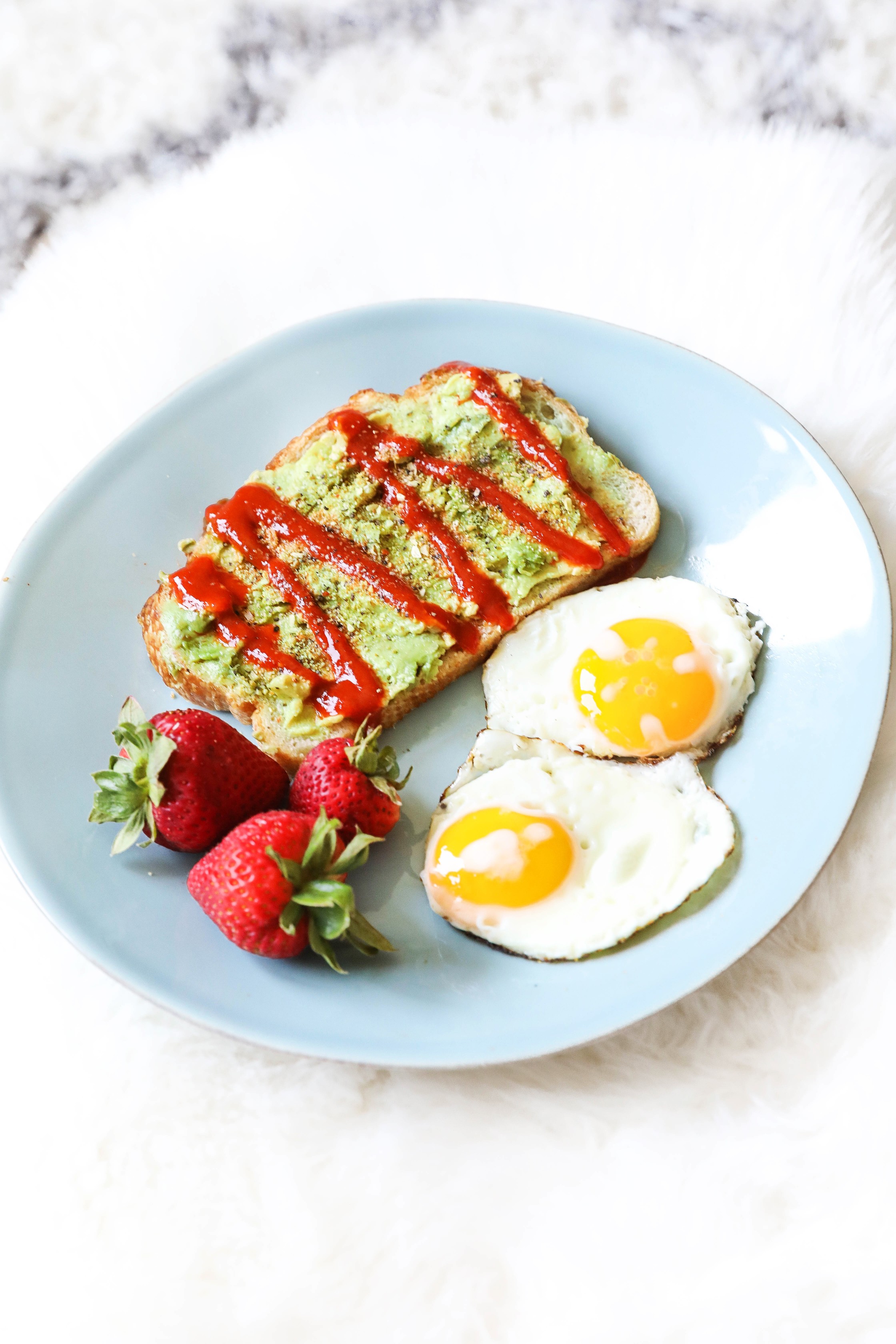 Avocado toast is so yummy and simple to make! I also make this for breakfast sometimes when I want a heavier meal to start the day. I eat mine with eggs for a little protein and I also try to eat some kind of fruit too.
Avocado Toast & Eggs Recipe
---
(5 minutes | single serving)
Ingredients:
1 Slice of sour dough bread
1/2 – 1 Avocado (I like mine with less avocado so I eat 1/2 and that is what the calories include above)
Seasoning of choice (I use Mrs. Dash seasoning)
Hot sauce (optional)
2 Eggs
Fruit
Directions:
1. I start by heating up a skillet and putting the toast in the toaster.
2. Prepare the eggs to your liking and spread the avocado on the toast.
3. Top the toast with seasoning and hot sauce and eat with fruit.
---
Dinner: Sweet Potato, Black Bean, & Chicken Taquitos
350 Calories (per 2 taquitos)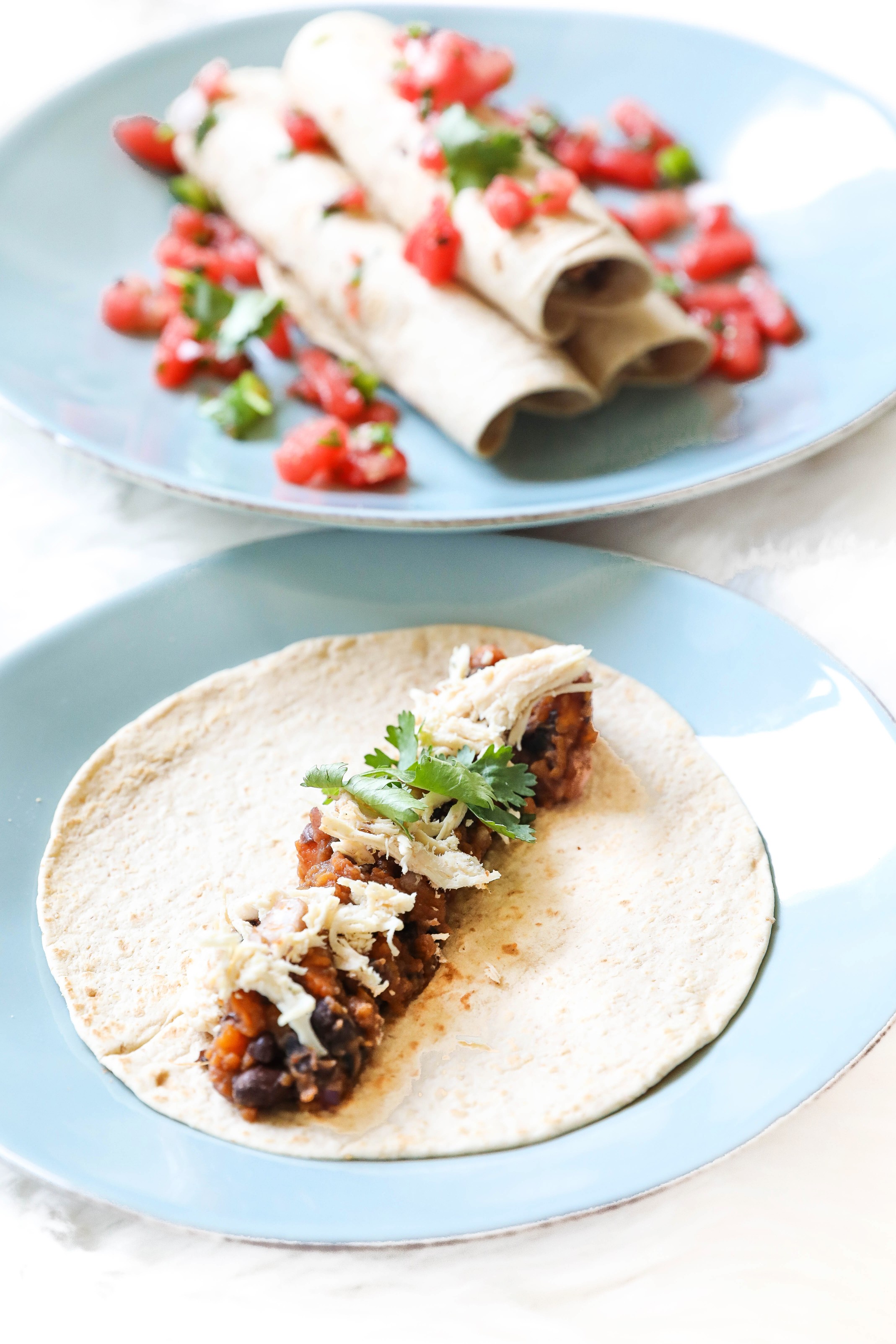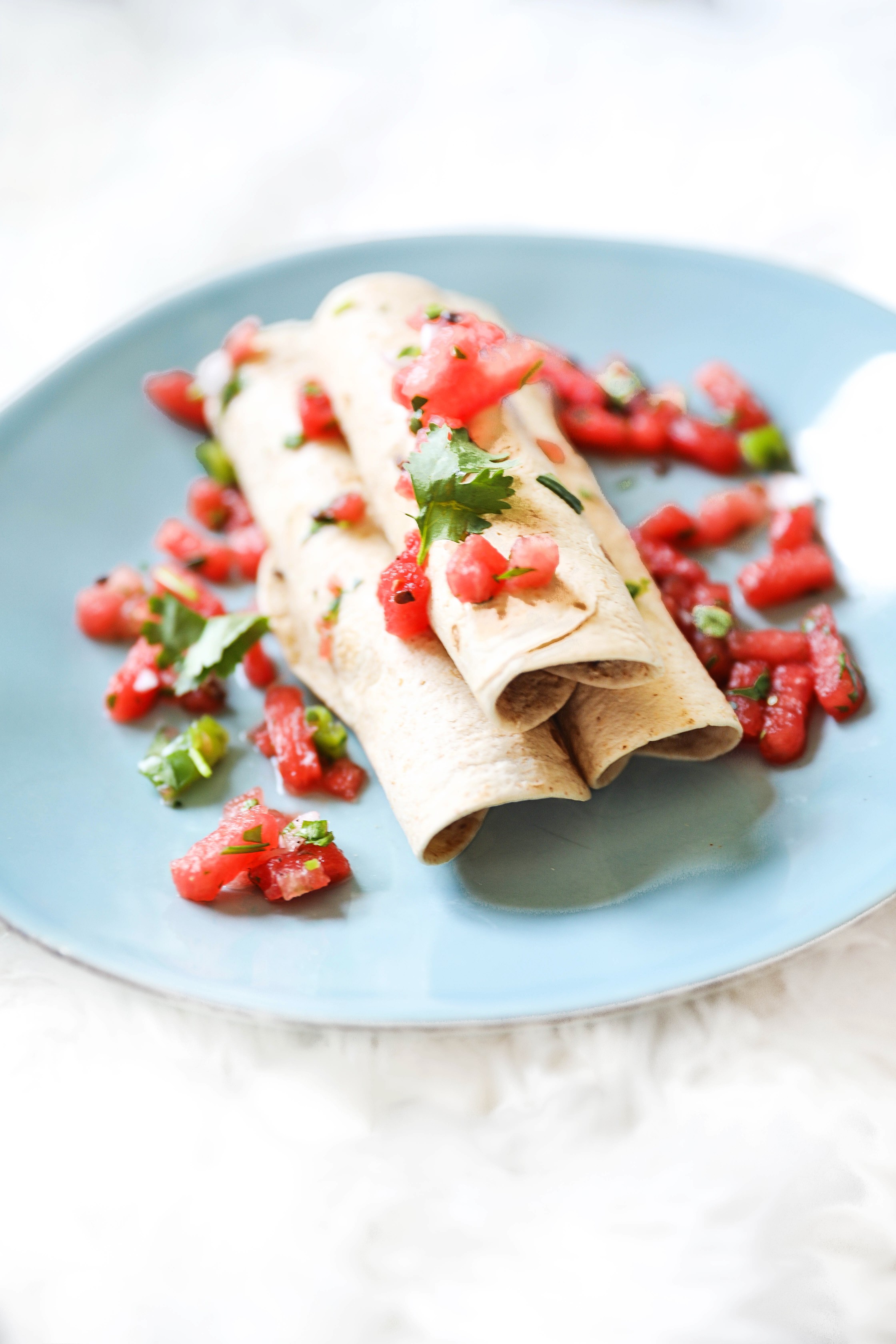 This was a new recipe I tried recently and I LOVE it! This can even be made vegan if you take out the chicken. I am a sucker for Mexican food. When I made these today I made one on a flour tortilla and one on a corn tortilla and I honestly couldn't decide which I liked better! I included directions for both below.
Sweet Potato, Black Bean, & Chicken Taquiots
---
(20 minutes | makes about 12 taquitos)
Ingredients:
1 15 oz can of black beans (drained)
1 cup of cooked sweet potatoes
1/3 cup of salsa
1/3 cup of chopped red onion
Cilantro for seasoning
2 Chicken breasts (grilled or boiled)
Mini tortillas (I have tried corn and flour and both are good)
Pico de Gallo or salsa for topping
Directions:
1. Preheat oven to 400º.
2. Cook your sweet potato. I speared mine with a fork then placed it in the microwave on a microwave-safe plate for 5 minutes (or until soft).
3. Drain the black beans and combine with the sweet potato, then mash.
4. Stir in salsa, red onion, cilantro, and any other ingredients you want (jalapeños or corn would also be good)!
5. Spread about 1/3 cup of the filling onto your flour or corn tortilla, shred the chicken and put it on top of the filling.
6. Roll up and place in oven, 5-7 minutes for corn tortillas and 7-10 minutes for flour tortillas.
7. Enjoy!
---
Pin these images on Pinterest for later!


xoxo,
Lauren Emily Lindmark
Copyright © 2018 dailydoseofcharm.com