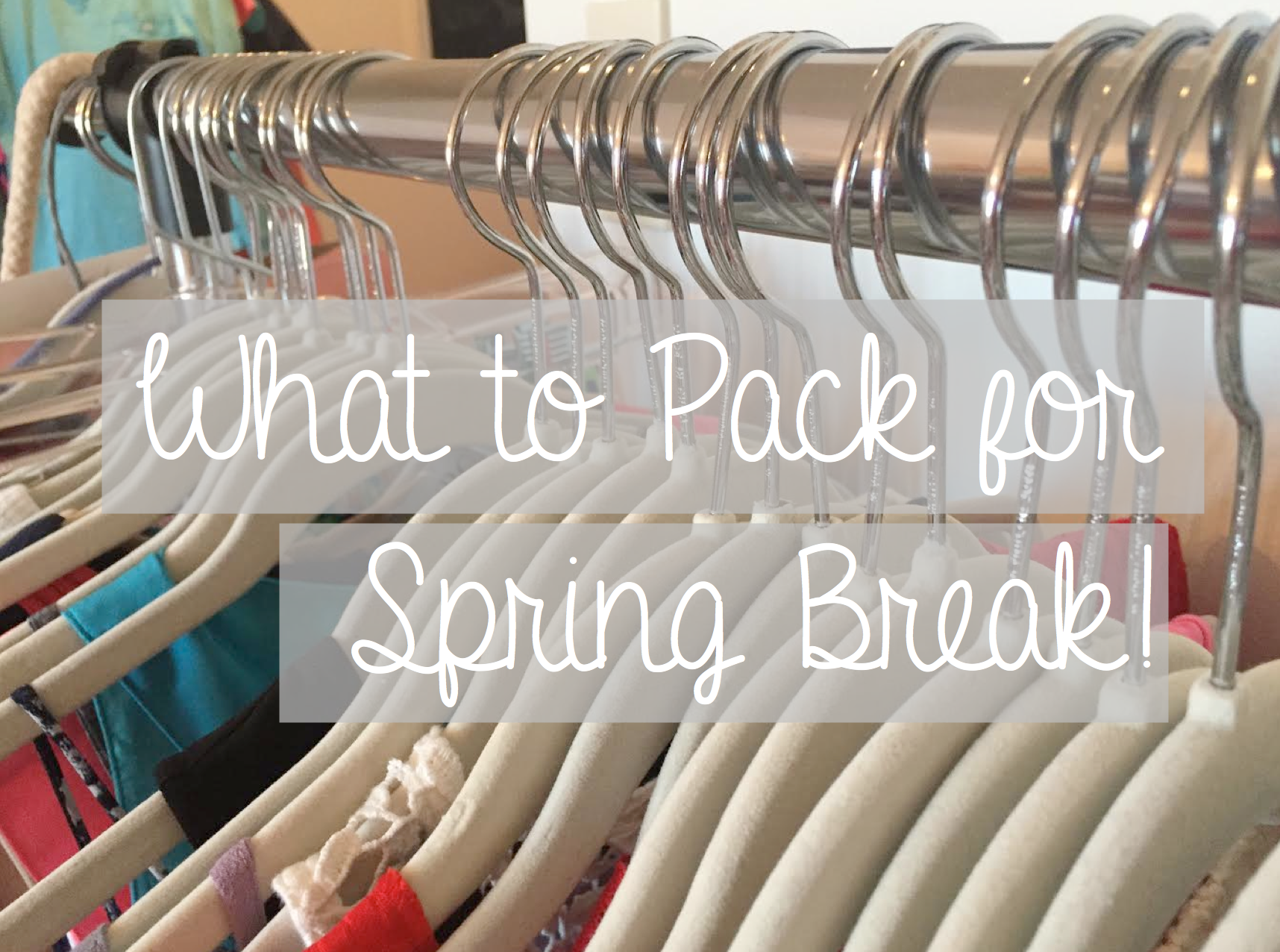 What to Pack for Spring Break! (+ things you wouldn't think of)
If you're like me, you've been zoning out for the last week, blasting Luke Bryan's Spring Break playlists for the last two weeks, over paying on swim suits for the last three weeks, and (kind of) eating healthy for that perfect bod for the last month – all in preparation for Spring Break, of course!
My first tip for packing is that everyone needs to invest in a wardrobe rack!! This thing is seriously a life-saver when it comes to packing for trips. I put all of my outfit ideas on it, then weed out what I do and don't want to bring! It's a great way to keep all your outfits wrinkle-free and ready to pack without having to put them in the suitcase yet!
This year I got my luggage from
London Fog
 (I bought the black and white versions in 21″ and 29″) and I put red circle monograms on them from
The Vinyl Things in Life
Etsy shop! My carry on bag is from
Marley Lilly
, can you tell I love monograms?
Here is a basic packing list to go off of!
Carry on:
Beauty
•Make up (include every day and going out make up)
•hair products (hair spray, styling cream, etc.)
•shampoo/conditioner
•body wash
•face wash
•razor (with extra razor heads)
•hair ties
•bobby pins
•headbands
•any vitamins or medicine you take
•sunscreen
•Chapstick with SPF
•tanning lotion
•extra contacts/solution (if needed)
(I got that cute little basket for my bathroom at Michaels!)
Clothing
•tshirts
•running shorts
•pool cover ups
•nice tops
•shorts
•dresses
•skirts
•Jewelry
•swim suits
•1-2 sweatshirts/sweatpants
•socks
•underwear (two for every day)
•bras
•comfortable pair of shoes (tennis shoes)
•flip flops
•heels
•wedges
•sandals
•PJ's (or whatever you sleep in)
•sunglasses
•hats
Things you may not think of
•Aloe- have you ever had to buy aloe at a resort or hotel? They jack the price up on basic things like aloe and sunscreen, so make sure to bring your own if you think you'll burn!
•shower cap- I've found that usually the ones that hotels provide don't cover your hair well.
•scissors-I don't know why, but we always end up needing these!
•darker foundation/bronzer- don't forget that if you're going somewhere warm you're most likely going to get darker! Don't be stuck with a pale face in all your pics.
•magazines- these are great to read on the beach or the plane!
•sticky boobs- a lot of times I forget to pack these, but they go great with almost all outfits!
Sadly I couldn't add this little guy to my packing list…
Copyright © 2015 dailydoseofcharm.com