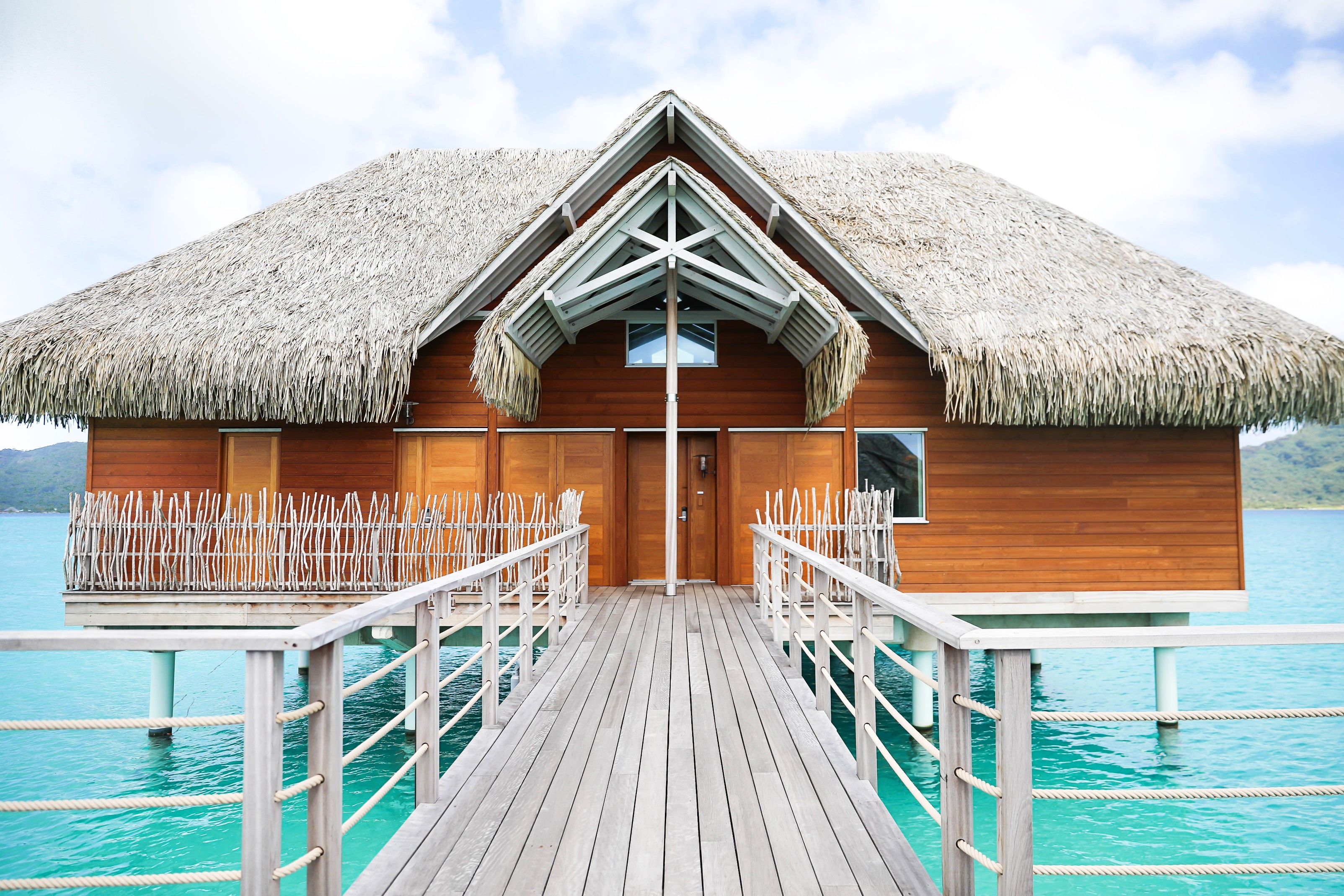 Bora Bora Over the Water Hut | Villa Photos and Review of The Intercontinental Thalasso
Eeeek! I am so excited to share this post with you guys! It made me so happy to go back through and edit all of these photos because it took me back to this amazing trip! If you want to see the full review of the place I stayed scroll to the bottom.
To be honest, the reason why it has taken me so long to get this up is because I had a whole vlog (that I even ended up spending hours editing) to go with it. I have been going back and forth on whether or not I want to post it… I love sharing my life with you guys, but a part of me wants to keep all the videos for just my family and I to watch. My family doesn't vlog and put themselves out there like I do and I don't want them to feel uncomfortable with it – I hope you understand!
However, I will be sharing these photos and the ones from the other island we were on! For spring break this year we went to two islands in French Polynesia. The first one was Bora Bora! It was the most amazing place I have ever been. I wish I could say I over-edited these photos to make the water this blue, but this is actually what it looks like there! It was breathtaking, I feel so lucky.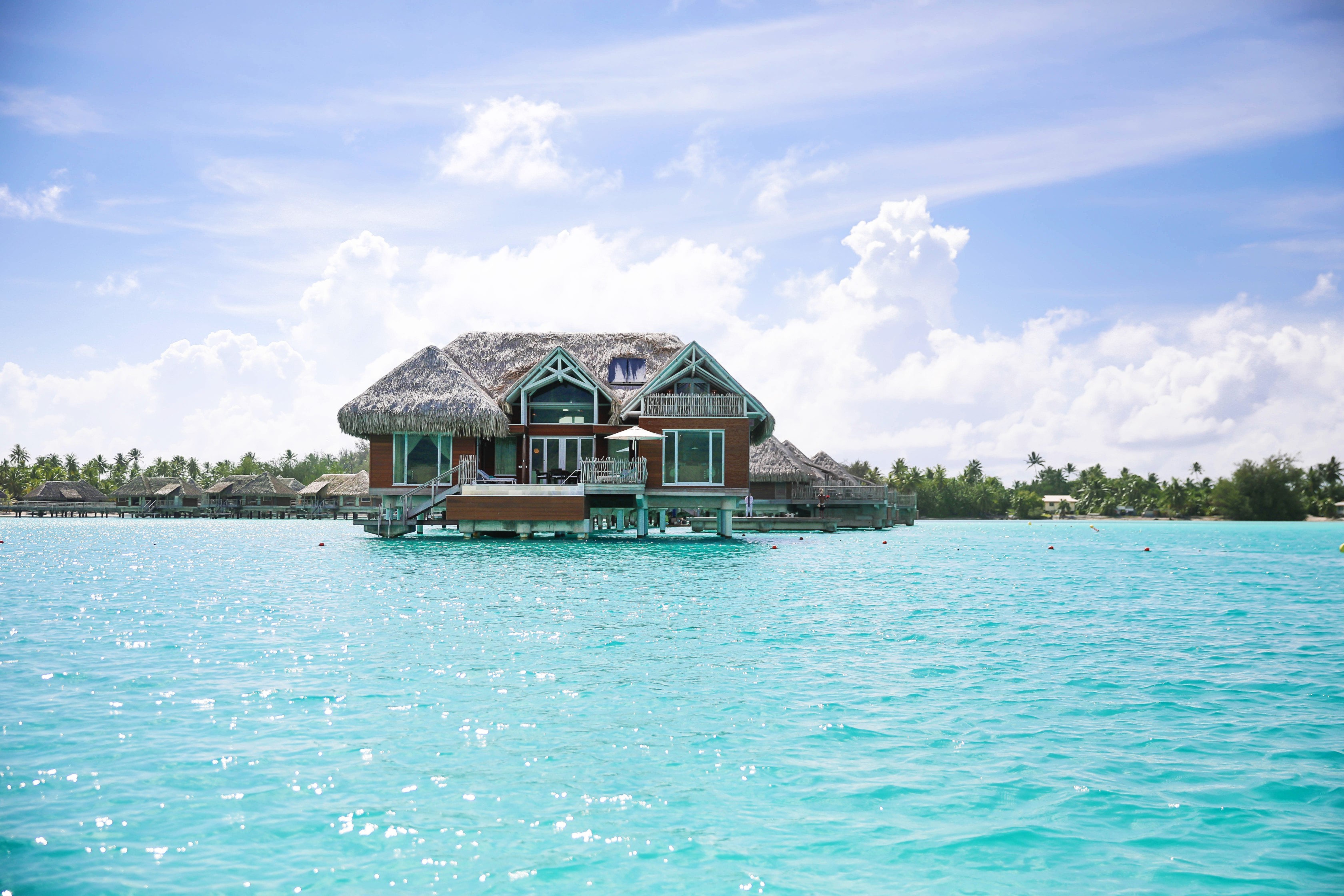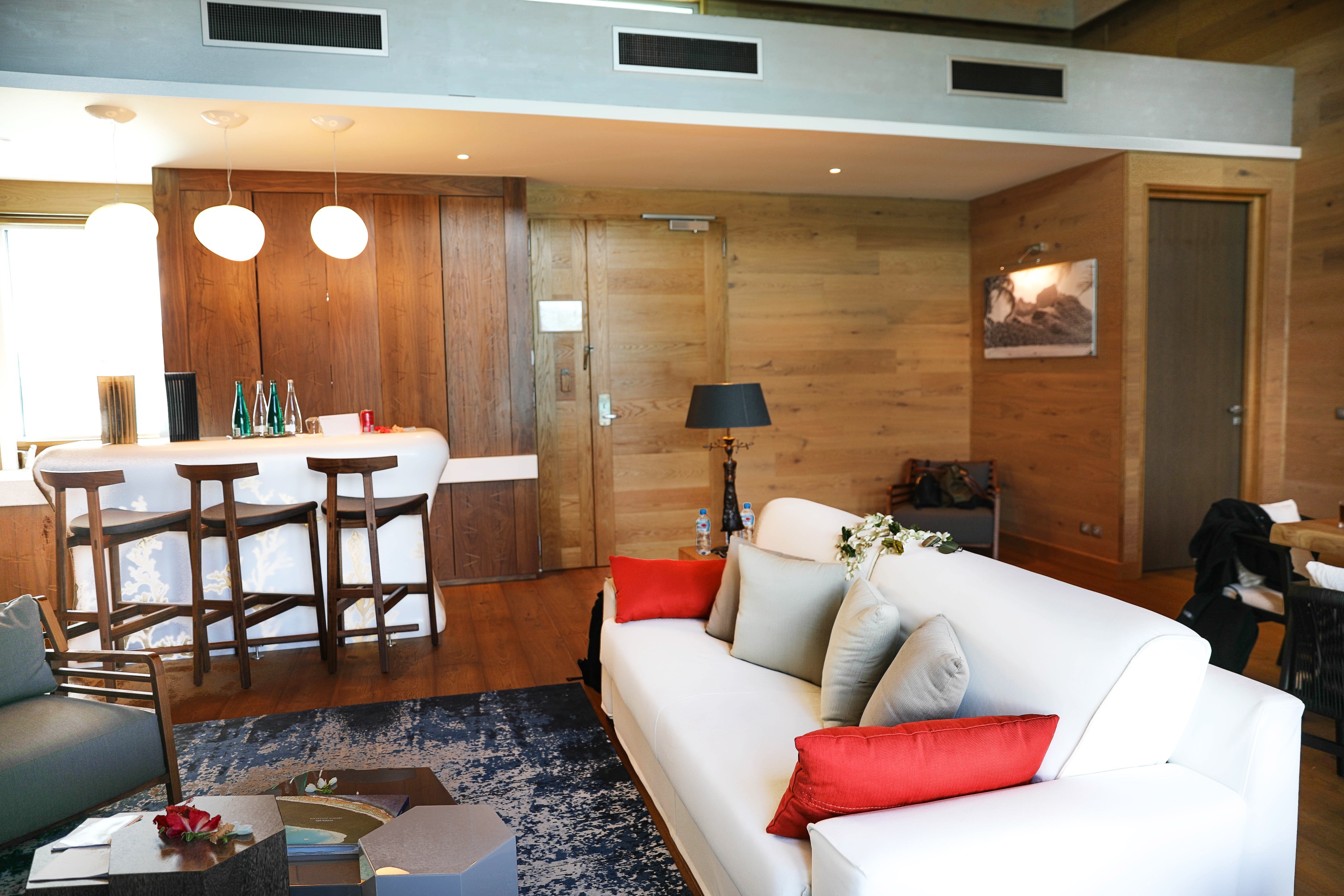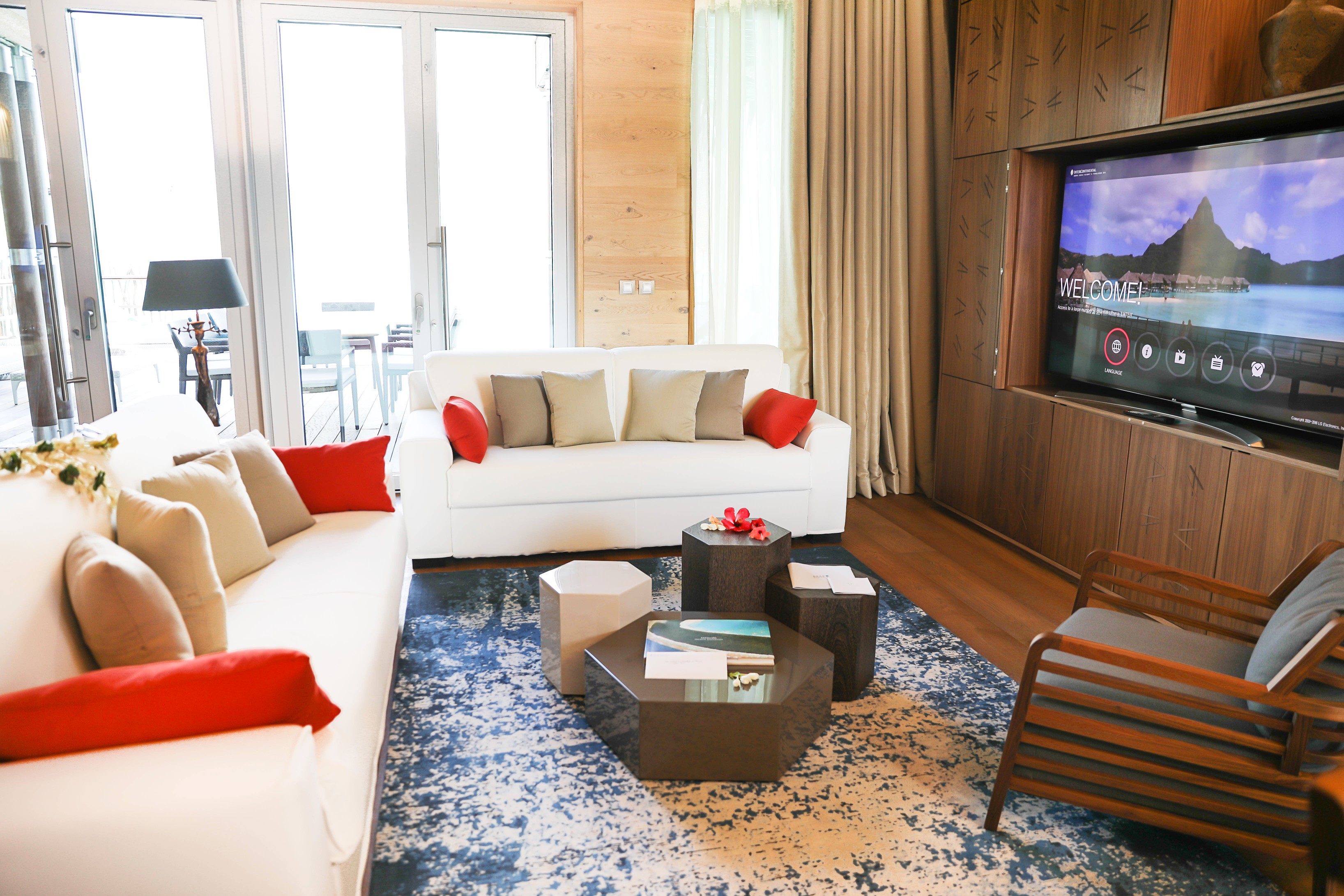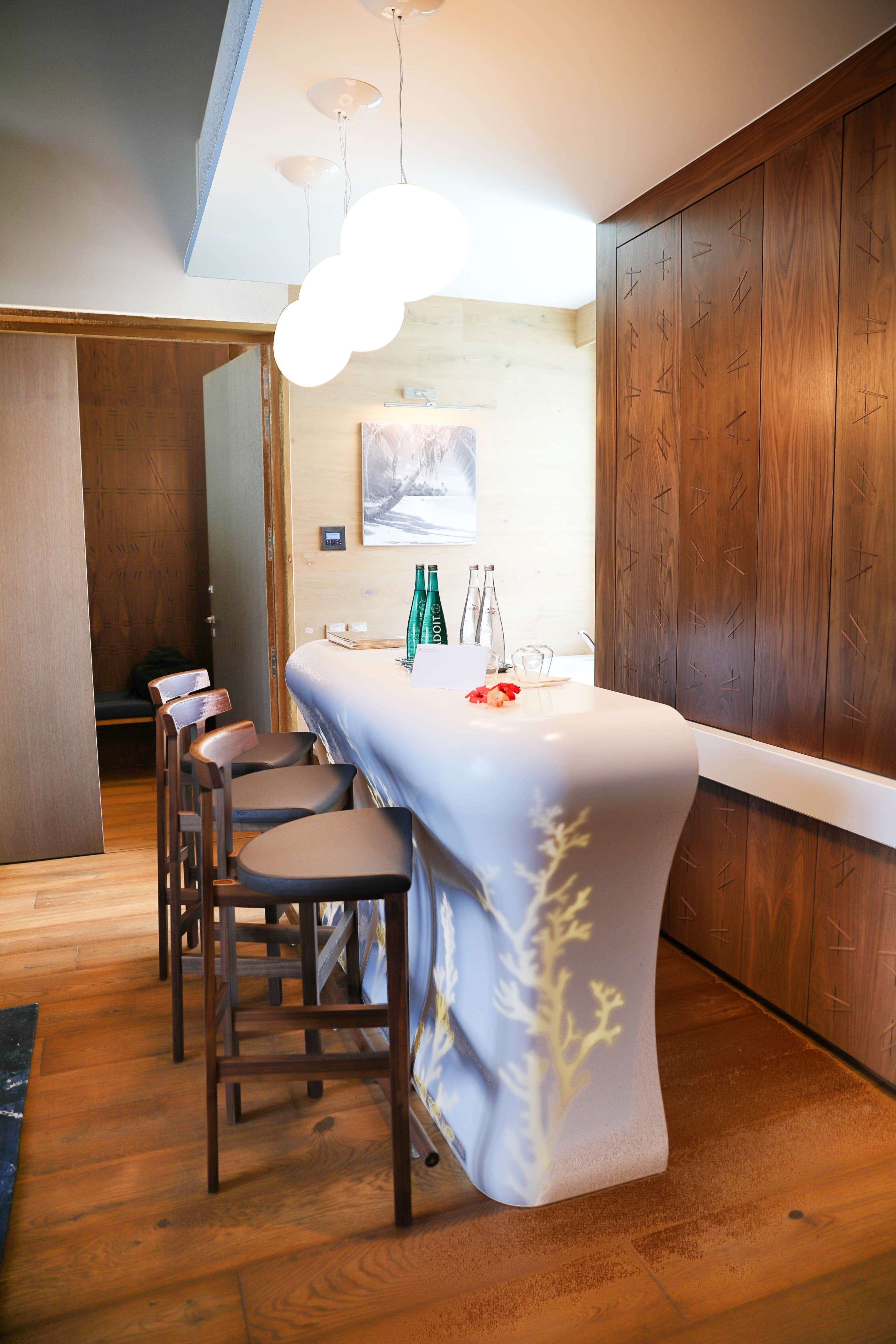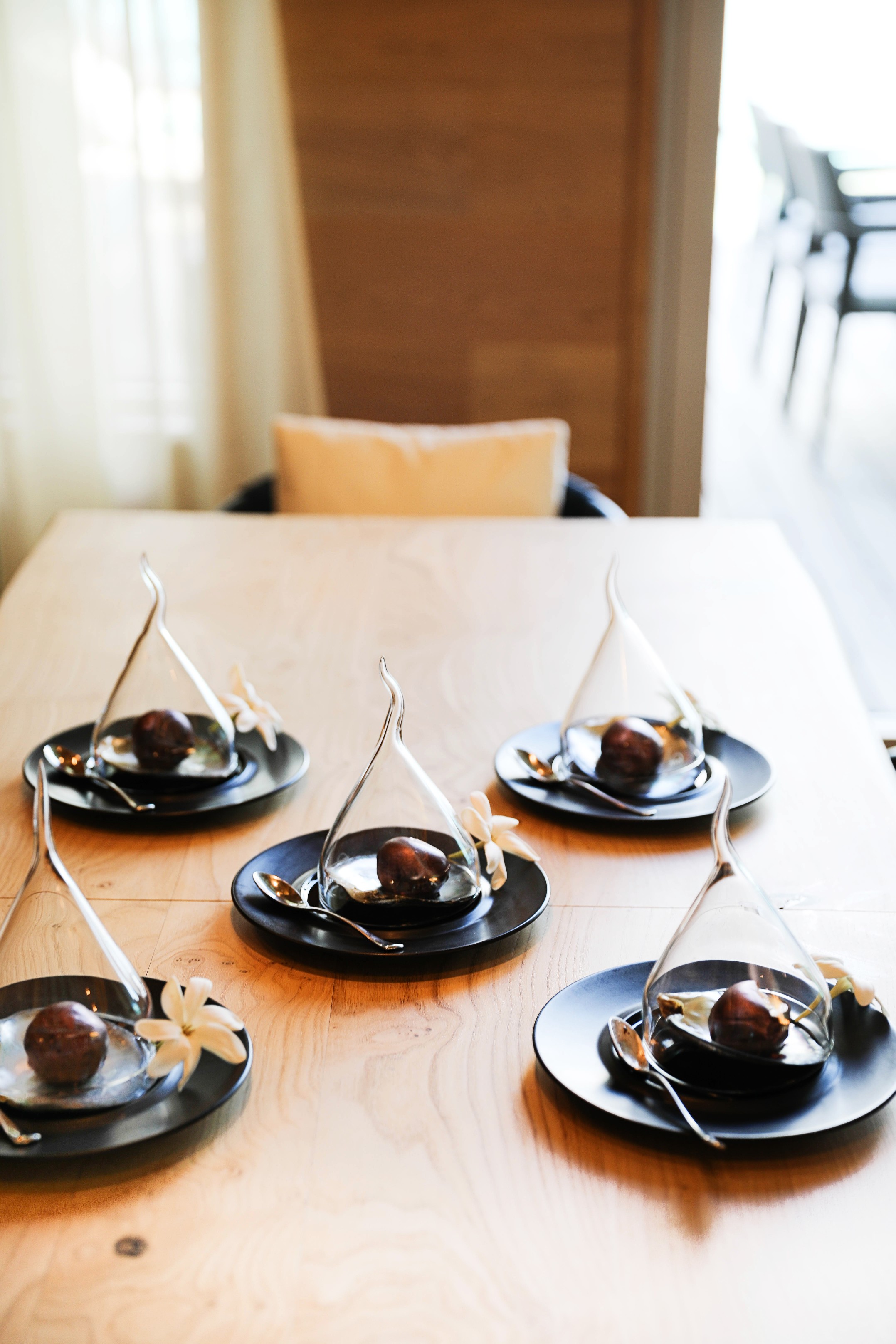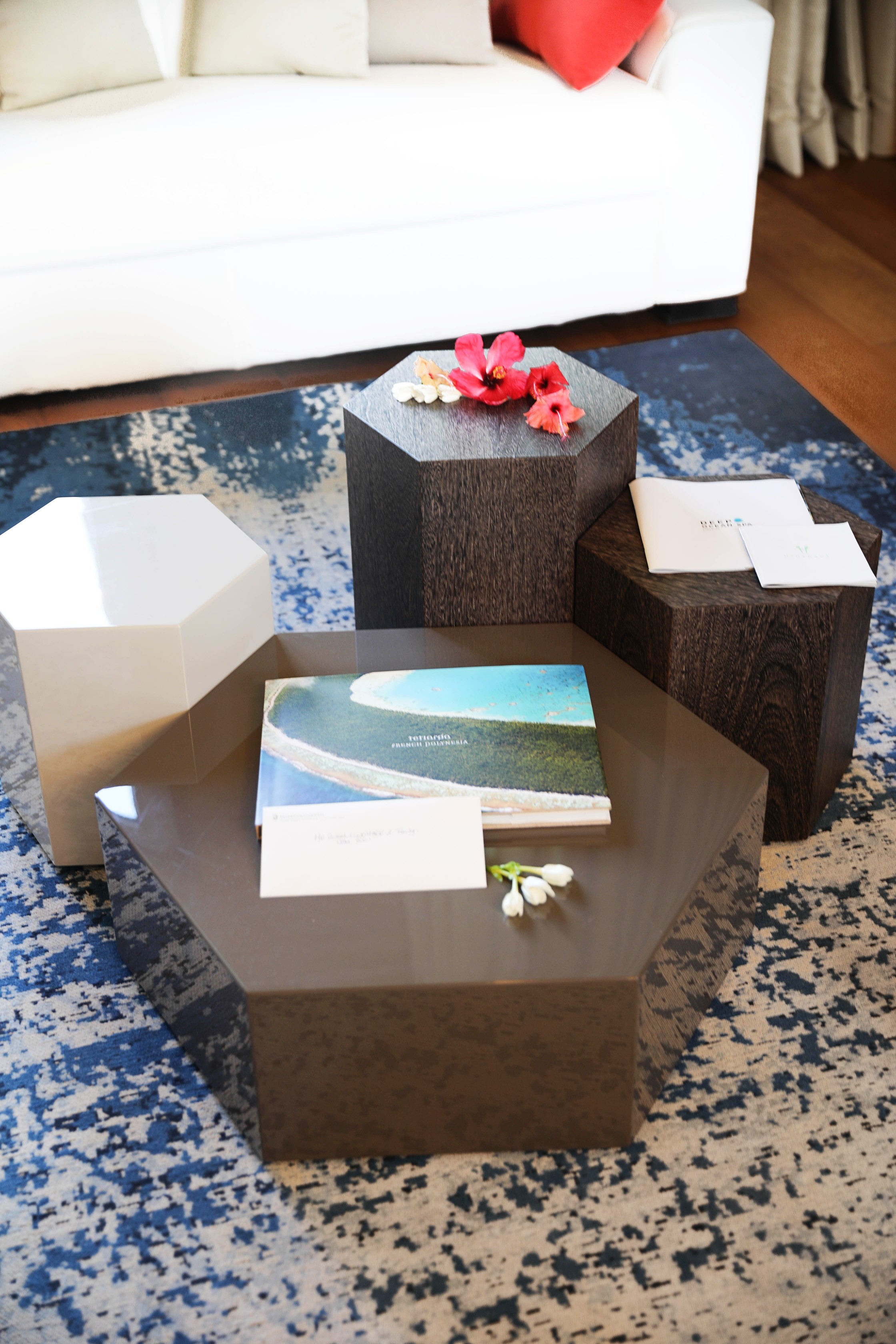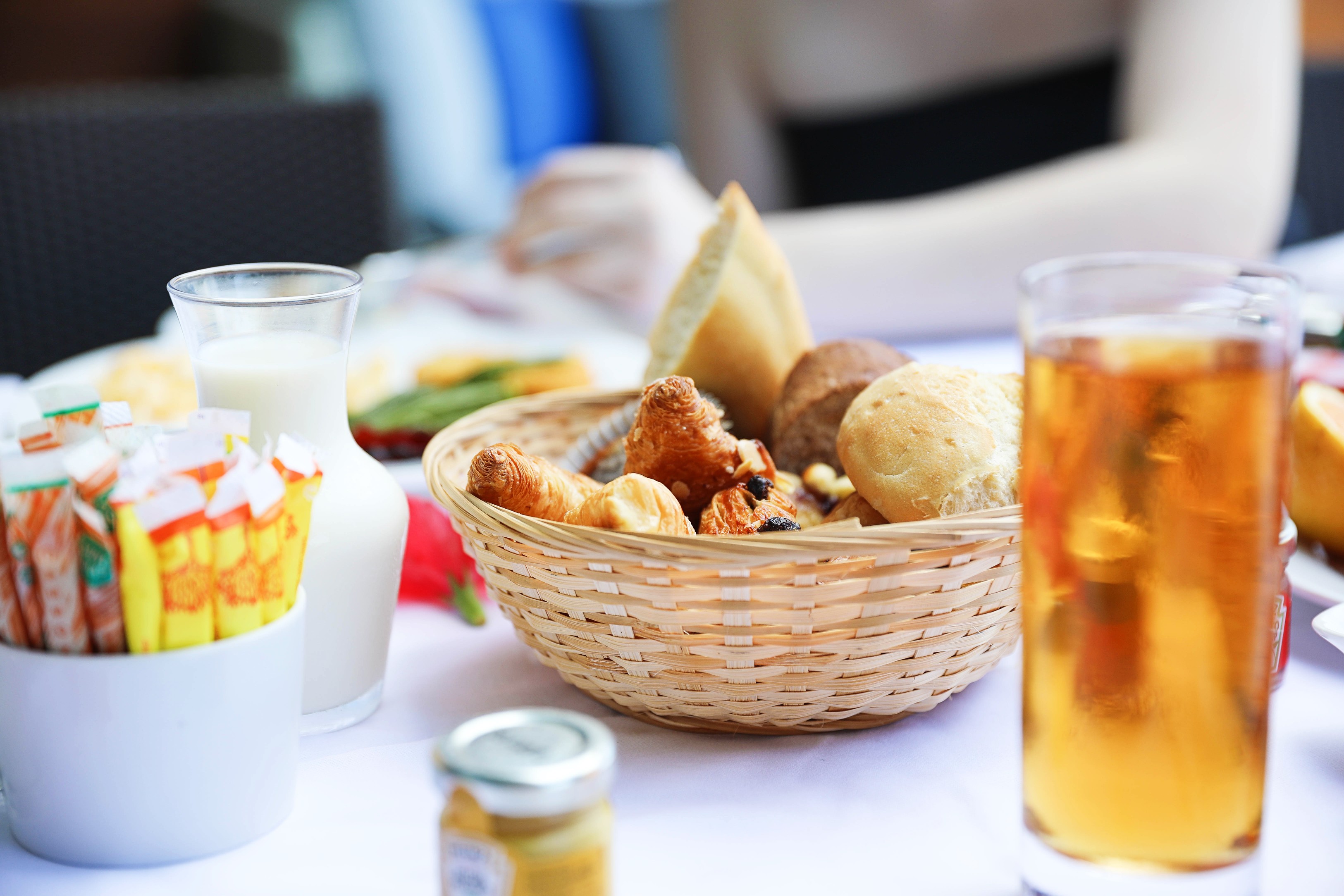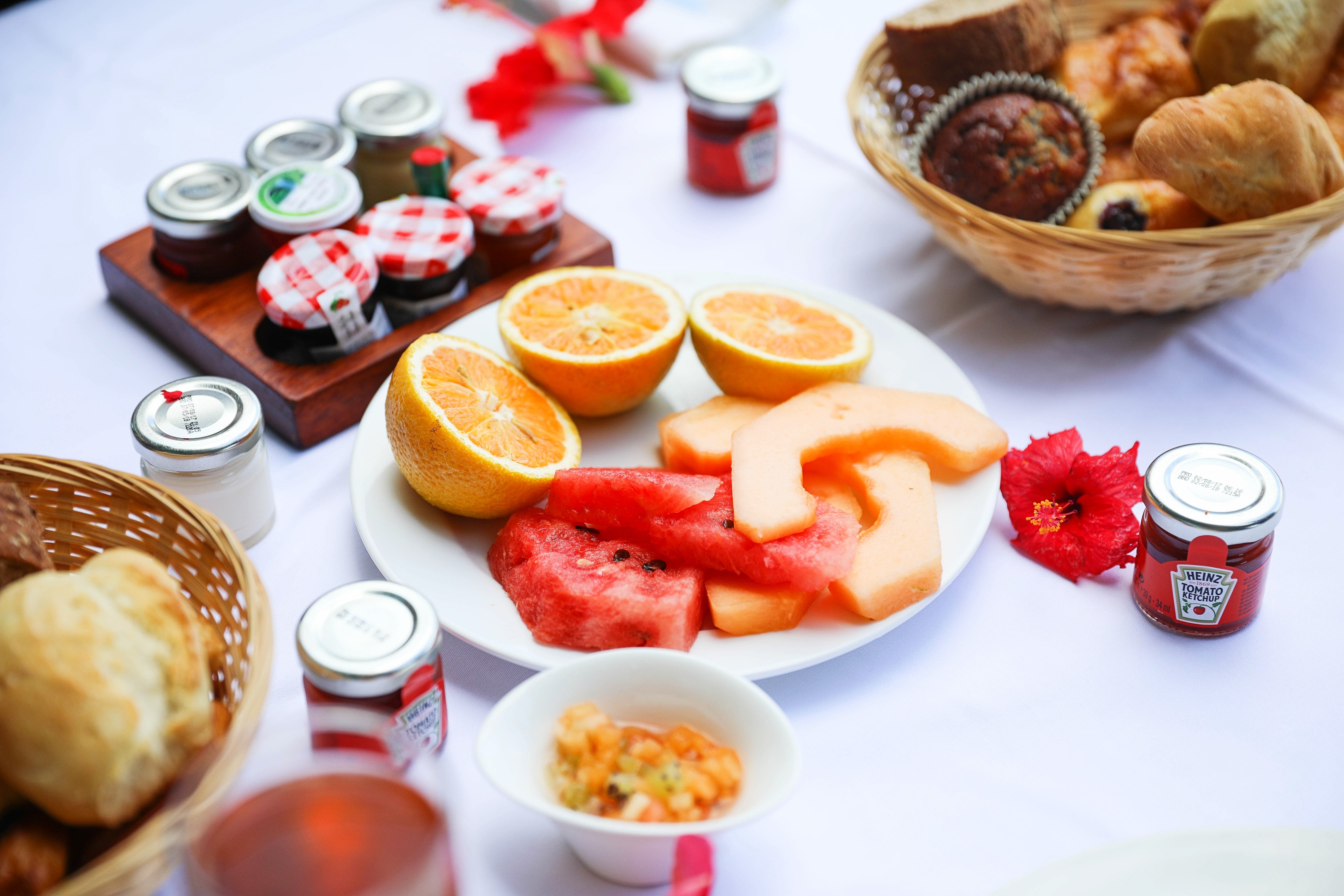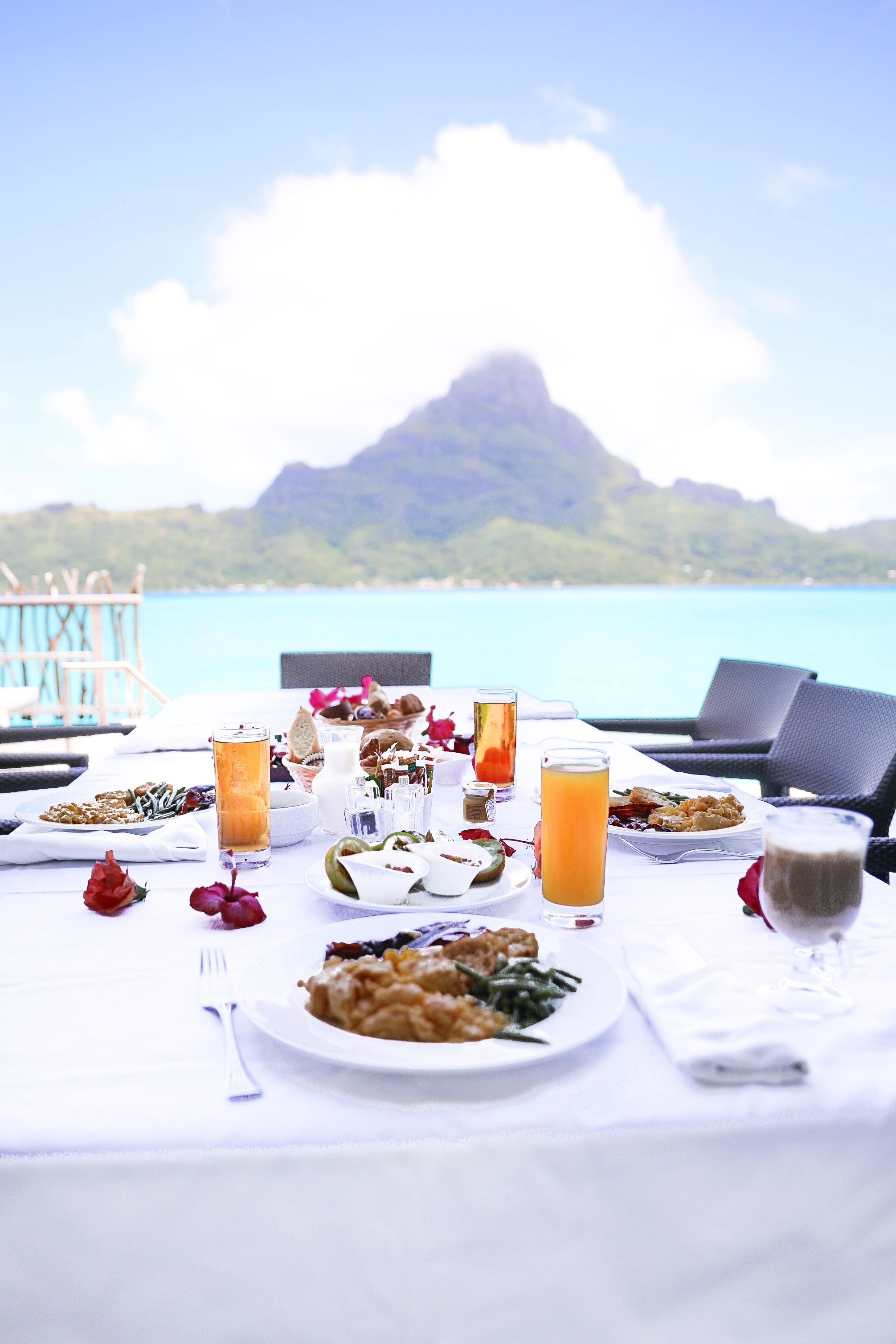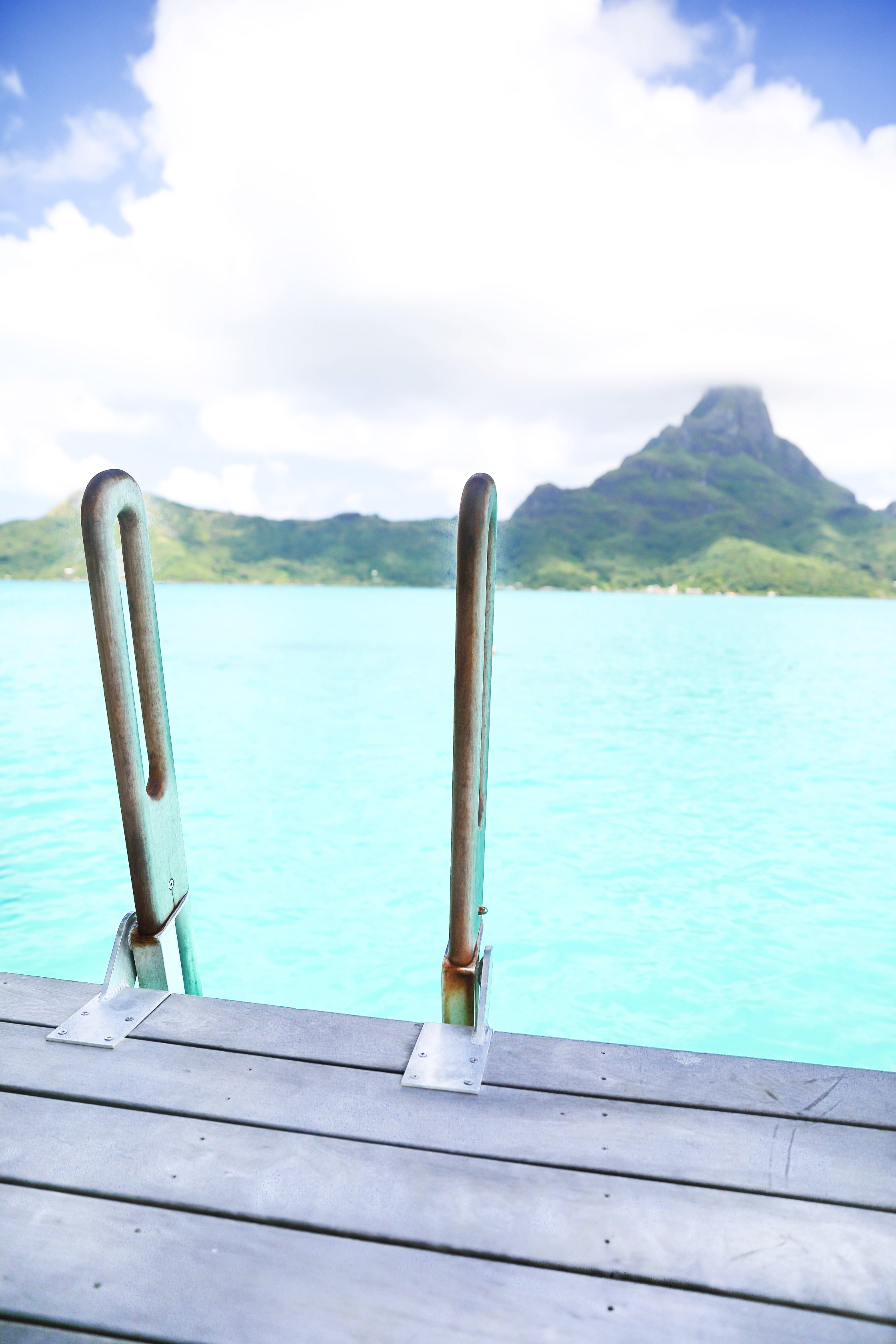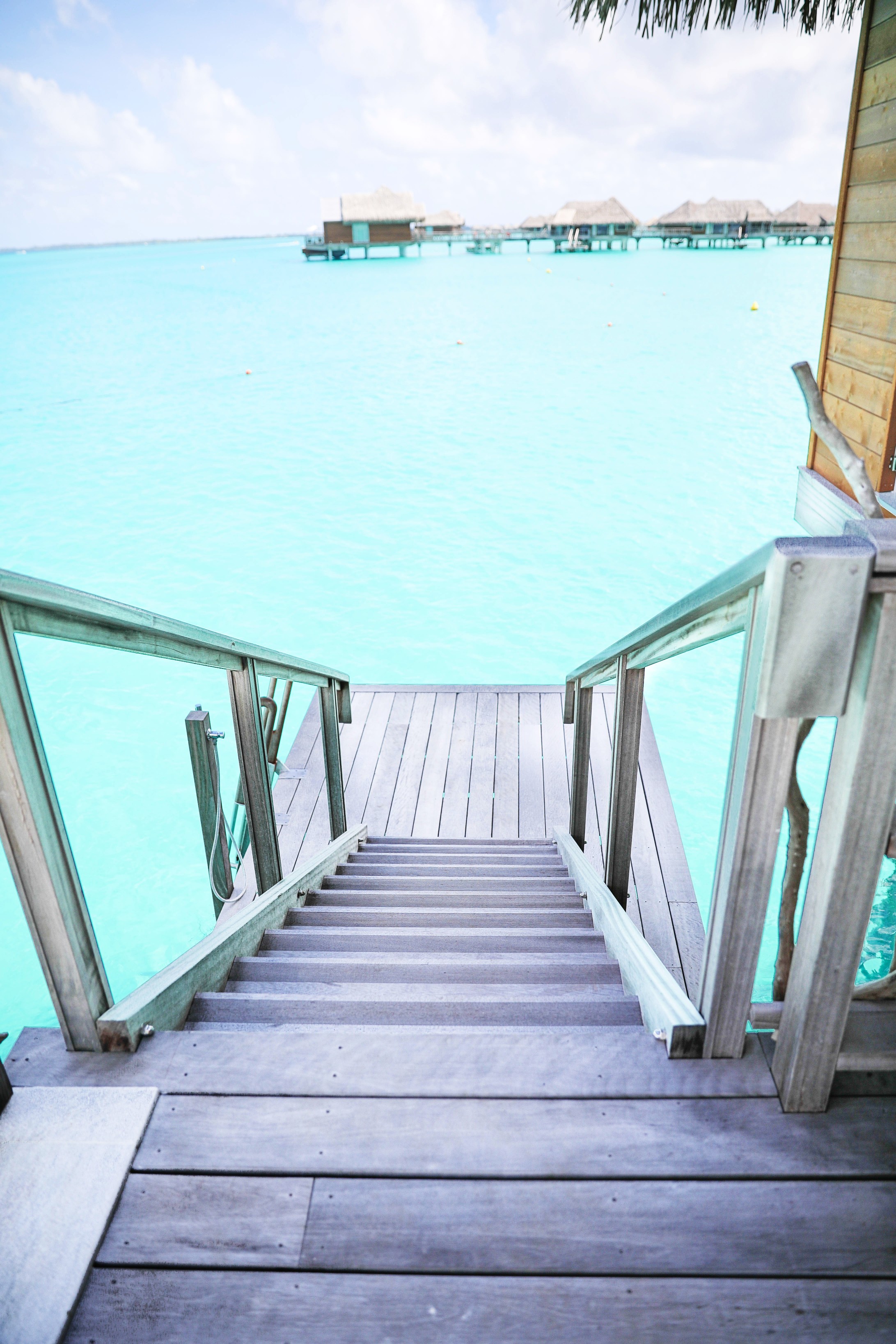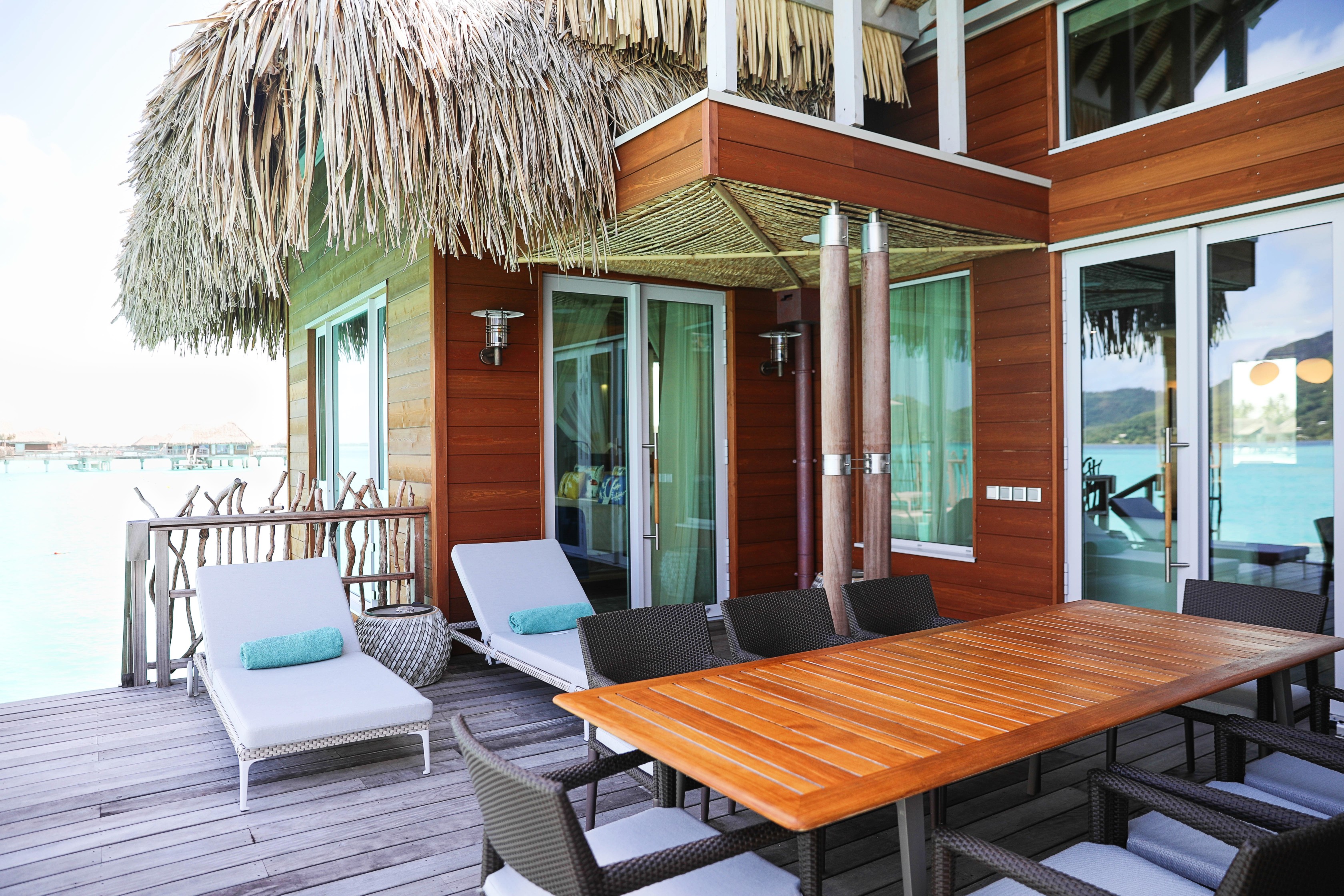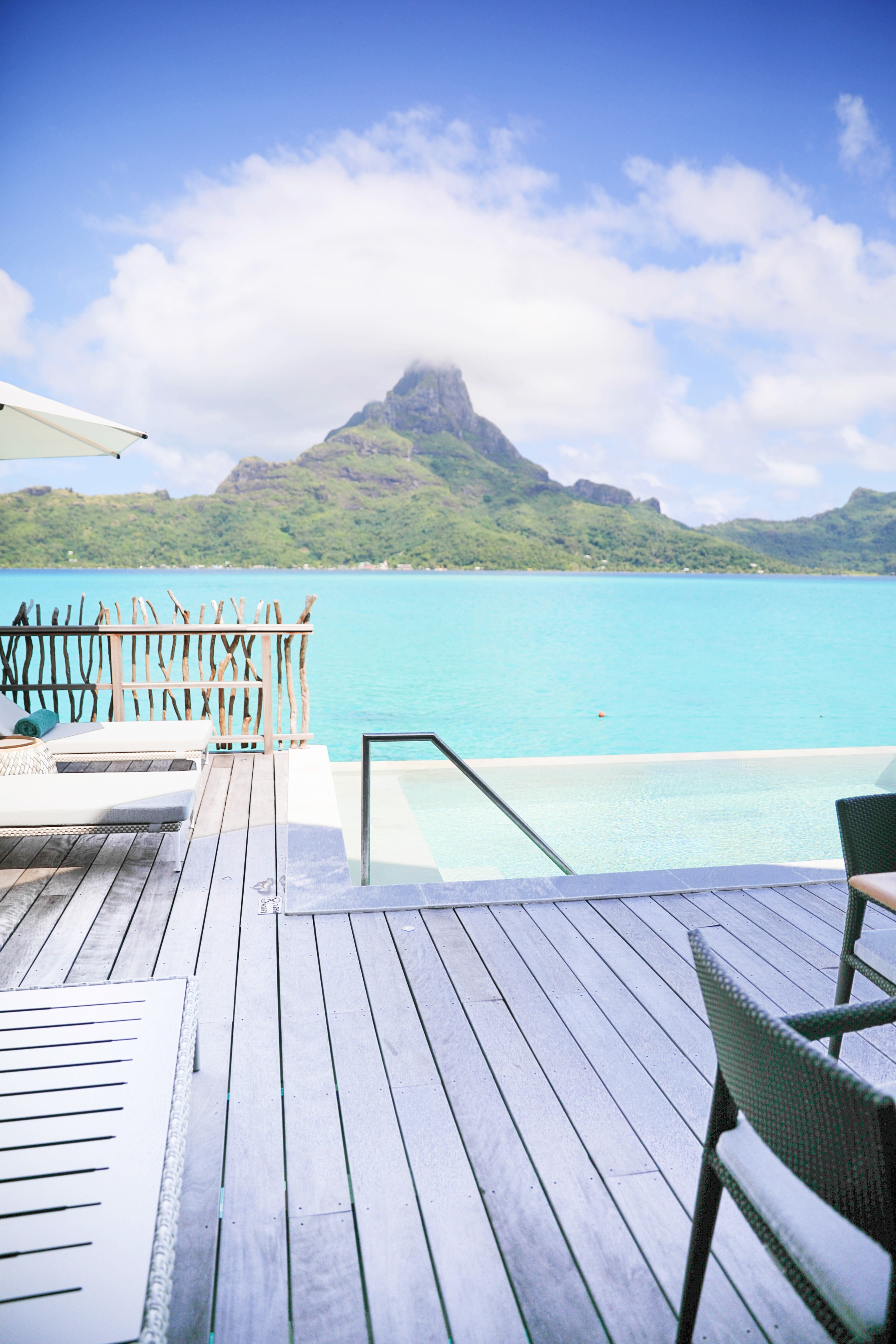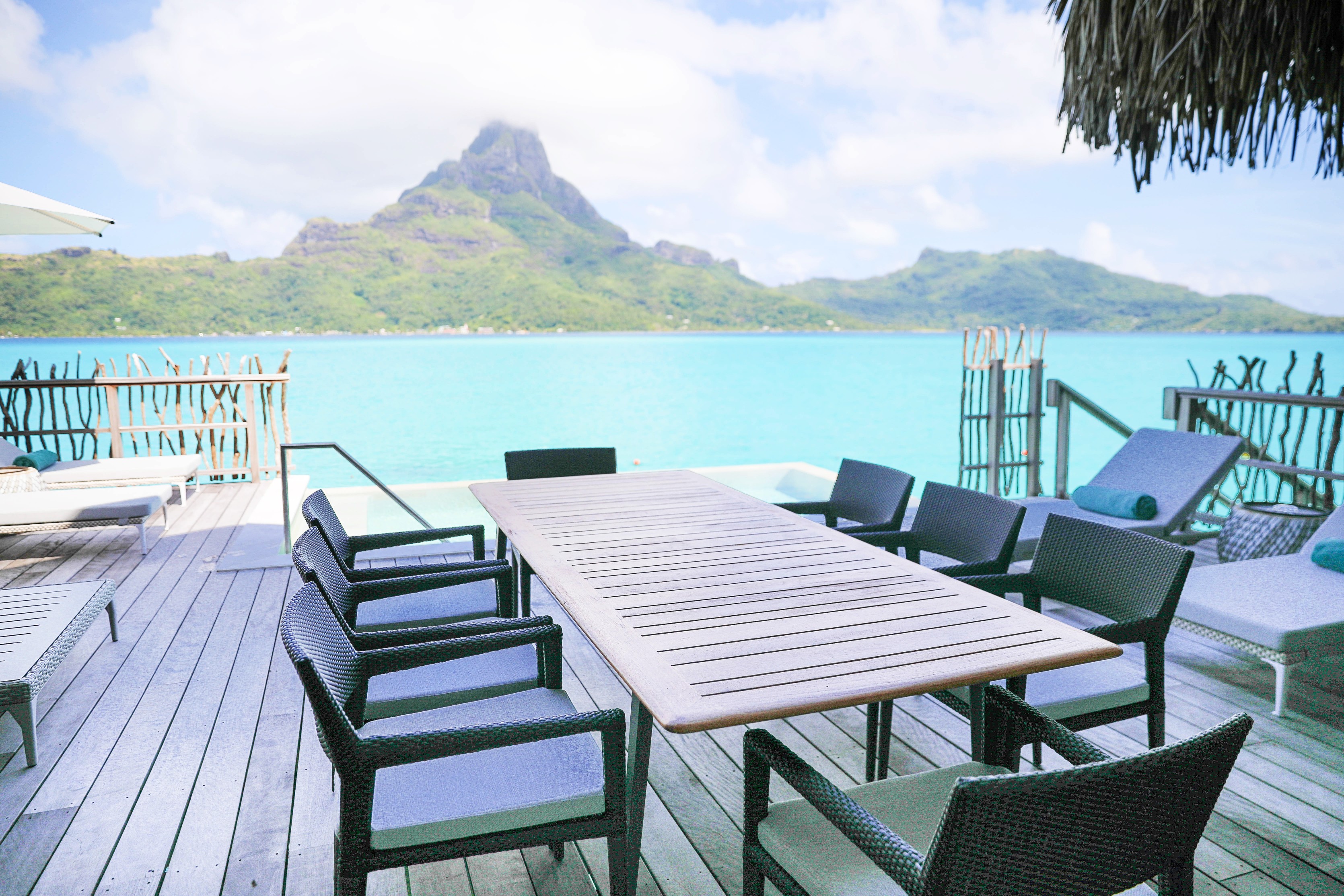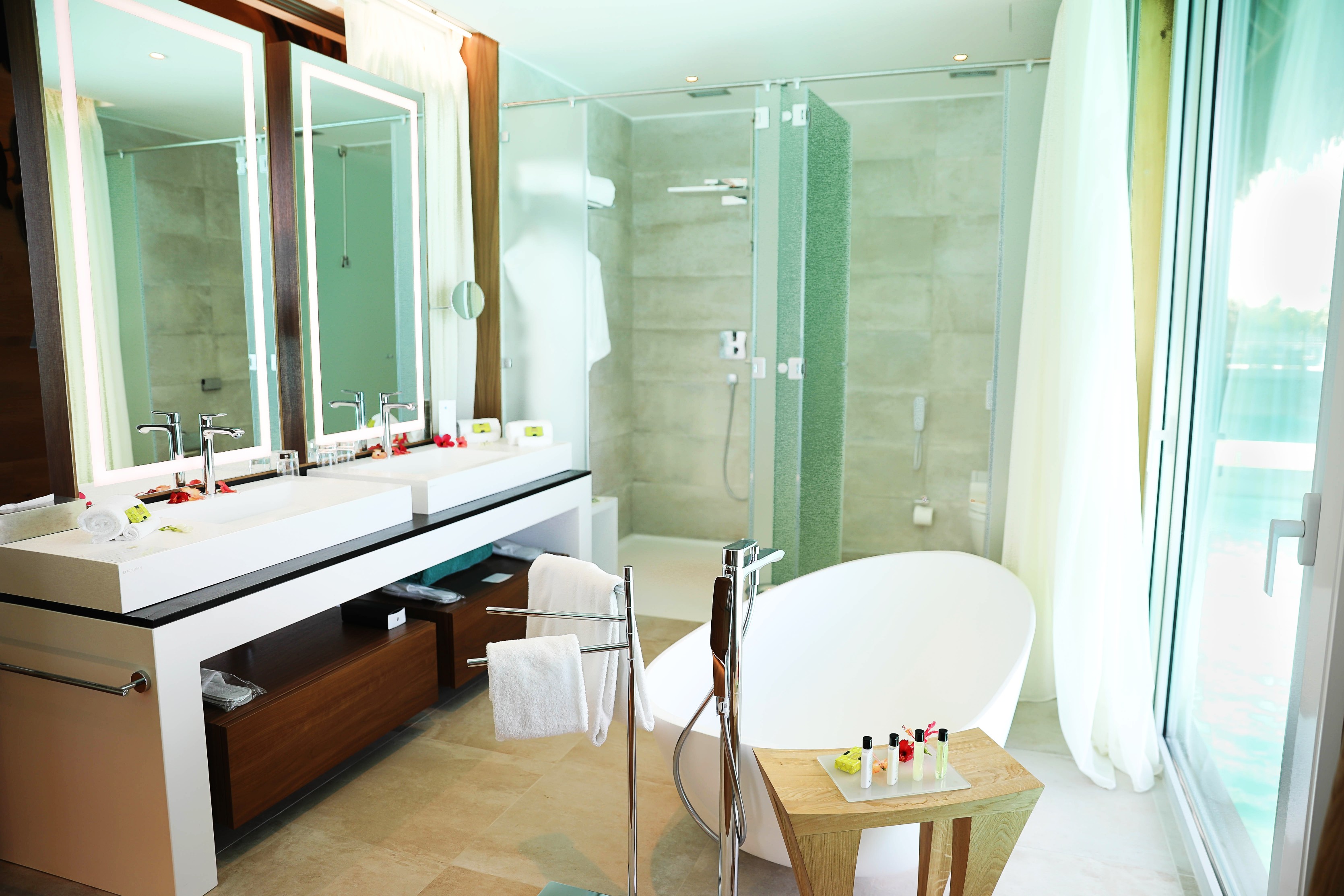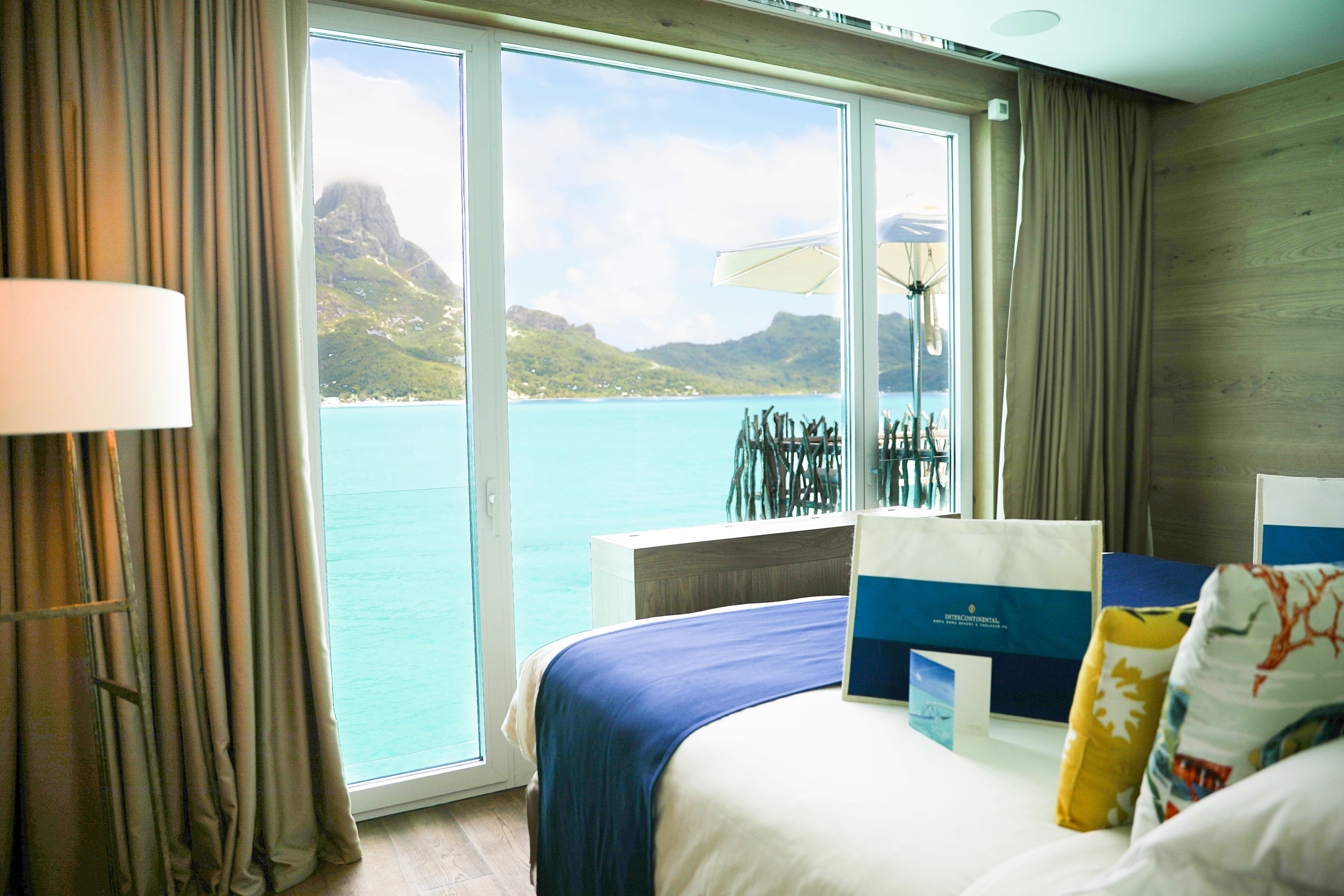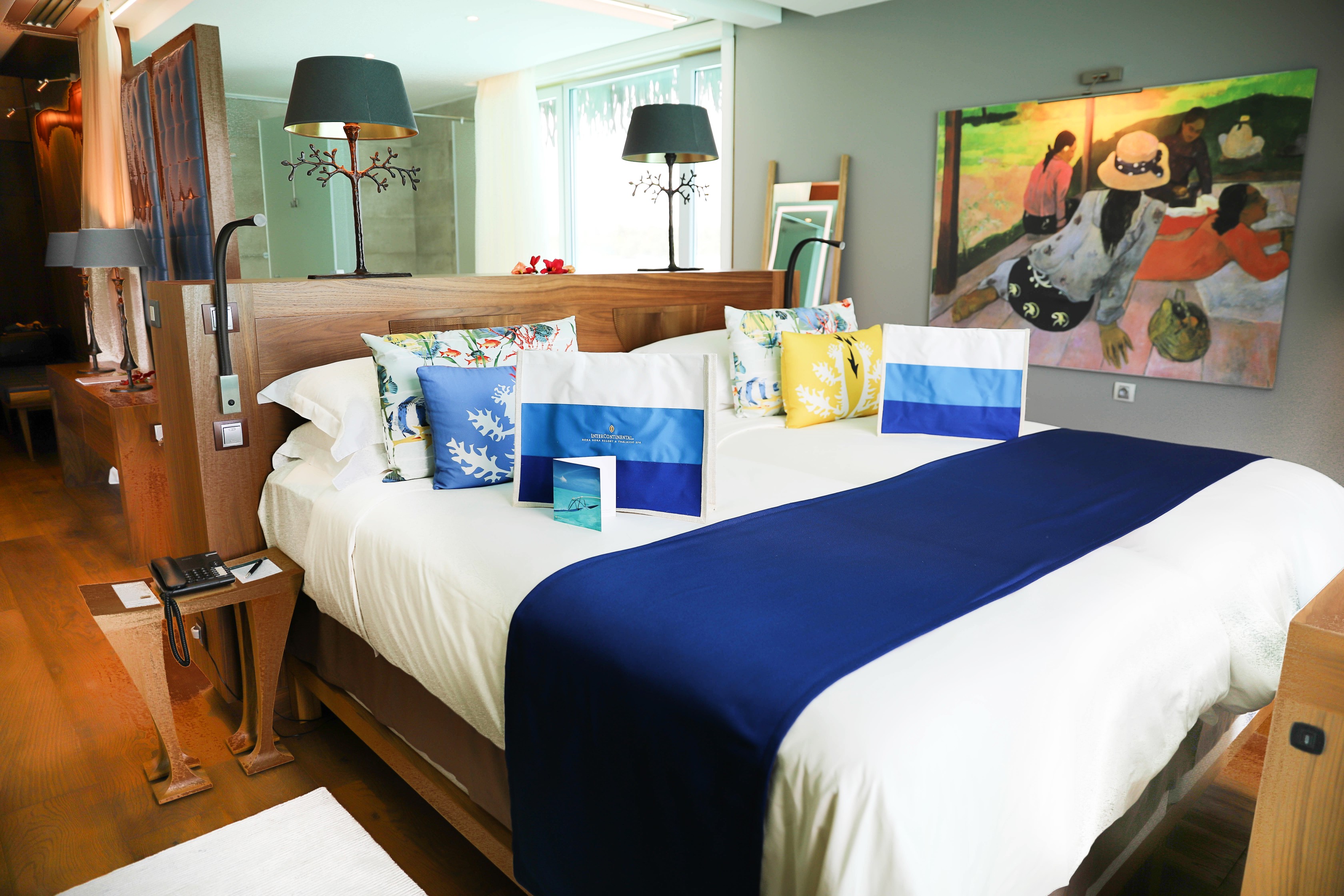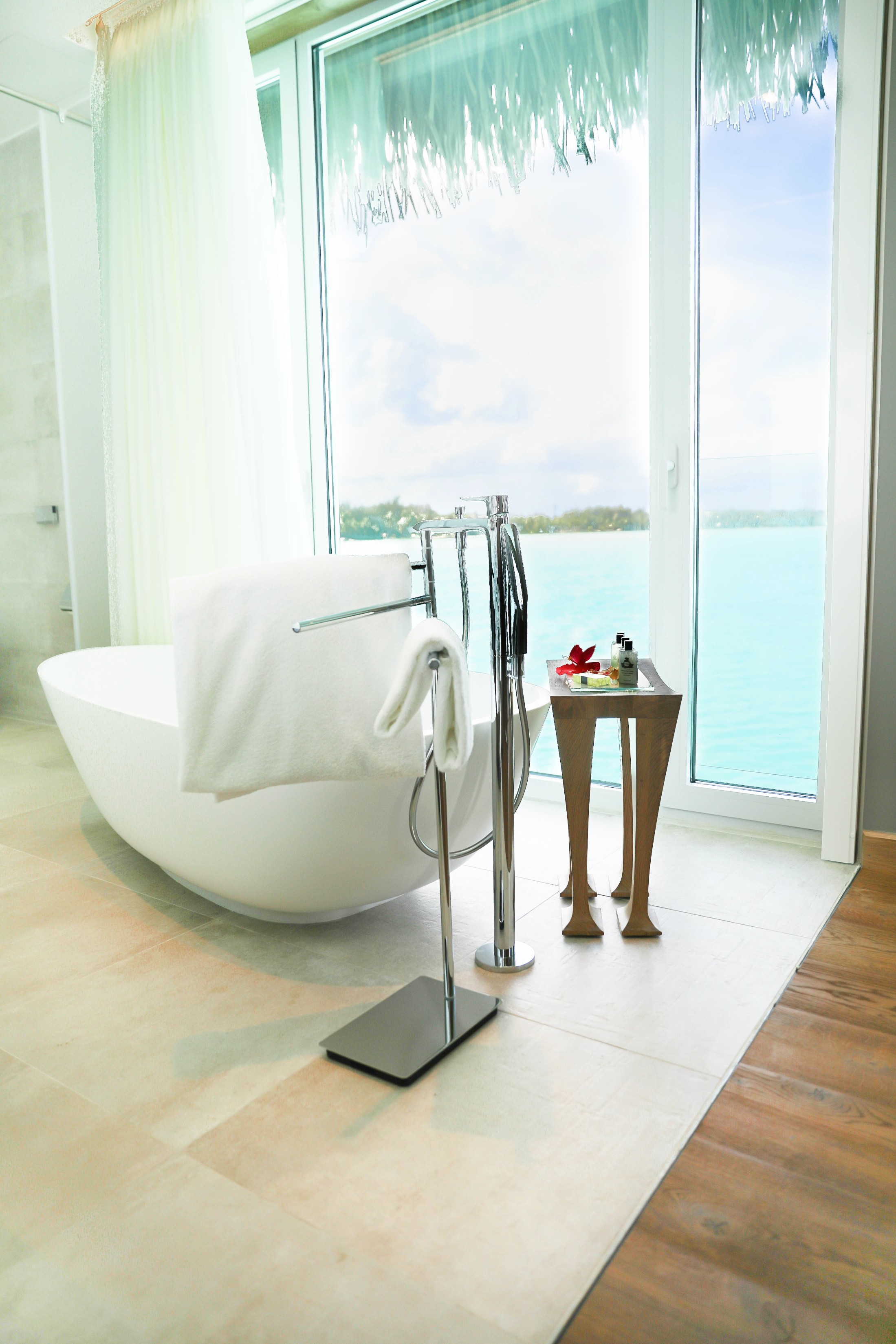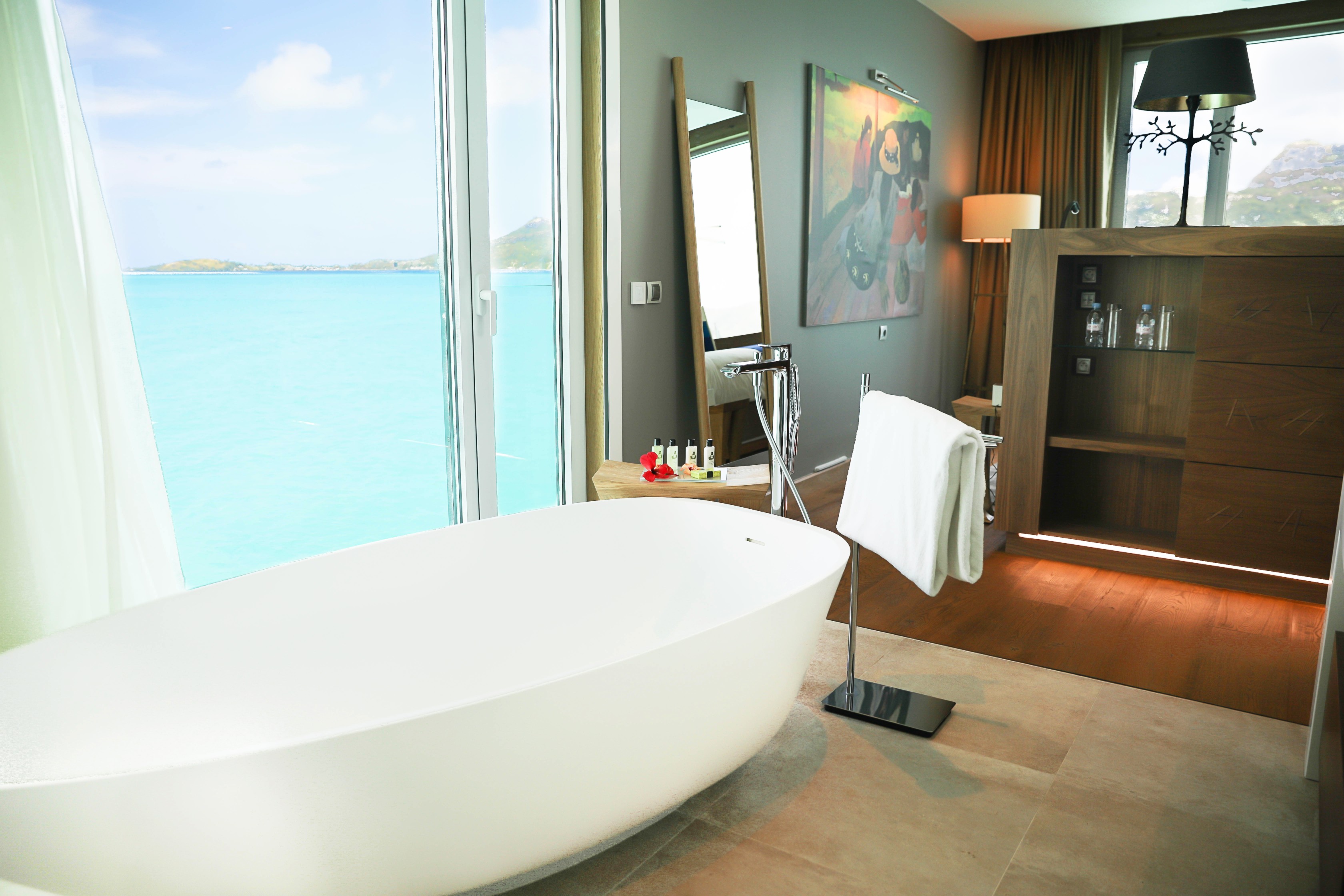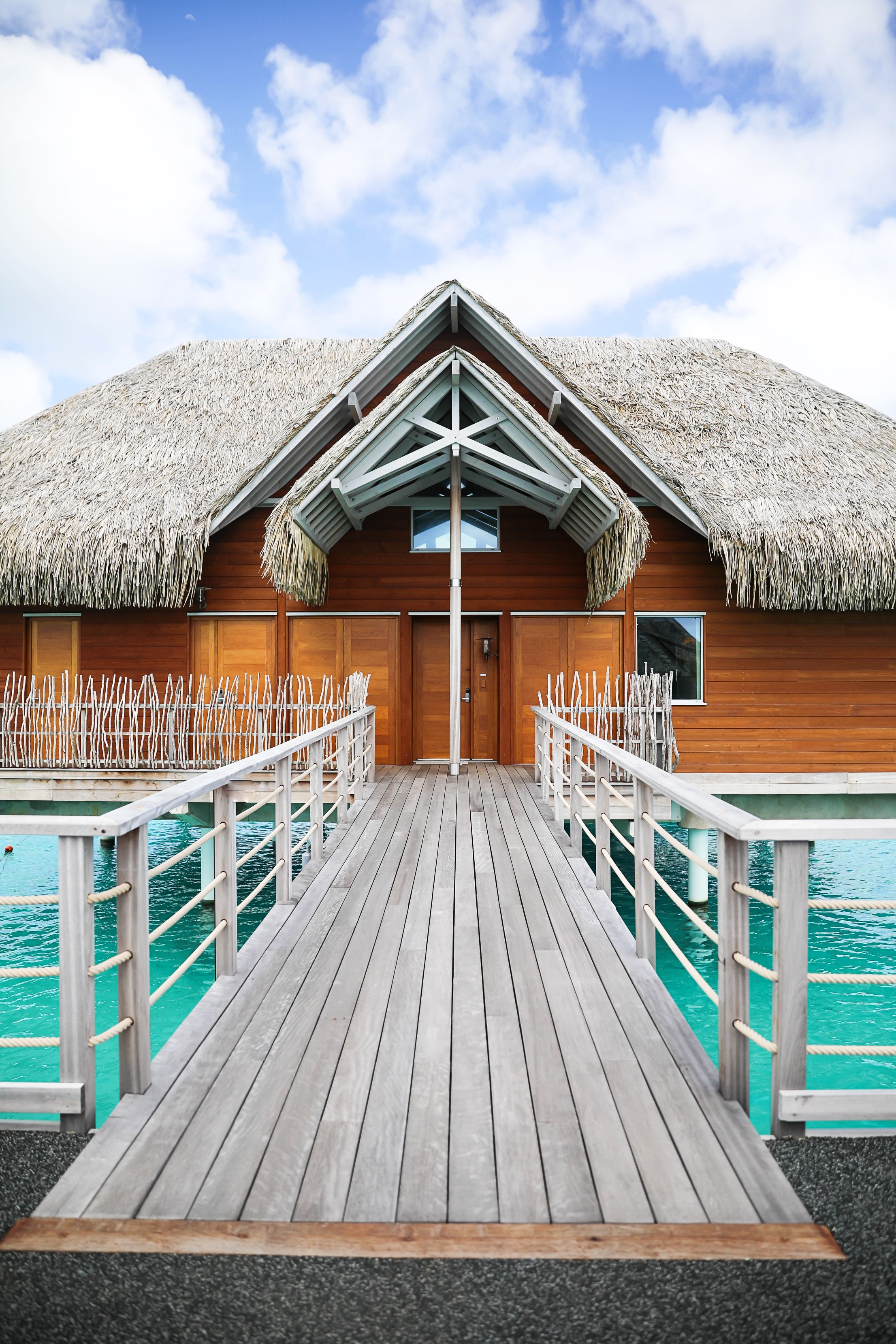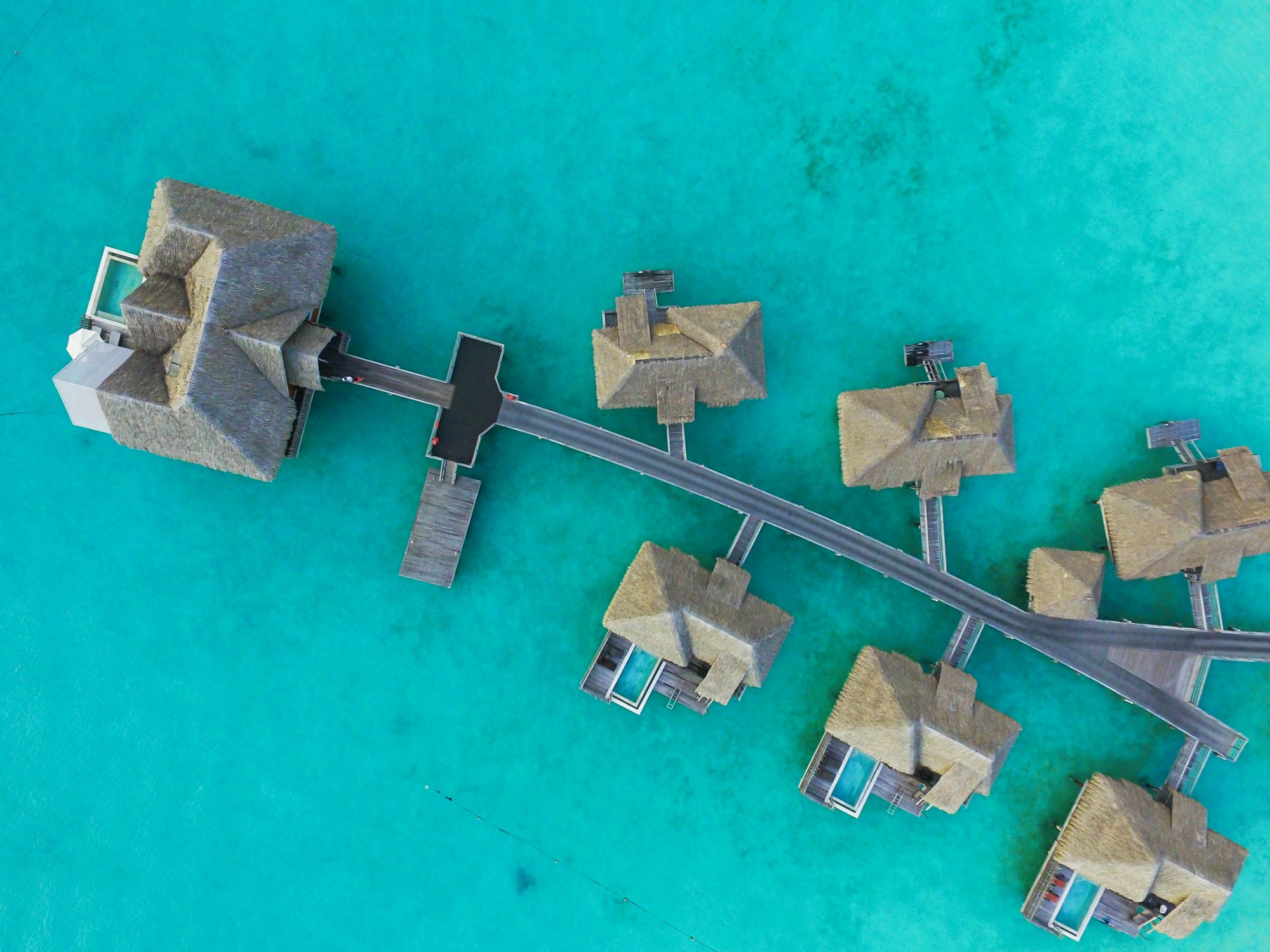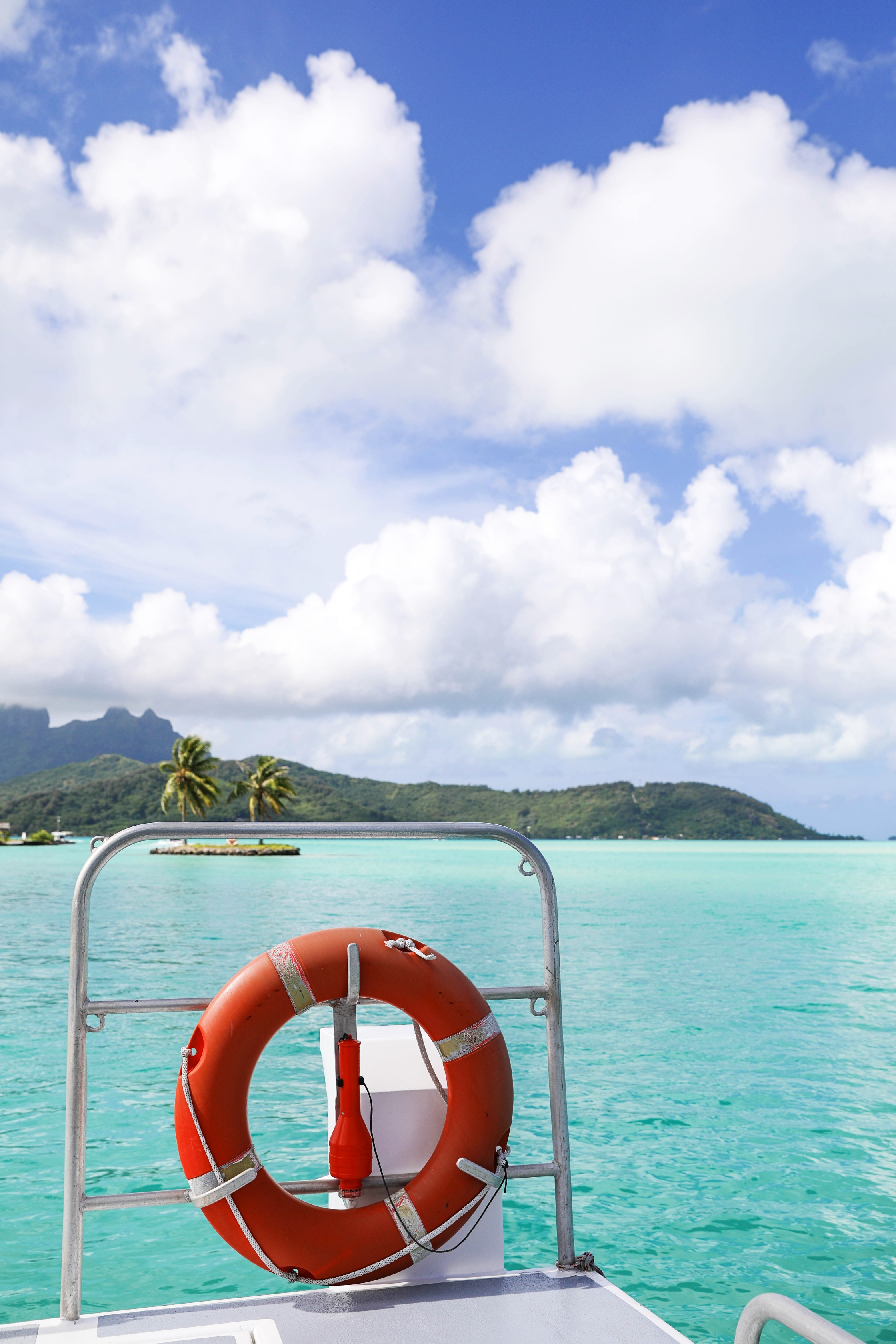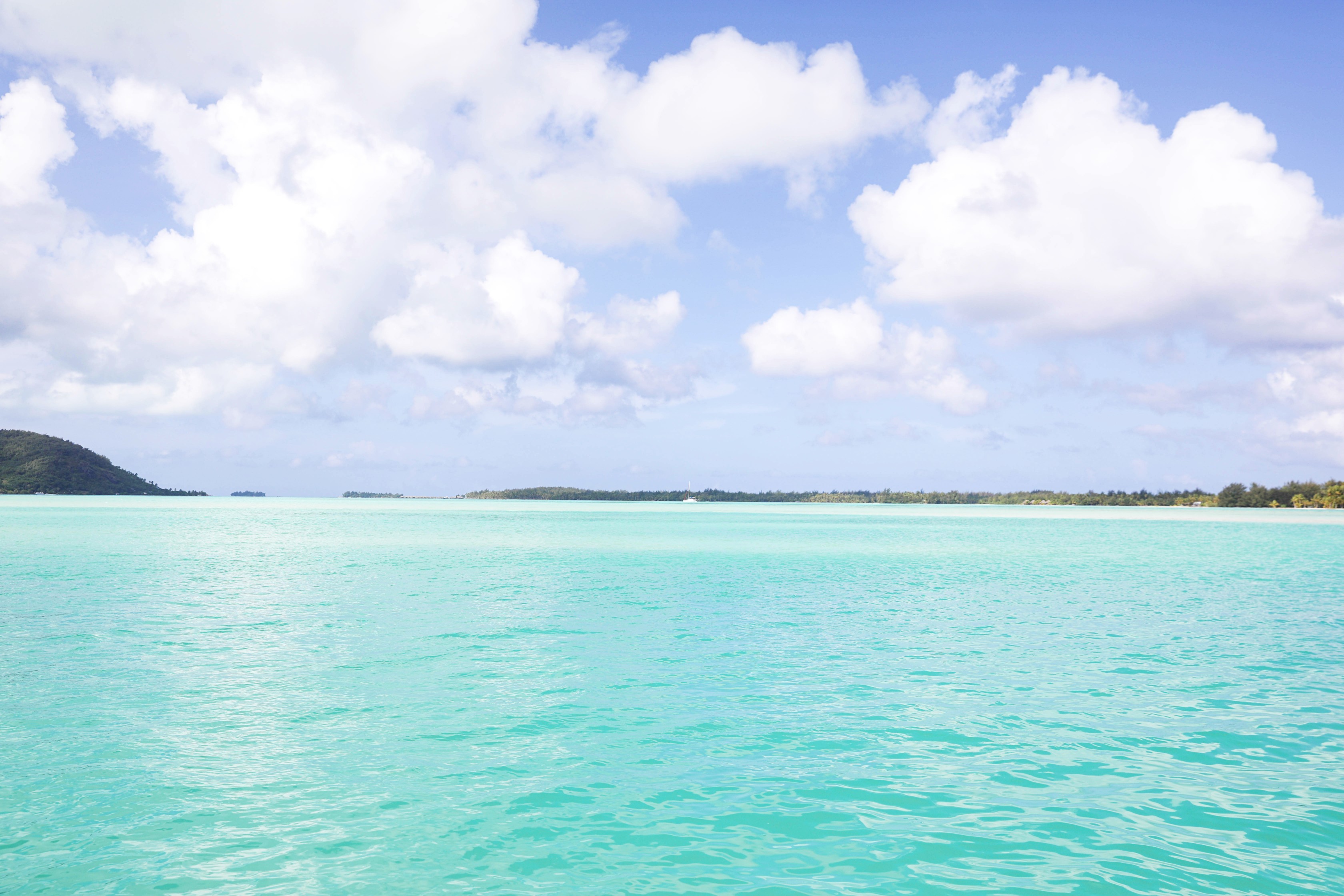 Where We Stayed
We stayed in a two bedroom hut over the water at The Intercontinental Thalasso. As you can see from the photos, it was unbelievable! We had our own private back patio with a pool and breathtaking view of the ocean. There was a cute little living area inside with a bar and dining room table, but we mostly ate outside when we ordered room service. There were plenty of lounge chairs sitting around plus a little platform you could jump off of into the ocean!
Both of the bedrooms were pretty similar, one of them was the "master" and had a huge bed and the other had two twins and a little loft above it with an outdoor patio. The bathrooms were one of the coolest parts of the villa! There was a huge tub in each room that was adjacent to a floor to ceiling window with a view of the water! I never got the chance to use it, but it looked so relaxing. They would cut fresh flowers and put them all over our rooms every day and bring fun little treats for us to snack on.
Dining
There were two restaurants open while we were there. One was a restaurant called "Sands" – which is where we mostly ate because it was casual and the food was delicious! It was right off the beach, so you could sit on the sand if you wanted to. They had a lot of seafood and Polynesian dishes plus some "American" food too. This is also where their breakfast buffet was every morning – it was delicious! Definitely my favorite meal of the day. This restaurant also had a bar that was open during the day. They had those classic drinks in a coconut that you always see in Bora Bora photos plus a lot of yummy juices and cocktails!
They also had a French restaurant called Le Corail that we did not end up trying, the last day we were there the other restaurant that had been closed, The Reef, opened up (they were renovating it after a bad storm came through). We didn't end up trying that either because they had a "theme night" at Sands that day! The theme night was a huge buffet plus Polynesian dancers put on a show, it was really cool!
We went to the main island of Bora Bora twice to eat, the first was at a restaurant called Bloody Mary's, which is the oldest restaurant on the island. They had all their fresh fish out when you got there so you go up to the chef and point to what you want and they grill it up for you! It was really cool, but also a bit stressful because there were only certain times the boat from our hotel came to the mainland to pick people up and if we would have missed our time we would have been stuck there for two more hours. I definitely recommend renting your own boat if you can – which is what we did the next time!
When we rented our boat we were taken to the main market area of the island where we did some window shopping then we went to lunch, to be honest that meal was not so great so I am not even going to talk much about it. The boat ride was fun though!
Things to Do
Oh my gosh, I think I could go on and on about this forever, but I am going to try to keep it brief. Here is a list of some of the things we did:
Feed the Stingrays
Everyday at 2:00 p.m. the stingrays at our resort came up to the beach and you got the chance to touch them and feed them! It was a really cool experience, I though it was amazing that they knew exactly what time to come!
Jet Ski, Kayak, & Paddle Board
You can rent jet skis, kayak, paddle board, plus more from the pool boys at the resort.
Snorkeling
The resort has a little blocked off area of the ocean with a lot of coral and fish that you can snorkel at! We did it one of the days and it was a blast! You can also go out on an excursion and snorkel or dive in the ocean.
The Spa
The spa at our resort was amazing, we had a massage one of the days and it was in an over-water hut with a glass floor – so we could watch the fish the whole time!
Rent a Boat
Like I said above, we rented the boat one of the days to go to the mainland. We shopped and ate and drove around for awhile.
Swim with Sharks
While we were on our boat ride our driver asked if we wanted to see sharks, we ended up getting to swim with them out in the middle of the ocean! It was SO cool, definitely a once in a lifetime experience. I posted a whole blog on that here!
Swim with Sea Turtles
We went to a turtle sanctuary one of the days at a different resort and got to learn all about the endangered species. At the end we got to swim with them which was so cool!
More Info
They had great wifi, which was nice because when you are out of the country you don't want to use data. We mostly walked everywhere we went, but if we were in a rush or tired we called for golf carts. The whole resort itself was not very big, it was so strange because there were not that many people that stayed there so other vacationers treated you as if you were one of their neighbors back home! One day my sister and I were walking and a couple stopped us and said, "Oh hey! You got in yesterday, right?" I feel like that doesn't happen at any other resort haha! The staff was so friendly and welcoming, in fact, we quickly noticed all Tahitians were that way! We instantly felt like family to everyone who worked there.
This was definitely an amazing trip and I am so lucky that I had the chance to experience it! Big thank you to my mom and dad who take us on these amazing adventures, I don't know what I did to deserve it!
xoxo,
Lauren Emily Lindmark
Copyright © 2018 dailydoseofcharm.com