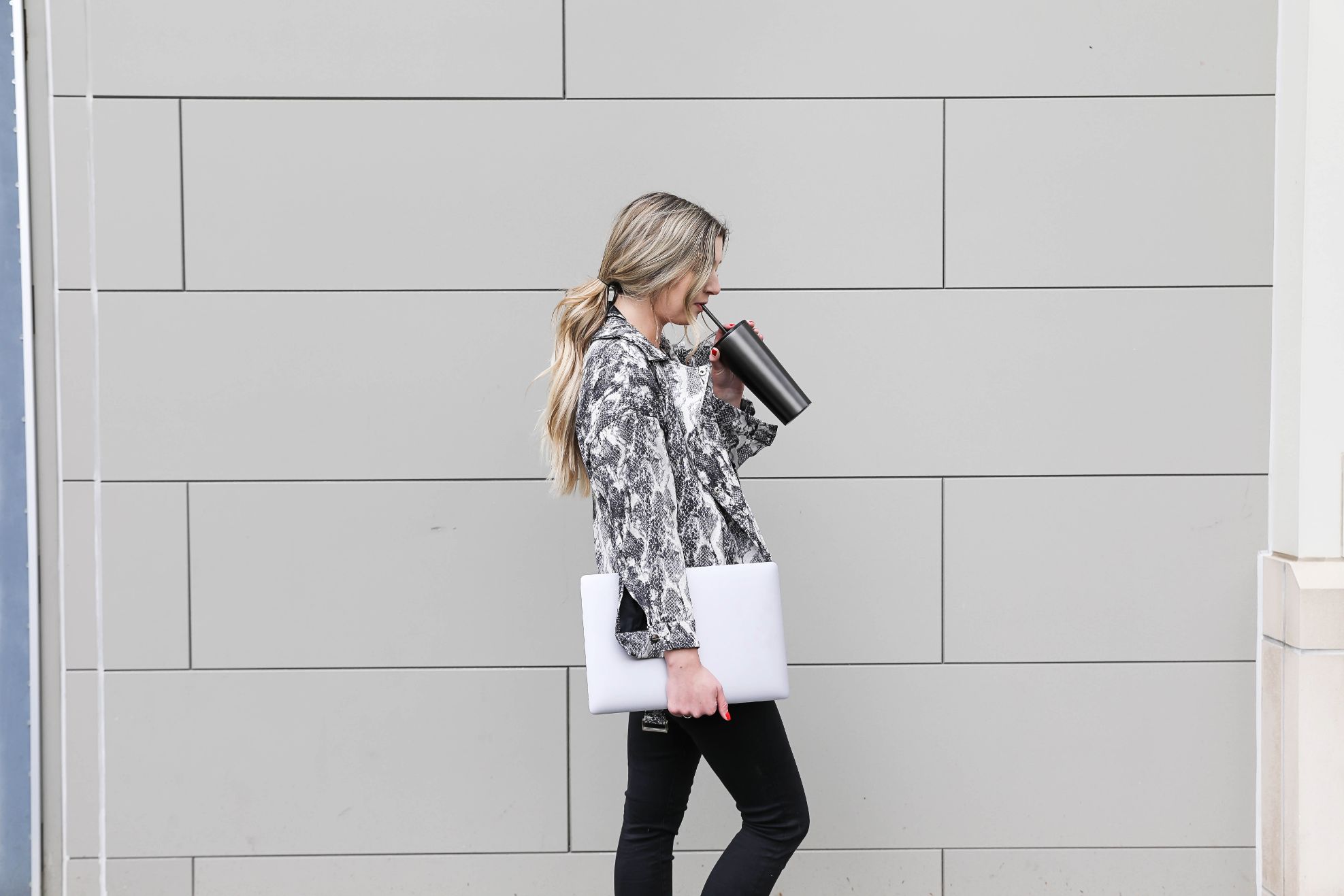 How I Tripled My Engagement on Instagram | From 300 likes to 1000+
Hey hey hey! Back at it with another Instagram tips post. Last summer I decided to start focusing more on Instagram growth, and last fall I started rethinking WHAT I posted and HOW I interacted on Instagram. That's when I wrote my first Instagram Engagement Post! Check that out before you read this post because it has way more tips! I also did an updated post a month or two later that you can read here!
If you look back on my feed from a year ago you can definitely see things have changed! I went from posting high-quality photos that were on my blog, to more real life content! I also went from publishing a photo and closing to the app, to actually interacting on the app and building relationships.
Let's see how far we've come!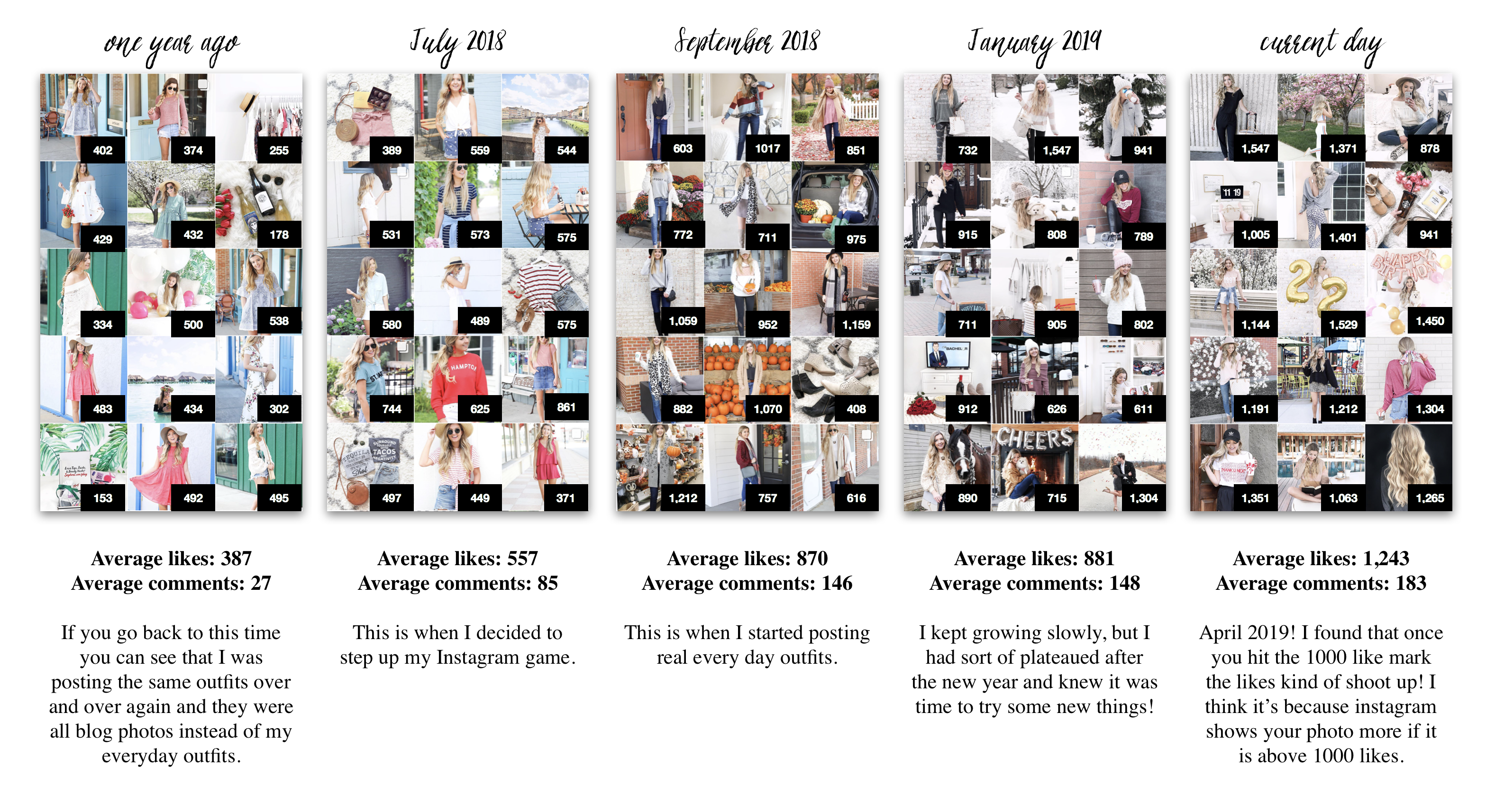 did I buy likes?
I want to get something out of the way first, I know what you may be thinking: "Your likes have shot up – did you buy likes?!" The 100% honest answer: NOOO! I would never do that. Period. My blog is my baby, it's my passion, and buying likes or followers would not make me proud of all the work I have done. If you ever want to know if someone is buying followers, just go through their likes! A few months ago a random company bought me likes on a photo without my permission (I was SO mad and immediately blocked them, it was one of those companies that tries to sell likes and they wanted me to "try it out"). I was also very transparent with you guys when it happened to me because I don't ever want anyone thinking I buy likes!
If someone buys their likes then the people who like it will usually have some of these qualities:
– no profile pic
– no photos on their account
– a lot of accounts are from other countries
If you go to my pics, you'll see 95% of my likes are other blogger or women who follow me! There are still a few sketch-balls that like my photos everyday, but I try to block them. Here are photos of some of the accounts who liked the photo with bought likes. Even though I was annoyed that the company bought me likes, at least I can use it as an example! You can see most of the accounts look fake and the people are from other countries.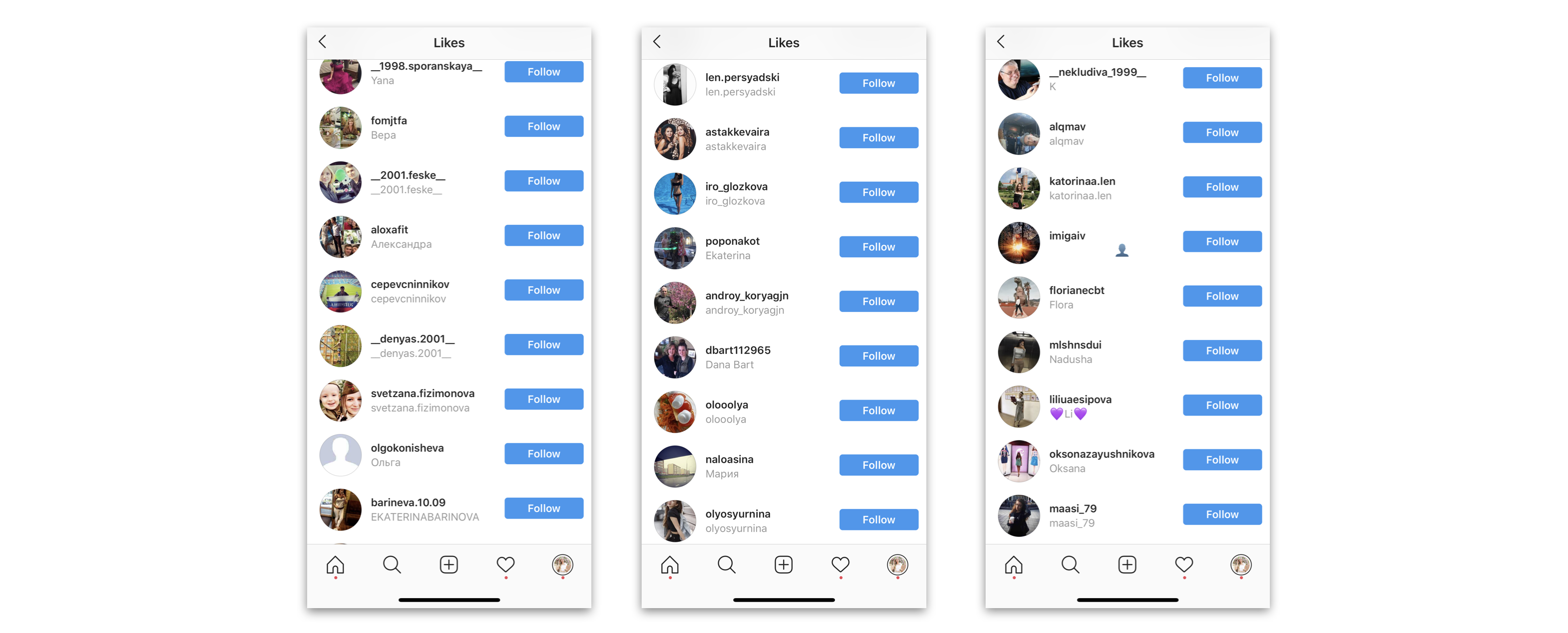 what I have been doing
If you have not read the engagement post from last fall, I highly suggest starting there first. I go in depth into 17 tips and tricks you can use to grow your Instagram! I suggest trying them all out and seeing what works for you, because different things will work for different people. In today's post, I wanted to touch on three more tips:
1. Hashtag app
I talked about hashtags in the last post, but back then I did not know how important it was to switch them up, EVERY DAY! I was copying and pasting the same hashtags and maybe switching one or two up. Because of this I was getting almost no hits most of the time. If you have a business instagram account you can see where your engagement comes from. I was getting no interaction from hashtags before using the hashtag app. This is because if you use the same hashtags over and over again, Instagram will "Shadowban" you from those hashtags.
So recently, my sweet friend Megan told me about the hashtag app and it has changed the game! I do not use the paid version, I just type in hashtags that I used to use or that I think go with my photo and find similar ones. I use a good mix of "big hashtags" (1,000,000+ photos) and "small hashtags." (in the 10000s). This helps your photo get seen, but also give you the change to have a "viral photo." You can't control when or if a photo goes viral, but using a good mix of hashtags helps!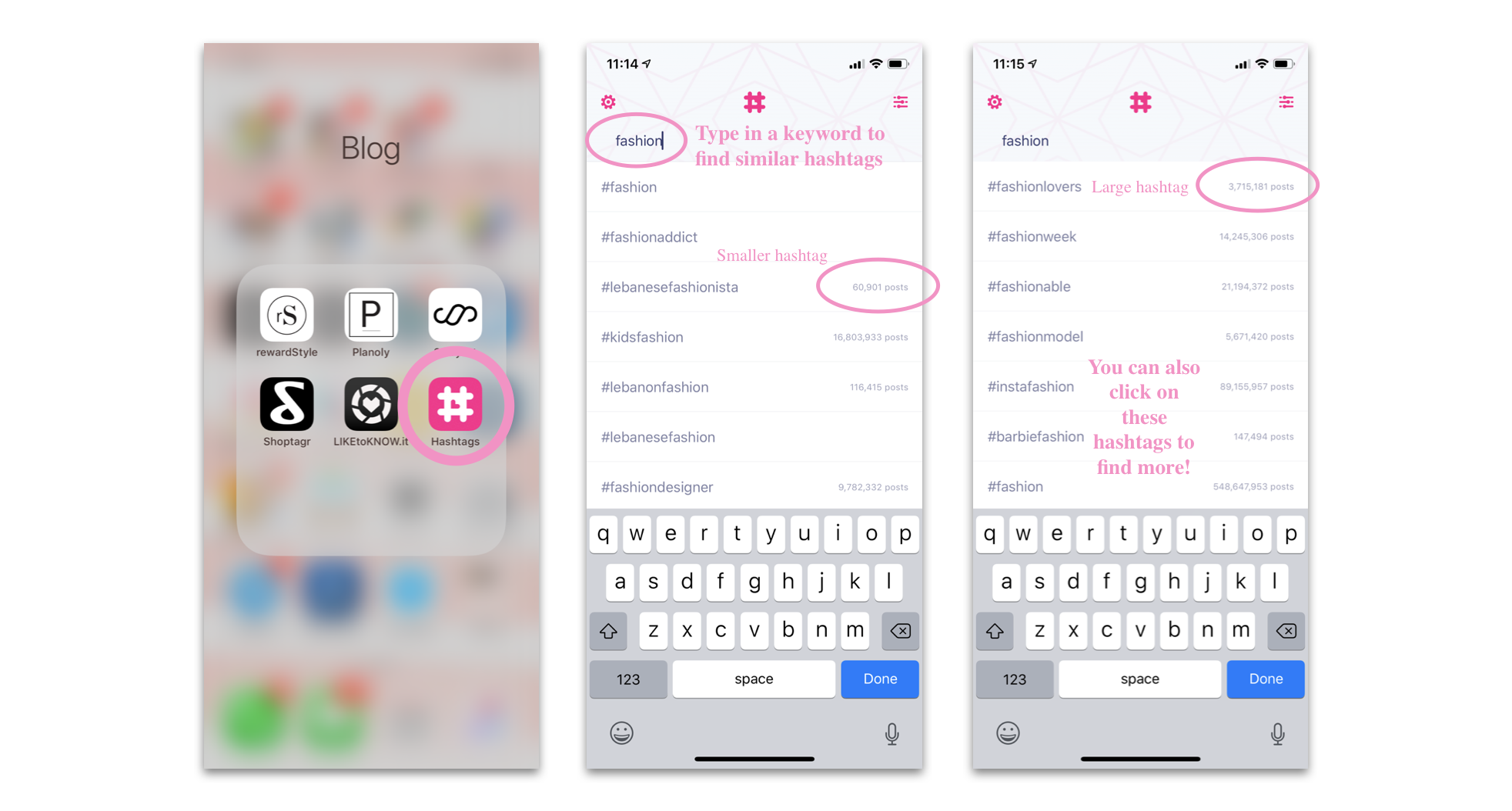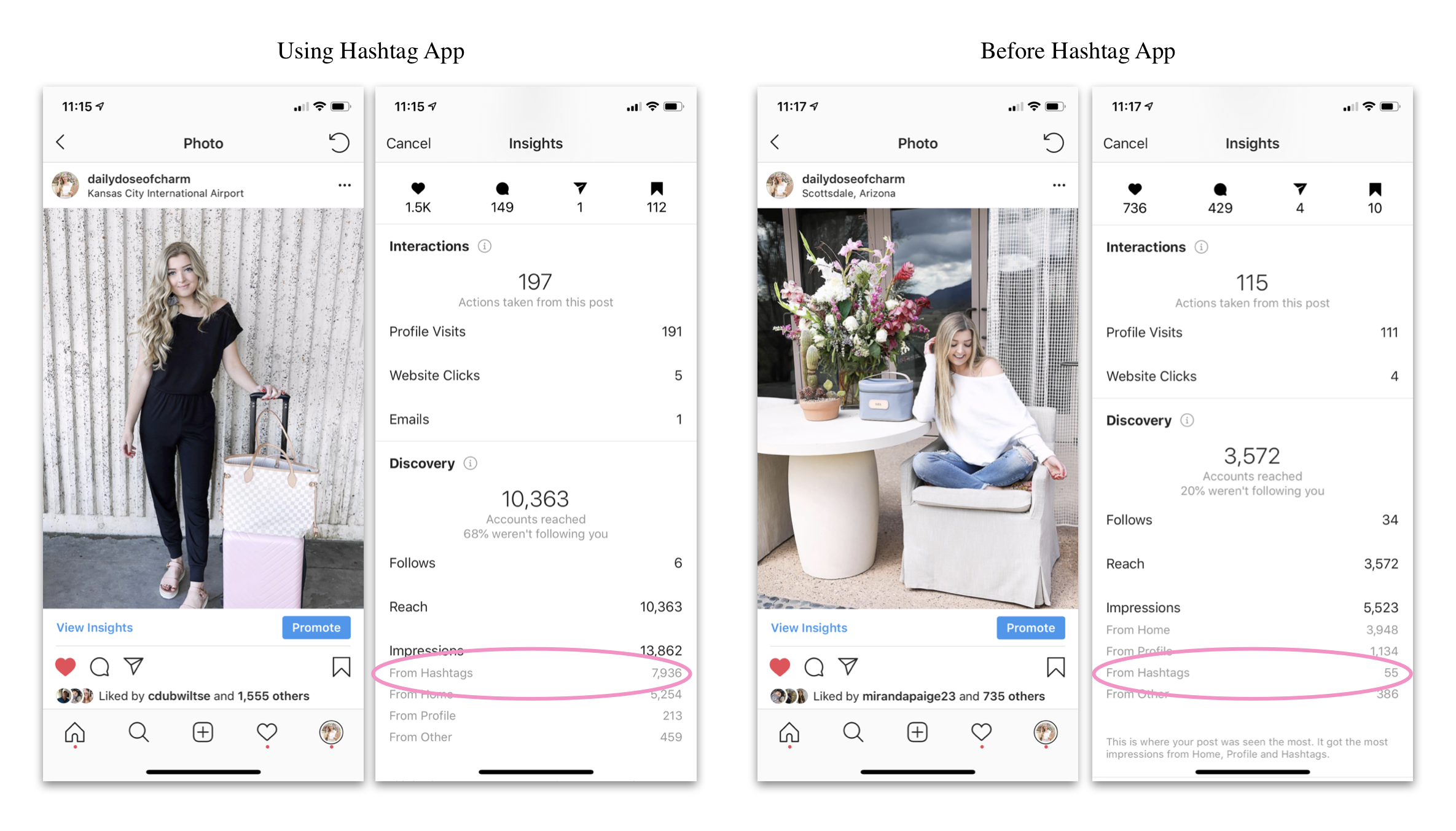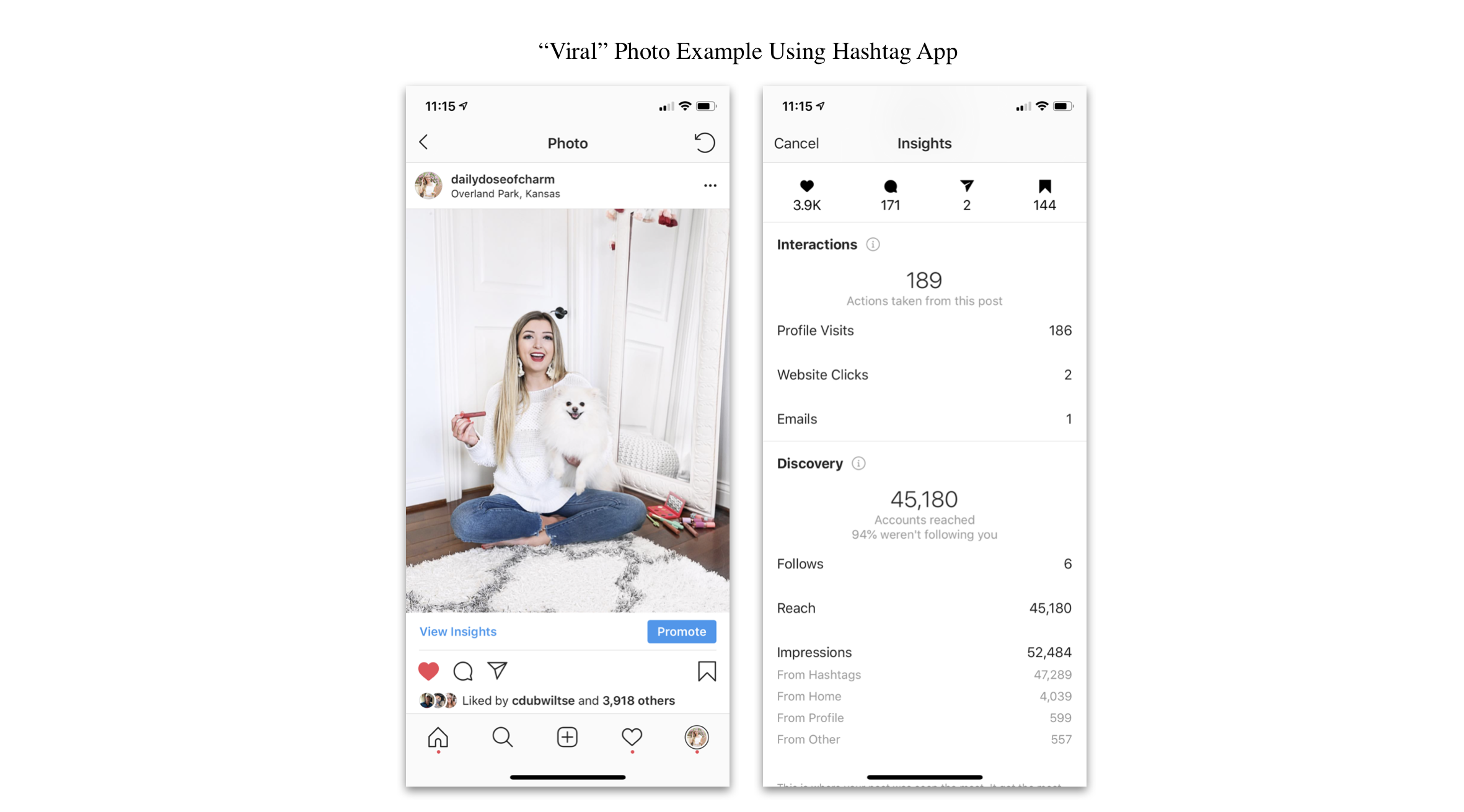 2. When You Interact
I used to only get on Instagram when I was posting a photo – but now I try to get on for 10 minutes here and there throughout the day and get on about 30 min before I post! I think this helps a lot with continued engagement! I am trying to make time to get on and answer comments, but sometimes it takes so long! Just getting on to like photos and comment for a few minutes has helped my engagement though!
3. Comment Pods, LCS, & Telegram Groups
I used to be totally against these for a long time, but I finally joined one when I found out that everyone does them haha! So if you don't know what they are, a lot of bloggers are in these LCS groups (like, comment, save), otherwise known as "pods" to help with their engagement. You basically just join a group and everyone comments in it when they post a knew photo, then the members of the group go like it and comment on it. The one I am in I love because it is a small group (14 people) full of close blogger friends. We actually talk to each other in the group, but also tell each other when we post a photo so we can help each other out. This helps with engagement because Instagram sees people are engaging on your photo right away so they share it with more people. If you are interested in LCS groups I suggest starting one with close blogger friends so it keeps everything authentic. It actually is a great way to form relationships and get your photo seen!
That small group is amazing, however, I am also in a few Telegram groups and those feel sort of artificial. I am going to be transparent – that is probably wear at least 100-ish of likes have been coming from. Telegram is a messaging app that a lot of Instagrammers use because there are "like groups" where everyone likes each others photos. I am in a few blogger groups and it has been a cool way to find new people and also helps a lot with engagement. I know there are groups with 1000+ of people in it and I do not recommend those, there are Telegram groups that are bloggers only that I suggest trying, it is a good way to help your engagment – but like I said, it feels a little fake sometimes. If you are interested in Telegram groups you just have to ask around!
4. Post good content
This is something I didn't really touch on enough in my last post. A lot of people post pictures just to post or have "filler content" that just looks good with their theme (such as coffee cups, etc.). One of the best pieces of advice I got last year was "look at what content of yours is working, and emulate that." I realized my followers like real life, day to day posts and outfits that they actually see themselves wearing! I really think a lot of my growth has come from my content in the last few months (not to toot my own horn, it's obviously not perfect – but I am proud of it). Remember, quality over quantity is always better! If you look back to my photos a year ago, it was like I was trying to be someone else. I was posting dresses and rompers while sitting at home wearing a top and shorts. The last six months I have worked hard to post authentic real-life content and people have responded really well! I also stopped posting the same outfit over and over again (which if you go back a year ago I did that all the time)!
5. Be You
Okay this is an ACUTAL tip, not just life advice. I have been getting a lot of views on Instagram stories lately and I really think that has helped with my growth. What I have seen is my followers love when I am real with them, which I love because it makes me feel like I am just taking to my best friends! I will share the good, the bad, and the ugly about my day to day life. I open up a door for conversation on my stories and I love interacting that way! Not only does it make me happy, but having people interact with your stories definitely helps you get seen! So I suggest stepping out of your comfort zone and start sharing your day to day life more!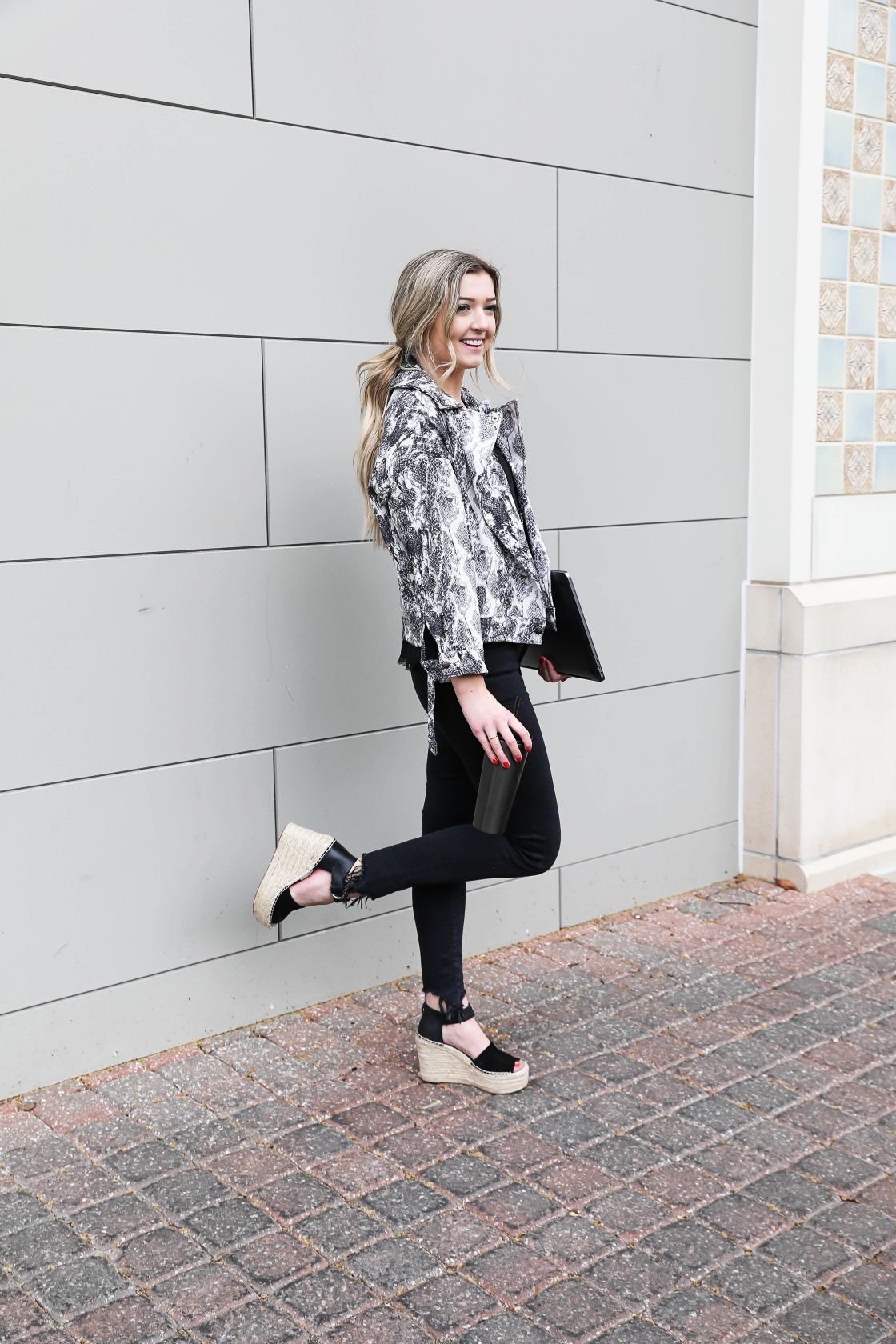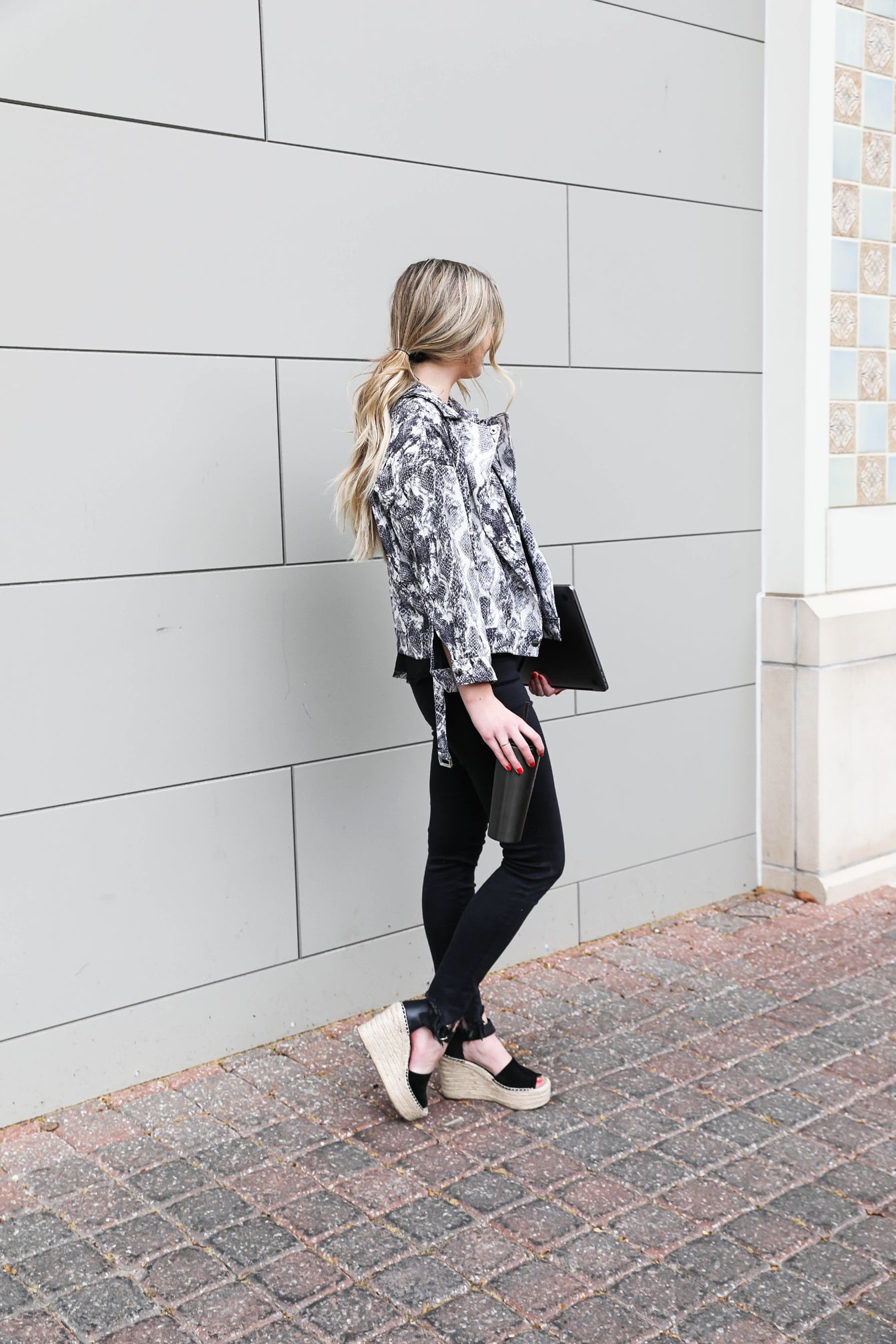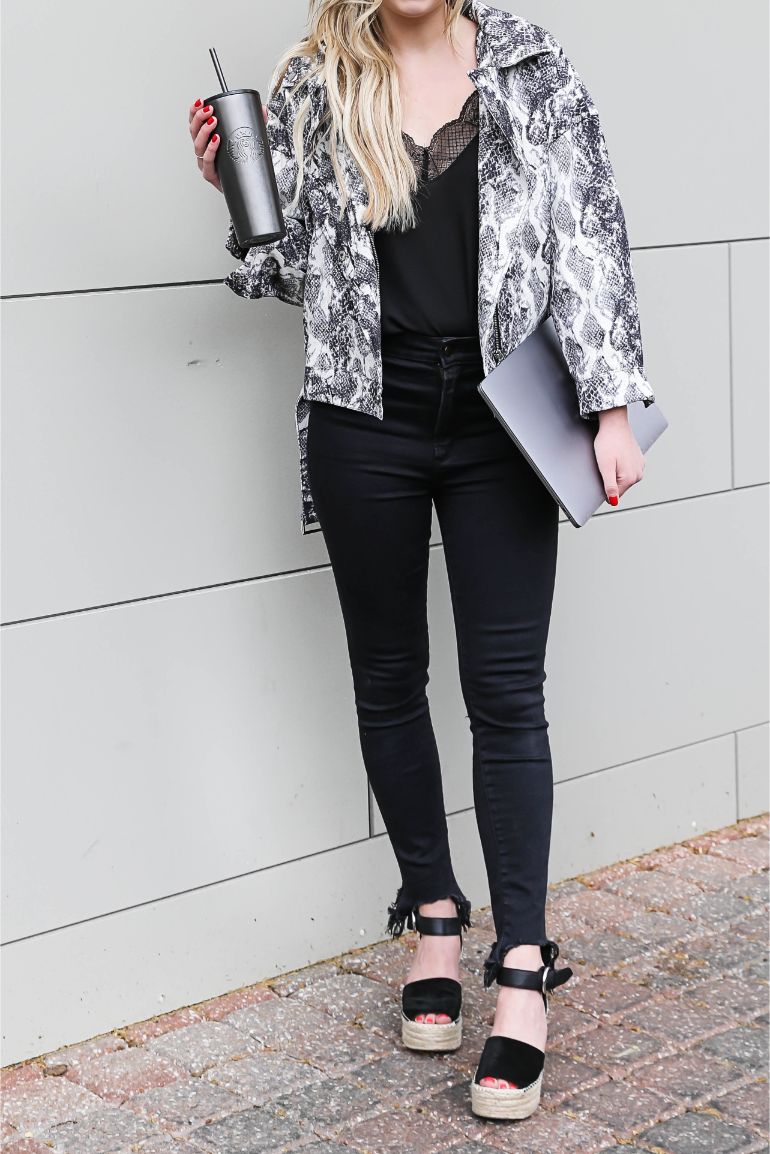 | Snake Jacket ($20 I am wearing a small c/o) | Black Jeans | Black Cami (similar, same brand) | Black Wedges |
How fun is this snake jacket? It was generously sent to me and I was so excited to share it with you guys since it was $20! Such a fun look! I also got that cool cup from Starbucks the other day that matches my laptop haha!
I hope these tips helped! Like I said, go read my lasts posts to get even more tips! Those posts are more of a foundation on how to get started, and these are extra tips! Everyone have a great Monday!
xoxo,
Lauren Emily Lindmark
Copyright © 2019 dailydoseofcharm.com